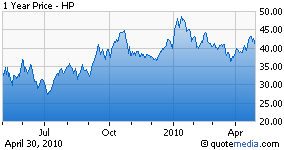 Contract drilling services provider Helmerich & Payne Inc. (NYSE:HP) reported solid results for the second fiscal quarter of 2010 (ending March 31, 2010), helped by improving international drilling operations. Earnings per share, excluding currency exchange loss in Venezuela and gain from the sale of drilling equipment, came in at 60 cents, surpassing the Zacks Consensus Estimate of 56 cents.
However, earnings and revenue comparisons (for the reported quarter) with the year-earlier period were not favorable, being severely hampered by lower rig utilization amid continued weak demand for drilling services. Helmerich & Payne's adjusted earnings per share slumped approximately 38.1% (from 97 cents to 60 cents), while revenues declined 15.5% to $439.7 million.
U.S. Land Operations
During the quarter, operating revenues totaled $324.4 million (74% of total revenue), down 21.7% year over year. Average rig revenue per operating day was $23,382, down 25.5%, while average rig margin per day decreased 41.7% to $11,287. Additionally utilization levels were down to 70% (from 72% in the second quarter of 2009). As a result, segment operating income fell 53.0% from the year-earlier quarter to $90.7 million.
Offshore Operations
Helmerich & Payne's offshore revenues were down 7.0% year over year to $47.8 million. Daily average rig revenue fell marginally (by 0.7%) to $48,225 but average rig margin per day improved 3.1% to $23,023. Segment operating income, at $13.6 million, decreased 14.0%. Rig utilization, which was 98% in the same period of 2009, came down to 81%.
International Land Operations
International land operations recorded revenues of $64.7 million, up from $51.8 million in the previous-year quarter. Average daily rig revenue was $35,065, up 49.9%, while rig margin per day was $11,038, as against a loss of $4,086 in the previous year quarter. The segment incurred a loss of $10.7 million during the quarter, narrower than the $15.3 million incurred in the second quarter of 2009. Activity levels declined significantly, falling to 52% from 81% a year ago.
Capital Expenditure & Balance Sheet
During the quarter, Helmerich & Payne spent approximately $78.0 million on capital programs. As of March 31, 2010, the company had approximately $125.7 million in cash and long-term debt of $440.0 million (debt-to-capitalization ratio of 13.6%).
Outlook
Management indicated that U.S. land drilling activity continues to pick up. Clients are looking to hike their spending plans in 2010 and the company, with its newest and most technologically advanced land rig fleet, is well positioned to take advantage of the rebounding market.