Willis Group Holdings plc (WSH) reported fourth-quarter earnings of $1.27 per share, well ahead of the Zacks Consensus Estimate of $1.17. The company had earned $1.16 per share in the year-ago quarter. The beat was driven primarily by growth in organic business and expense saving initiatives.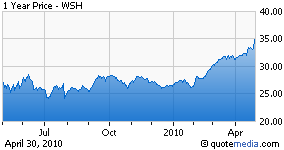 Net income from continuing operations came in at $204 million or $1.20 per share, compared with $192 million or $1.15 per share in the prior-year period. Quarterly results in 2010 were negatively impacted by a charge of $12 million or 7 cents per share, related to the devaluation of the Venezuelan currency. The prior-year quarter results had a $2 million or 1 cent impact for integration costs following the acquisition of Hilb Rogal & Hobbs Company.
For the reported quarter, revenues were up 5% year over year to $972 million. Organic growth in commissions and fees was 3% and reflected a 5% net new business growth, partially offset by a negative 2% impact from declining premium rates and other market factors.
The North America segment contributed 1% organic growth in commissions and fees. The company reported strong new business, steady client retention and benefited from the cost saving initiatives. However, the soft insurance markets and the continuing weakness in the US economy were major headwinds. Operating margin of 25.5% was up 60 basis points (bps) year over year.
The International business segment contributed 3% organic growth in commissions and fees. While the company experienced solid growth in Latin America, Asia and Eastern Europe, it was partially offset by a soft rate environment and weakness in the UK and Ireland retail market and sluggish growth in some developed European economies. Operating margin was 33.9%, compared with 34.9% in the year ago quarter.
The Global segment's organic growth in commissions and fees was 7% year over year, primarily driven by the Reinsurance division with solid organic growth in North America. Global Specialties also reported positive organic growth, driven by financial and executive risks and marine lines. However, operating margin was seasonally high at 45.5% and in line with the prior-year quarter.
Adjusted operating margin was 32.2%, up 240 bps from the year-ago quarter. The improvement reflected organic growth in commissions and fees, coupled with the benefits of cost saving initiatives.
Investment income was $9 million in the quarter, down from $13 million in the year-ago quarter, primarily due to lower interest rates. Expenses were $671 million, compared with $656 million in the prior-year quarter.
As of March 31, 2010, cash and cash equivalents totaled $196 million, up from $191 million as of Dec. 31, 2010.
We are encouraged to see Willis' improved organic growth in revenues from its three segments, with strong client retention. The "Shaping Our Future" initiatives are also contributing to growth.
However, the company expects that the soft insurance market is likely to continue despite an increase in the number of natural catastrophes in early 2010. Additionally, the weakness in the US economy will remain a headwind and restrict any significant top line growth in the company.