Philip Morris International Inc. (NYSE:PM) is an American global cigarette and tobacco company that sells its products in 200 countries. PM held a 16.3% share in the total international cigarette market outside of the United States. The Philippines is one of the key markets for Philip Morris as it contributed 22 percent to the company's shipments to Asia last year. In the recent year the total Philippine tobacco industry volume of 23 billion units has decreased by 6.7 percent. Under the sin tax law, excise taxes will increase every year over the medium term. These two factors have negatively impact the sales volume of Philip Morris.
Financial Performance Review
Philip Morris's financial results remained under pressure during the fourth quarter. The company reported net revenue of $7.8 billion reflecting a decrease of 1.3% excluding the excise taxes. The main factor for this revenue drop is the cigarette shipment volume of 223.2 billion that was reduced by 4.3% during the quarter. This lower shipment was caused by a total industrial decline due to health issues from using cigarettes and lower market share. The currency movements also negatively impacted the net revenues and excluding the unfavorable and excise taxes the net revenues increased by 2.5%.
The following graph shows net revenue from each region for 2013 and 2012.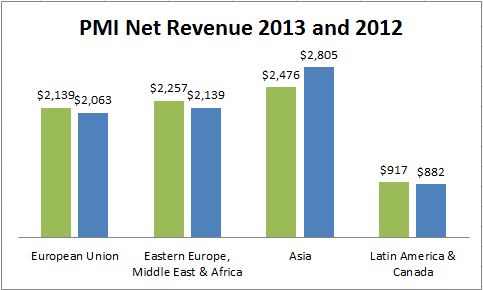 Philip Morris's operating income of $3.2 billion decreased by 1.8%; however, excluding the unfavorable currency impact the operating income increased by 4.7% mainly due to favorable pricing and lower costs. The earnings per share was $1.37 and increased by 10.5% from 2012's level; excluding currency impact the earnings were up by 19.4%. These income gains are mainly due to cost cuttings, price increases, and flavor additions for the cigarettes in order to sell them in new attractive formats. The premium quality cigarette has always been a source of generating high revenues for the company. Philip Morris maintained its dividend growth with a 4.54% dividend yield and declared a dividend of $0.94 per share with an increase of 10.6% from the previous quarter's $0.85 per share.
Cash and cash equivalents dropped to $2,145 million from $2,985 million over the last period and debt rose to $27,678 million from $22,839. The two reasons these figures were affected was because of the dividend payments and recent quarter's buy back. Philip Morris spent $1.5 billion to buy back shares in the fourth quarter at a higher price than the trading price. The cash flow position looks well as the company generated $10,135 million from operations and after allowing for the capital expenditure of $1,200 million the free cash flows stands at $8,935 with an increase of 7% from previous years. These cash flows will somehow enable the company to maintain its debt repayments and liquidity needs.
Technological Developments in the Tobacco Industry
The recent technological advancement and innovation is changing traditional cigarette products and the recent trends shifting towards the adaption of E-cigs has opened new doors for tobacco companies. The market for E-cigs is huge and has significant growth potential for key industry players. The changing trends will definitely alter this difference. Wells Fargo estimates that E-cigs sales are expected to exceed $10 billion by the end of 2017. It is estimated that E-cigs sales will surpass traditional cigarette sales by the end of 2028 and E-cigs sales are expected to reach $2.3 trillion by the end of 2050. Philip Morris is keen on taking advantage of this opportunity and plans to invest approximately $680 million to develop low-risk alternatives to traditional cigarettes.
Philip Morris's sales volumes in the previous quarter decreased due to various international taxation policies. An increase in excise tax in countries like Russia and the Philippines and tight marketing restrictions in Australia affected the sales of Philip Morris. To address these concerns in the latter half of the year Philip Morris is all set to venture into the E-cigs business. It initially plans to introduce E-cigs in various cities in the U.S. with plans for a national launch by 2015 after it has conducted all of its tests and experiments.
The strategic alliance of Philip Morris with Altria Group will be focused on selling E-cigs and smokeless products globally. With this partnership Altria gets exclusive rights for the U.S. to sell alternative heated tobacco products manufactured by Philip Morris. In return Philip Morris gets exclusive global rights to sell E-cigs manufactured by Altria.
Philip Morris's key to growth is to tap into the emerging markets to a greater extent. The company has huge exposure to the Western European countries but the regulatory environment is becoming stricter as in the United States and even higher tax rates are being introduced for tobacco products. In contrast some emerging markets have very low tax rates and fewer regulations for the tobacco industry. This opens an opportunity for Philip Morris to somehow grow its earnings and market share in the emerging markets.
Philip Morris has recently invested in the second largest cigarette market of Russia and has acquired a 20% stake in the Russian distributor Megapolis for around $750 million. The Russian cigarette market is 90% controlled by British American Tobacco, Imperial Tobacco, Japan Tobacco and Philip Morris however the distribution has stayed within the Russian companies. This acquisition will enable the company to enhance its sales volume through its control over the distribution channels in Russia and in addition this will help the company to improve operating efficiency resulting in growing cash flows and earnings.
The following chart shows the declining stock price.

Source: ycharts
Conclusion
The tobacco industry is suffering from the decreasing demand primarily due to health issues and addictive smocking habits. Many countries have tried to control the smoking by imposing stricter regulations as well as higher excise and taxation rates on tobacco products. In these circumstances the tobacco companies are trying to maintain their growth and market share in the developed as well as emerging markets. Apart from volatile financial performance Philip Morris has taken measures to expand its market share and operations by investing in developed and emerging markets along with less harmful alternative products. I believe that Philips Morris can continue to be a profitable company by exploring new opportunities and will continue to offer returns to investors.
Disclosure: I have no positions in any stocks mentioned, and no plans to initiate any positions within the next 72 hours.
Business relationship disclosure: The article has been written by a Blackstone Equity Research research analyst. Blackstone Equity Research is not receiving compensation for it (other than from Seeking Alpha). Blackstone Equity Research has no business relationship with any company whose stock is mentioned in this article