By Stuart McPhee
Throughout the course of this week the Australian dollar has been able to push up through the resistance level at 0.90 for the first time in around a month. However this was very quickly reversed as it dropped sharply falling back down towards 0.8900 before rallying a little bit in recent hours. Earlier last week the Australian dollar enjoyed a strong move higher moving through the previous resistance level at 0.88 and reaching a three-week high around 0.8980. To finish out last week it continued higher but ran into a brick wall at the resistance level of 0.90 before easing a little lower.
For a couple of weeks the Australian dollar continued to make runs at the resistance level of 0.88 only to be rejected again and again and forced lower. During this time the Australian dollar seemed content to remain steady and consolidate just below the key 0.88 level, after its strong fall through most of January. For the last couple of months the Australian dollar has established and traded within a narrow range roughly between 0.88 and the previous resistance level at 0.90. A few weeks ago however the Australian dollar fell sharply back down to the support level at 0.88 and pushed through moving to a multi-year low at 0.8660.
The Australian dollar is doing well to cling on to the 0.88 level. A few weeks ago it surged higher to a one-week high near 0.8890 before returning back again to the key 0.88 level and below. A few weeks ago the Australian dollar was able to rally higher pushing through the resistance at 0.90 to a one-month high near 0.91, however it has since returned to more familiar territory below the resistance levels at 0.90 and 0.88. After showing some resilience in early December moving to a one-week high above 0.9150, the AUD/USD spent the next two weeks turning around sharply and falling heavily down to a then three-month low close to 0.88.
After all of its steady good work in the middle of November which saw the AUD/USD steadily move higher from support at 0.93 back up to a one-week high near 0.9450, the AUD/USD has since returned all of those gains and then some more. Throughout most of October the AUD/USD enjoyed a solid and steady move higher from the support level at 0.93 up to the resistance level at 0.95 and beyond to a high around 0.9760. It has been all downhill since then. Throughout the first half of September the AUD/USD enjoyed a solid run which was punctuated by a strong surge higher sending it to a then three-month high just above 0.95. A couple of months ago the AUD/USD had been trying valiantly to stay above the support level at 0.89 as all week it placed downward pressure but was unable to sustain any break lower.
Australia's unemployment rate climbed to the highest in more than 10 years in January, spurring traders to pare bets on an interest-rate increase and sending the Aussie to its biggest drop in almost three weeks. The jobless rate rose to 6 percent from 5.8 percent, the statistics bureau said in Sydney. The median estimate was an increase to 5.9 percent in a Bloomberg News survey of economists. The number of people employed fell by 3,700. International carmakers Toyota Motor Corp. (NYSE:TM), General Motors Co. (NYSE:GM) and Ford Motor Co. (NYSE:F) have announced the shuttering of plants and shedding of jobs in Australia as the high cost of production and a strong currency render them uncompetitive. The Reserve Bank of Australia cut the overnight cash-rate target by 2.25 percentage points between late 2011 and August to a record-low 2.5 percent to help offset the currency and spur industries outside mining, where an investment boom is waning.
(Daily chart / 4-hourly chart below)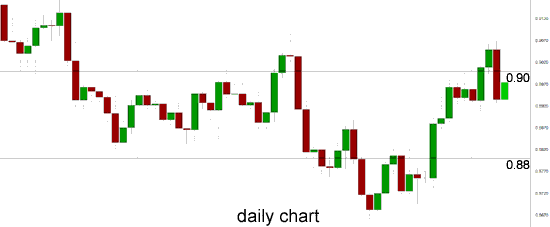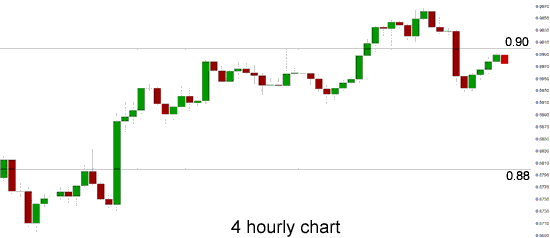 AUD/USD February 13 at 22:35 GMT 0.8974 H: 0.8993 L: 0.8929
AUD/USD Technical
| | | | | | |
| --- | --- | --- | --- | --- | --- |
| S3 | S2 | S1 | R1 | R2 | R3 |
| 0.8650 | - | - | 0.9050 | 0.9080 | 0.9180 |
During the early hours of the Asian trading session on Friday, the AUD/USD is just easing away from the resistance at 0.90 again after recently making another run at the level following the strong drop. The Australian dollar was in a free-fall for a lot of last year falling close to 20 cents. Current range: trading just below 0.9000 around 0.8930.
Further levels in both directions:
• Below: 0.8650.
• Above: 0.9050, 0.9080 and 0.9180.
OANDA's Open Position Ratios
(Shows the ratio of long vs. short positions held for the AUD/USD among all OANDA clients. The left percentage (blue) shows long positions; the right percentage (orange) shows short positions.)
The long position ratio for the AUD/USD has dropped sharply back below 60 percent as the Australian dollar has recently been above 0.90. The trader sentiment remains in favour of long positions.
Economic Releases
10:00 EU GDP (1st Est.) (Q4)
10:00 EU Trade Balance (Dec)
13:30 CA Manufacturing sales (Dec)
13:30 US Import Price Index (Jan)
13:30 US Revisions of Producer Price Index
14:15 US Capacity utilisation (Jan)
14:15 US Industrial production (Jan)
14:55 US Univ of Mich Sent. (Prelim.) (Feb)
*All release times are GMT