Executive summary:
Realty Income has finally broken out of its multi-month downward trajectory.
The company posted solid quarterly results, seeing growth in FFO as well improvements in occupancy rates.
The 2014 outlook calls for modest FFO growth and may signal higher monthly dividends.
_________________________________
Over the past few months, trading in Realty Income (NYSE:O) has been somewhere between tepid to outright bearish. However, in the last month or so, Realty Income has really started to shine, with shares finally breaking out of their long funk. The reasons for this are many, but are mostly due to a weakening economic outlook as well as an overall flight to safety in the stock market.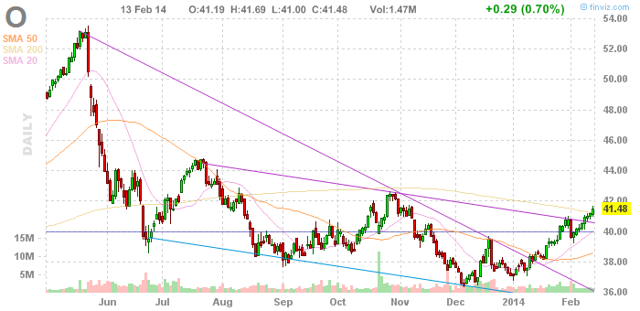 Q4 2013 Overview
On February 13, Realty Income reported its Q4 2013 results. Below are a few of the quarter's key stats:
Revenues: $215.7 million, up 62.4%

Net income per common share: $0.26

Normalized FFO: $124.6 million, up 68.4%

Normalized FFO per share: $0.61, up 8.9%

Adjusted FFO: $125.7 million, up 72.4%

Adjusted FFO per share: $0.62, up 12.7%

Same store rents: $110.0 million, up 1.8%

Portfolio occupancy: 98.2%, up from 97.2%

Dividends paid per common share: about $0.546, up 20.3%
Overall, Realty Income reported a decent quarter. All of its key metrics were up big from last year, largely thanks to the very accretive American Realty Capital Trust (NASDAQ:ARCT) acquisition completed early in 2013.
For the quarter, Realty Income's adjusted FFO per share was up 12.7% to $0.62. For most REITs, FFO is their bread and butter and a key metric for evaluating profitability.
Given Realty Income's FFO generation in the quarter, the dividend payout ratio was about 88%, compared to about 83% last year. Do note that this decline was caused by Realty Income's dividend per share growing at a faster paced than its FFO per share.
In terms of its operations, Realty Income saw both its rents and occupancy rates increase slightly in the quarter. This was likely a combination of both favorable lease renewals as well as the disposition of underperforming assets. An interesting nugget from the conference is that Realty Income's occupancy rate based on square footages is actually about 99%.
In the quarter, the company acquired 66 new properties located in 28 states for $145.3M. These are 100% leased with a weighted average lease term of approximately 12.5 years and an initial average lease yield of 7.3%. These are expected to be accretive to FFO per share by around Q1 2014.
As of year-end, Realty Income's portfolio consisted of 3,896 properties located in 49 states and Puerto Rico. Total tenants increased to 205 in 47 different industries, while the weighted average remaining lease term was approximately 10.8 years.
Realty Income's industry mix is shifting
From the conference call, it seems as if Realty Income is focused on improving its industry concentration to avoid some of the laggards in retail. As an example, drugs stores and dollar stores now make up about 16.8% of Realty Income's rental income, up from less than 8% a year ago. Meanwhile, convenience stores, industrial space, office, manufacturing, and agriculture are all down from year-ago levels.
Realty Income has made an effort to lease only to high credit quality tenants. The majority of Realty Income's rental income now comes from companies with investment grade ratings and is expected to grow in future years.
2014 Guidance
In its report, Realty Income also provided an update to its 2014 guidance. The company is expecting FFO per share to increase to about $2.53 to $2.58, up 5% to 7% from 2013 FFO per share of $2.41. Realty Income also noted that it expects between $1.0B to $1.2B in acquisitions this year. Do note that this update is basically unchanged from the one provided late in 2013.
Based on the midpoint for FY 2014 FFO as well as the current monthly dividend level, Realty Income's payout ratio would improve to about 85% this year. However, given Realty Income's long history of small increases to the dividend throughout the year, I suspect the actual payout ratio to be slightly higher.
Conclusion
Overall, Realty Income performed as expected in Q4 2013. The company posted strong growth in its FFO while also being able to increase investments into its portfolio. Realty Income's operational performance remained stellar, with an extremely high occupancy rate and a robust increase in rental income from same stores.
Realty Income's stock is still very much below its mid-2013 levels and only about 10% off its 52-week low. Given its current 5.30% yield, long history of monthly dividends, and strong operational metrics, Realty Income is definitely a REIT worth considering for income investors.
Disclaimer: The opinions in this article are for informational purposes only and should not be construed as a recommendation to buy or sell the stocks mentioned. Please do your own due diligence before making any investment decision.
Disclosure: I am long O. I wrote this article myself, and it expresses my own opinions. I am not receiving compensation for it (other than from Seeking Alpha). I have no business relationship with any company whose stock is mentioned in this article.