By Ryan Puplava
Last August, I wrote an article about an intermediate bottom in gold, but that a more meaningful long-term bottom would still take time and price. I explained how important it was to allow long-term moving averages to stop falling, which would take many more months of sideways trading. Gold tested $1200 once more at year-end due to Fed tapering fears and tax loss selling in both the metal and in mining companies was used to offset gains in US stocks. Tax loss selling has abated. Technical support has held. Now two weak jobs reports and fears of inflation in developing markets have helped to encourage a relief rally in gold that is long overdue.
In the past month, large traders have increased their net exposure to gold by almost 50% according to the Commitments of Traders report from the Commodity Futures Trading Commission. Maybe they've been moved by news concerning central banks raising rates to support currencies in Brazil, South Africa, Turkey (400 basis points), and India. Inflation is running rampant, maybe not in the U.S., but in areas of weak currencies as shown here: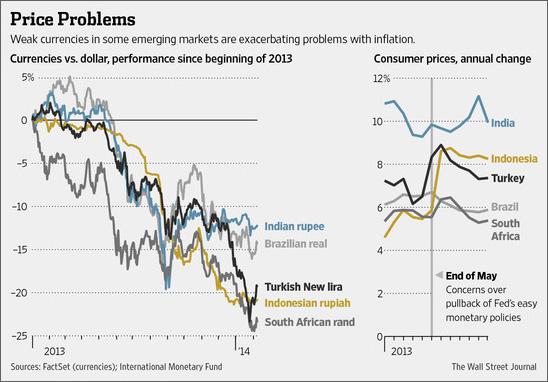 Source: WSJ
Maybe they've taken note of the improved technical. Either way, momentum investors are moving back into gold and/or decreasing short exposure.

On January 2nd, the first day of trading in 2014, gold was finally out from underneath the oppression of a bad year. It was probably one of the most talked about subjects in the investment media. Little did journalists know, gold was planning to stage a major rally after the failed breakdown of $1200 on December 31st, when spot gold traded as low as 1181. It was the second unsuccessful attempt to break down gold's $1200 support in December. It closed the year, at $1202, down approximately 28.5% on the year. The following trading day, on January 2nd, gold rose to $1224.
Gold had some significant responses to economics over the past two months, possibly on the notion that the Federal Reserve would need to consider pausing its taper on bond purchases. As we've learned from the January policy meeting, the bar for that is set much higher. However, on January 10th, gold rose $17 on a missed employment report. On January 23rd, gold rose $24 on a drop in Chinese PMI data that started a deleveraging process in stocks. Finally, on February 3rd, gold rose $20 on another missed employment report.
The technical situation for gold has changed since August 2013. January 23rd's push to $1262 helped gold "clearly" breakout above its 50-day moving average, the first time since August of last year. This, probably more than anything else, has helped spark a rally in the metal. Now that gold has traded positively 7-days in a row, it is now finally at what technical analysts categorize as nearing the end of a bottoming process. The long-term moving average, the 200-day moving average, is only $10 dollars above Thursday's close. As I said in August, it was important for this moving average to come down and begin to flatten. That is a process that might finally be at hand.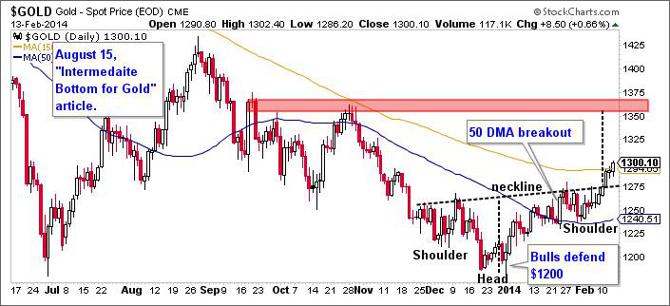 Gold isn't the only commodity that may be late in the bottoming process. Both the CRB Index and Chinese stocks (which have been closely related over the past 10 years) show that these two are late in the bottoming process. Natural gas has already broken out of its base. Coffee, Cocoa, livestock (hogs and cattle), and other commodities are actually showing positive trends. Global mining conglomerates and mining equipment companies have been showing signs of strength as well.
Caterpillar (NYSE:CAT) during the earnings season had positive things to say about China despite the negative flash PMI number in January and concerns over banking liquidity there. Iron ore imports, announced yesterday for China, were reported to have risen 18% over December levels, 12% above November's record high, and 32% above year-ago levels for January - a report that seems to conflict with the manufacturing data received from the HSBC PMI survey.
So gold is getting a relief rally and many commodity-linked investments too are showing signs of bottoming. Bottoms are a long process that take time and price. If commodities, China, and mining conglomerates are showing positive trends, it's probable that the global growth story may be around the corner, despite January worries.