By Stuart McPhee
The GBP/USD has enjoyed a very healthy last week moving well from the support level at 1.6250 through 1.6450 and in the last couple of days moving to a new multi-year high above 1.6670. To start this week the GBP/USD slowly crept higher to a one-week high above the resistance level at 1.6450 and for most of last week the GBP/USD was able to steady and hold ground above the support level at 1.6250 and rally a little back towards 1.6350 before finishing out the week. Two weeks ago saw the pound fall sharply and experience its worst one-week fall this year which resulted in it moving to the six-week low near the current support level at 1.6250. Over the last couple of months the pound has established and traded within a trading range roughly around the key level of 1.6450, whilst moving down to support at 1.6250 and up to 1.66. Over the last few weeks or so the pound has moved very strongly pushing through resistance levels at 1.6450 and more recently at 1.66 however it has since returned those gains.
The 1.66 level has become quite significant as it had been looming large over the last month or so and a couple of weeks ago it moved through, reaching a new multi-year high close to 1.6670. This level has resurfaced again as one of significance. Since that time however it has retraced strongly and moved back below the 1.66 level only to be rejected again over the last week before falling sharply again to below 1.6450. Several weeks ago it rallied again trying to break through the 1.6450 level before dropping back to a support level at 1.6350. In late November it did well to break through the long-term resistance level at 1.6250 which had established itself as a level of significance over the last few months. This level continues to play a role in providing support. In early November, the pound bounced strongly off the support level at 1.59 to return back to above 1.6250.
Towards the end of October the GBP/USD slowly drifted lower from the strong resistance level at 1.6250 and down to a three-week low just around 1.5900 which was recently passed as the pound moved down towards 1.5850 only a week ago. For the week or so before that the pound moved well from the key level at 1.60 back up to the significant level at 1.6250, only again for this level to stand tall and fend off buyers for several days. Throughout September the pound rallied well and surged higher to move back up strongly through numerous levels which was punctuated by a push through to its highest level for the year just above 1.6250 several weeks ago. In the first week of October the pound was easing back towards 1.60 and 1.59 where it established a narrow trading range between before surging back to 1.6250 again.
British finance minister George Osborne warned Scotland on Thursday it cannot keep the pound if it votes for independence in a September 18 referendum. "The pound isn't an asset to be divided up between two countries after a break-up as if it were a CD collection," Osborne said in a speech in the Scottish capital. "If Scotland walks away from the UK, it walks away from the UK pound." Osborne said that there was no legal reason why Britain should share the pound with Scotland and that Scottish debt issuance would face "punitively high interest rates" in the case of secession.
(Daily chart / 4-hourly chart below)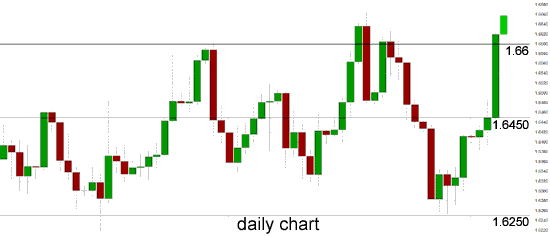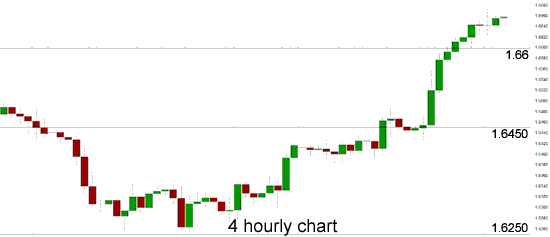 GBP/USD February 13 at 23:00 GMT 1.6657 H: 1.6673 L: 1.6600
GBP/USD Technical
| | | | | | |
| --- | --- | --- | --- | --- | --- |
| S3 | S2 | S1 | R1 | R2 | R3 |
| 1.6300 | 1.6250 | 1.5900 | 1.6670 | - | - |
During the early hours of the Asian trading session on Friday, the GBP/USD is consolidating a little and remaining quite steady right underneath 1.6660 after its strong movement higher to a new high above 1.6670. Current range: Right around 1.6660.
Further levels in both directions:
• Below: 1.6300, 1.6250 and 1.5900.
• Above: 1.6670.
OANDA's Open Position Ratios
(Shows the ratio of long vs. short positions held for the GBP/USD among all OANDA clients. The left percentage (blue) shows long positions; the right percentage (orange) shows short positions.)
The GBP/USD long positions ratio has moved right back down towards 20% as the GBP/USD continues to move higher to a multi-year high. Trader sentiment remains in favour of short positions.
Economic Releases
10:00 EU GDP (1st Est.) (Q4)
10:00 EU Trade Balance (Dec)
13:30 CA Manufacturing sales (Dec)
13:30 US Import Price Index (Jan)
13:30 US Revisions of Producer Price Index
14:15 US Capacity utilisation (Jan)
14:15 US Industrial production (Jan)
14:55 US Univ of Mich Sent. (Prelim.) (Feb)
*All release times are GMT