Executive summary:
Deere & Company presented solid Q1 2014 results.
Despite expected short-term setbacks in its Agriculture & Turf segment in 2014, Deere faces attractive long-term demand dynamics.
The market seriously undervalues Deere's long-term earnings prospects.
_________________________________
Deere & Company (NYSE:DE) had another great quarter. The farming and construction equipment company posted respectable improvements in y-o-y sales and earnings:
In the first quarter of 2014 Deere reported net sales of $6.9 billion vs. $6.8 billion in the year ago quarter (up 2%)
Net sales in Deere's dominant Agriculture & Turf segment increased 2% y-o-y to $5.6 billion vs. $5.5 billion in Q1 2013
Operating income in Agriculture & Turf increased 4% to $797 million compared to $766 last year driven by higher price realizations
Construction & Forestry net sales grew 4% to $1.4 billion vs. $1.3 billion in Q1 2013
Operating income in Deere's Construction & Forestry segment skyrocketed 32% to $94 million, up from $71 million a year ago
Q1 2014 net income increased 5% to $681 million compared against $650 million in Q1 2013
Deere's Q1 2014 diluted EPS came in at $1.81 vs. $1.65 a year ago - an increase of 10% and a handsome beat of a $1.53 consensus estimate.
Despite strong underlying results, the market has reacted with a good dose of skepticism to Deere's results. The company confirmed its cautious outlook for 2014 and reiterated that it expects worldwide net sales in Agriculture & Turf to decline by 6% in 2014 while net sales in Construction & Forestry should increase by 10%. Total net sales for fiscal year 2014 are expected to come in 3% lower compared to 2013 while net income is projected to decrease 7% y-o-y to approximately $3.3 billion.
Net sales in the Agriculture & Turf segment accounted for 80.5% of net sales in the first quarter of 2014, highlighting Deere's continued heavy dependence on its agriculture business.
Share performance
Deere & Company has operationally and financially performed very strongly with many consecutive years of record profits and substantial free cash flow generation. However, the market just didn't favor Deere and much of it had to do with Caterpillar's (NYSE:CAT) highly publicized troubles in the construction business. Caterpillar became the target of shortseller Jim Chanos who shorted the construction equipment manufacturer due to Caterpillar's high reliance on the mining sector. His short position, which he recently reaffirmed, has inserted considerable uncertainty into the farming and construction equipment sector.
Deere & Company has had sporadic phases of short-term volatility in 2013, but the company ended the trailing twelve month performance period almost unchanged with a slight minus of 5%.
(Source: Yahoo Finance)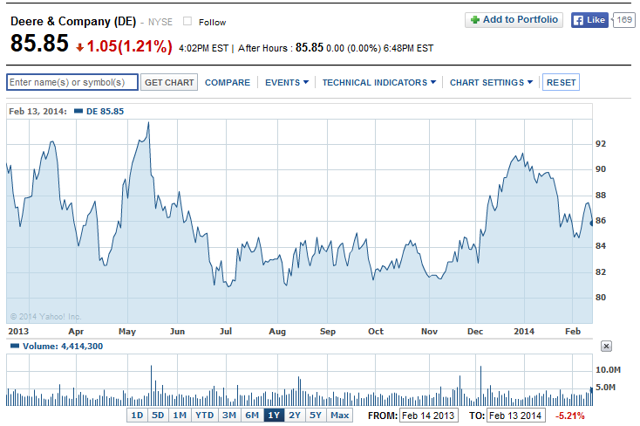 Click to enlarge
Interestingly, Caterpillar has performed about as strongly as Deere & Company although Caterpillar's cyclical construction business was heavily impacted by China's economic slowdown in 2012 and 2013. Over the last five years, Deere & Company returned 197%, Caterpillar 261% and AGCO (NYSE:AGCO) 204%. Caterpillar's stock price appears to be more sensitive to business cycle changes than Deere & Company.
(Source: Yahoo Finance)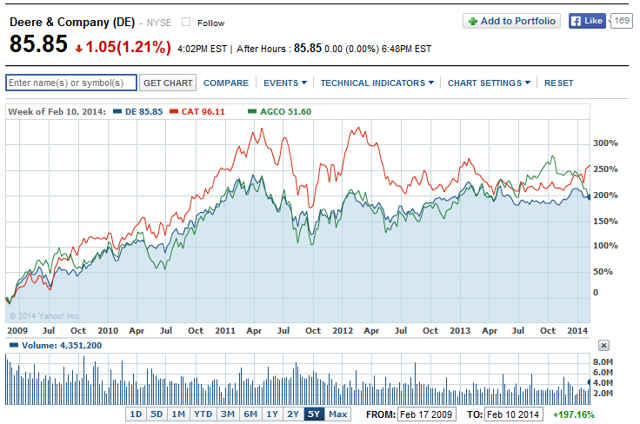 Click to enlarge
Long-term trends intact
While Caterpillar is dependent on the mining industry to deliver its construction and mining equipment, Deere & Company has much larger exposure to the agriculture business which I deem to be fundamentally more attractive for investors with a long-term mindset.
The world population is growing rapidly which puts increasing pressure on farmers to keep up with food demand and increase crop output. Fertilizer companies such as Potash Corp. (NYSE:POT) or Mosaic (NYSE:MOS) are also likely to benefit from secular trends of increased food and fertilizer demand in the coming years. With increasing demand for food and limited supply in agricultural land, I expect that farming enterprises in western countries are going to get bigger with larger operations playing an increasingly important role in the food supply chain. This drive toward consolidation should benefit agricultural manufacturing companies like Deere & Company which sell their products predominantly to large-scale farming operations.
Market valuation
Despite short-term uncertainty with respect to Deere's Agriculture & Turf business and lower estimated total earnings for 2014, I believe Deere & Company is a great long-term investment for investors who don't mind acting anti-cyclically and who like to purchase a leading manufacturing business with a global presence at a discount price.
Deere & Company trades at just 11 times forward earnings even though it faces a more attractive and less volatile long-term earnings stream than Caterpillar. Caterpillar now trades at 14 times forward earnings as shares have strongly rebounded since December 2013. I have previously recommended Caterpillar for contrarian investors because of overly pessimistic sales expectations.
The following two graphs depict Deere & Company's forward P/E and D/P ratios and compare them to the ratios of Caterpillar and AGCO:
(Source: Achilles Research, Finviz)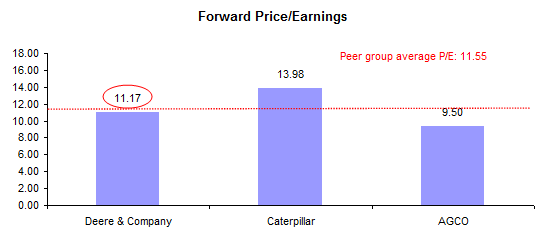 (Source: Achilles Research, Finviz)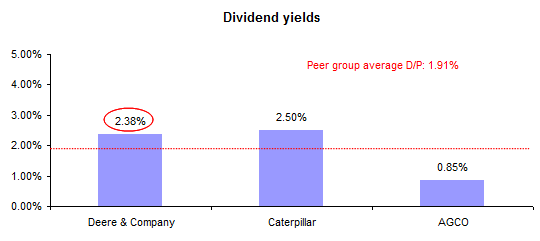 The following table summarizes key valuation metrics for the farming and construction equipment sector.
(Source: Achilles Research, Finviz)

Click to enlarge
Conclusion
Deere & Company is supremely-run, traditional manufacturing enterprise in the United States which I deem to be significantly undervalued. The company has achieved record operating cash flows of $4.7 billion in fiscal 2013 and also posted decent y-o-y increases in sales and EPS. Investors cannot realistically expect that a company consistently jumps from one record to the next in terms of sales, earnings or cash flow. Sometimes firms and markets have to take a breather which ultimately makes the company stronger. Given a low multiple of just 11 times forward earnings and a very attractive long-term earnings and dividend stream, I wouldn't be too worried about a negative short-term outlook in Agriculture & Turf. I think Deere & Company can realistically trade at 15x forward earnings which would peg Deere's target value at around $115 per share. The long-term dynamics in agriculture are extremely positive for the company and Deere is well positioned to capitalize on the strong trend of increasing global food demand. Long-term BUY.
Disclosure: I am long DE, POT, MOS. I wrote this article myself, and it expresses my own opinions. I am not receiving compensation for it (other than from Seeking Alpha). I have no business relationship with any company whose stock is mentioned in this article.