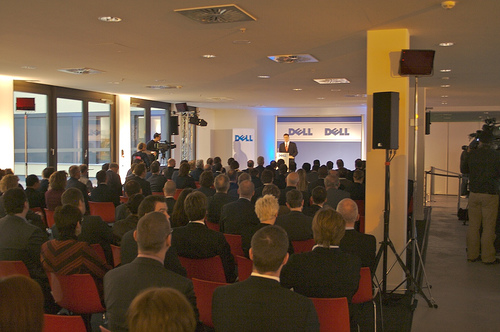 Now that HP (NYSE:HPQ) has entered the smartphone market with its acquisition of Palm (PALM), what is Dell (NASDAQ:DELL) going to do? Dell needs to find a dance partner. Research in Motion (RIMM) and Nokia (NYSE:NOK) are too large to be acquired by Dell. Apple (NASDAQ:AAPL) already has its own smartphone offering. Motorola (MOT) already uses the same Android operating system as Dell so acquiring Motorola for its operating system wouldn't make much sense. Dell's best move for the time being is to go it alone in the smartphone market.
There have been rumors that Dell is developing its own smartphone which will run on the Google (NASDAQ:GOOG) Android operating system. This would be a nice foray into the market but to make serious money Dell needs to develop its own operating system. As Apple has shown, having your own operating system gives you access to an endless revenue stream via Apps stores. Palm has its own Apps store. Google will make the bulk of the money from Dell's new smartphone since Dell is using Google's operating system. Android apps has been very lucrative for Google. So, what move does make sense for Dell? Dell needs to develop its own operating system if it is serious about being a major player in the smartphone market.
Dell needs to acquire a handset maker. Buying Motorola only makes sense if Dell gets a sweetheart deal to acquire the firm. Motorola currently has an enterprise value over $12 billion. Dell would need Motorola's shares to decline significantly since it would be buying Motorola for its product development not for its operating system. Dell's strength has not been in product design so it would be hard to believe that Dell could develop a lightweight, sleek, eye-catching phone. Motorola has already developed popular phones such as the Motorola Droid.
None of these moves will happen overnight. Dell may have missed its opportunity for a quick entry into the smartphone market by not acquiring Palm.