In "Ode To Melancholy," the Romantic Poet John Keats portrayed melancholy's mutual relationships with joy for melancholy is the requisite for one to fully appreciate joy. Likewise, I believe that the seeking of "cautious investments" is interrelated to the unearthing of investment gems, because the keen foresight to spot out market misconceptions is necessary for an integrated investor to discover promising securities. As follows, I recently published my quarterly recommendations to assist readers in maximizing their investing returns. Specifically, I presented many promising investments opportunities. Nevertheless, I dedicated a small section in elucidating the cautious investments regarding Orexigen (NASDAQ:OREX), Arena (NASDAQ:ARNA), and Darden Restaurants (NYSE:DRI) in hoping to guide readers away from probable financial calamities. Moreover, I hope that the skills in researching the short thesis would correspondingly help me to generate better accuracy my long thesis.

Source: Yahoo Finance
Arena Pharmaceuticals and Orexigen Therapeutics are companies focusing on the developments and commercialization of drugs to treat obesity. Despite more than one and a half years post-FDA approval, sales for Arena's lead drug (Belviq) have been far from blockbuster status. Regarding Orexigen, the company is expected to received the Agency's approval decision for its lead drug, Contrave, by June 10 this year. The third company featured on my "cautious investments" was Darden Restaurants - a casual dining restaurant operator that owns Olive Garden, Red Lobster, LongHorn SteakHouse and other specialty dining's. Darden delivered tremendous value to shareholders over the years. Nevertheless, I believe that the company had entered into either a slow growth or no growth stage after having lived its illustrious life. Hence, I recommend the prudent investors to find other promising investing opportunities.
Contrary to the story of Darden, I believe that there is a prevailing delusion -preying on investors' naiveté - that there are huge profits to be made from investing in Orexigen and Arena. Though it is impossible to pinpoint the origin of such misguided belief, I speculated that it was partly driven by the repetitive touting of the mantra pertaining the "high prevalence of obesity," of which I also found myself guilty as charged.

Source: Yahoo Finance
Truth be told, I entertained this myopic perception as early as the days when I first embarked on my training in New York at The Columbia University. I took that misguided notion into medical school and then into the early days of my medical training even as a resident MD! With that being said, I could imagine why many investors, with most folks have neither medical nor scientific backgrounds, would react with strong opposition when I first published my thesis on Orexigen. I took my father's teaching to heart that before I point my fingers at anyone else, I would first re-examine myself. Given that I had all the backgrounds to comprehend the ramifications for obesity yet I was guilty of buying into this faulty belief, how could I hold it against any readers?
During my introspection, I felt ashamed for having bought into this delusion for the fact that I was a contributing author for the Encyclopedia Of Obesity, a medical student, an obesity researcher, a master nutritionist, and a resident family medicine MD. I am now cognizant of the difficult feat to fight against my "common sense." Instead of going against common sense, it would be less stressful to pick up the book that dazzled my eyes with its glossy covers -poetically scribbled with the golden promises of making me prosperous. The prospects of increasing my net worth seemed too promising to walk away, because I witness an increasing number of people struggling with the weight issues.
The turn of event happened during my rigorous month-long investigations into these companies, which took away my last Christmas. Nevertheless, the extensive research shed lights into my own "blinders," which caused my personal biased toward the anti-obesity drugs all these years. I uncovered a wealth of evidence to suggest investors to perform their due diligence in rechecking the stories of these cautious investments for I believe there would be financial catastrophe in the foreseeable future.
My thesis regarding the anti-obesity drug makers pertains to the lackluster sales recognition that I ascribed as insoluble problems inherent in the drugs and in the weight-loss industry per se. My research on obesity revealed the insights that physicians are reluctant to prescribe Belviq, Qsymia and/or Contrave (should the drug get approved). Furthermore, evidence based medical guidelines and the obesity experts are not recommending the new weight-loss pharmacotherapies as the "drug-of-choice." The top-line recommendation was orlistat (Xenical) due to the drugs long history of safety and efficacy. Based on my integrated approach, I believe that physicians would be unwilling to change their prescribing patterns after such patterns became habits. Therefore, it would be remarkably difficult (if not futile) for Arena's sales team to convince doctors to favor Belviq over orlistat. In my opinion, clinicians would only be inclined to switch to new drugs if the drugs would show significant improvements in safety, as well as, efficacy versus existing drug competitors.
As anecdotal evidence, I once asked my previous mentor, Doctor S, a question pertaining to physicians prescribing patterns for new drugs. His answers made a lasting impression. The mentor and his brother, a pulmonologist, are some of the brightest physicians that I've seen. Doctor S could compute arithmetic's problems in his mind faster than my Mac Pro calculating machine. Accordingly, the doctor stated that physicians tend to favor existing medicines over new ones due to the potential unknown effects.
Besides the clinicians unwillingness to change their prescribing habits, I believe that the benefits-to-risks relating to Belviq and Qsymia are not favoring doctors to scribble their prescription pads "en-mass," Consider the recommendations by George Bray, MD, Professor of Medicine at Louisiana State University,
For obese patients, we suggest orlistat as first line pharmacologic therapy given its excellent cardiovascular safety profile and beneficial effects on serum total and LDL cholesterol concentrations. Lorcaserin (Belviq) is an alternative option for those who cannot tolerate orlistat. However, there are few long-term safety data. Lorcaserin should be discontinued if a patient does not lose 5 percent of body weight in 12 weeks.

Combination phentermine-topiramate is also an option for obese men or postmenopausal women without hypertension or coronary heart disease. For women of childbearing potential, a pregnancy test is required before initiating therapy and monthly thereafter since this combination can produce fetal anomalies. If a patient does not lose 5 percent of body weight after 12 weeks on the highest dose, phentermine-topiramate should be discontinued gradually.
On February 10, 2014, Arena issued a press release emphasizing the increasing insurance coverage for Belviq. This catalytic event levitated the stocks PPS by approximately 8 percent.
CVS Caremark customers (employers and health plans) have broadened the coverage of Belviq, and eligible CVS Caremark members may have access to Belviq in either a preferred or non-preferred brand position depending on the design of the employer benefit or health plan. In addition, Aetna recently announced that it would offer Belviq as a preferred brand to eligible patients as part of its pilot program to self-insured plan sponsors nationwide. The Aetna program, which offers access to lifestyle management programs and surgical options, will also measure improvements in health outcomes, productivity and medical costs.
Surely, the increasing insurance coverage would improve the statistics for providers to prescribe Belviq. Nevertheless, the procurement of insurance coverage was only half of the battles won. Hence, this news did not exonerate Belviq from the seemingly undefeatable battle to win over physicians' hearts in prescribing.
Similar to the Battle of Gettysburg, when Confederate General Lee failed to acknowledge the unfavorable terrain to order his troops in marching up the "deadly hills," he destined these courageous men to their demise. In an analogous fashion, when you declined to appreciate the evidence base medical guidelines and doctors' prescribing-habits to speculate in the "cautious investments," you destined your precious cash portfolio to strike margin calls.
In addition, what most people failed to be informed was that the anti-obesity drug market is dwindling. I believe that the industry's decreasing profits is intrinsic to its "fads" nature driven by excessive hypes and speculations. The fad nature of the anti-obesity industry is evident in the story for orlistat (or Xenical). Nearly eight months into approval, orlistat recognized nearly $1billion for Roche, a giant Swiss drug manufacturer. Given the fad nature of the weight-loss drugs, sales of orlistat continued to decline that it was merely $100millions in the fiscal year. Further, it's interesting to note that Roche, despite their vast resources, failed to halt the decimation in orlistat sales into their second/third years after FDA approval.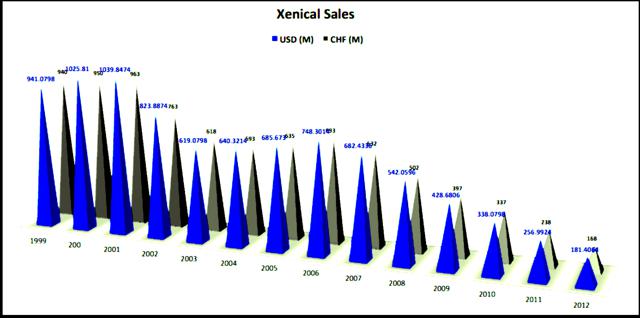 Source: Retail Investor 360 (compilation of data from Roche)
The trend in weight-loss industry (one driven by fads) is heading Southbound -even the leader drug, orlistat, with the backing of giant Roche failed to halt the downward trend in sales, I highly doubted that the less resourceful Arena and their partner Eisai would be able to ameliorate this trend. The bottom line is that I predict the sales and earnings for Arena would continue to be insignificant.
Therefore, the PPS may head south in rapid fashion subsequent to earnings. However, no one could predict where the PPS could wiggle in the short terms.To be concise, I am not recommending investors to short Arena, Orexigen, or Vivus. Truth be told, I reduced my short positions in Orexigen and Arena significantly. Nevertheless, if you choose to short one of the three weight-loss drugs makers, I'd short Arena.
Furthermore, it is imperative for the retail investors to only short stocks utilizing a small percentage of your portfolio. Given that Stendra sales could be significant, I recommend investor to exercise discipline to resist from shorting Vivus. I would also refrain from shorting Orexigen, as it is getting closer to the FDA approval for Contrave. I do not believe in the long term prospects of the drug and I shorted Orexigen back when the risks were less substantial. Nevertheless, the risks of shorting (as well as longing) Orexigen are increasing drastically as the stock is approaching its binary event.
It is important to note that I could not promise you that my predictions would be completely accurate. If I could make such promises, investing research would be a perfect science. Instead of being purely scientific, investing research has interweaving elements of art and science per se. Nevertheless, my personal rule-of-thumb is that when I perform my due diligence and pushing my limits (while practicing humility and kindness), my predictions turned out accurate majority of the time. On the contrary, when my ego became inflated I would be more mistakes prone.
Additional disclosures: I could only share with you my market intelligence that I procured through performing due diligence to the best of my God given abilities. Investing in biopharmaceuticals entails significant risks versus rewards. Since different individuals have different tolerance to risks, I could not give you specific investment recommendation. It is your responsibility to make that decision base on your assessments of your risks tolerance versus rewards.
Disclosure: I am short ARNA, OREX. I wrote this article myself, and it expresses my own opinions. I am not receiving compensation for it. I have no business relationship with any company whose stock is mentioned in this article.