"Success is not final, failure is not fatal: it is the courage to continue that counts." - Winston Churchill
Executive summary:
Occidental Petroleum continues to evolve into a firm more focused on creating shareholder value.
These actions have not been rewarded in the marketplace.
The company will spin off its California operations as another step in that process that should power stock higher.
Occidental also announced another dividend hike this week.
The stock makes sense for both value & income investors.
Occidental Petroleum (NYSE:OXY) has been a laggard in the market over the last year (See Chart).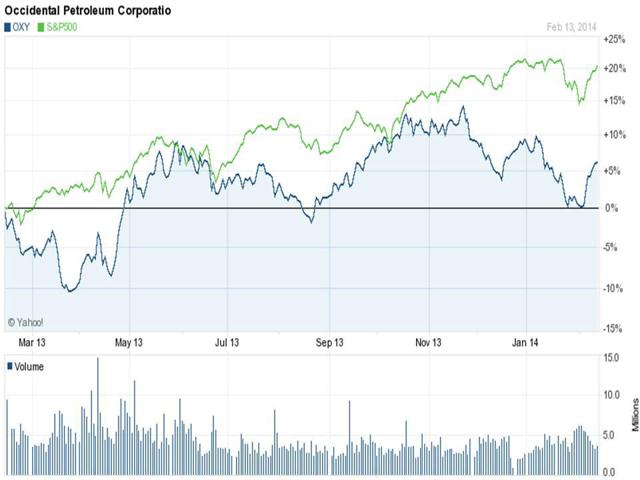 This is unfortunate as the company has become much more shareholder friendly over the past twelve months. The company booted its longtime president and chairman Ray Irani off its board in 2013. Occidental is also making other changes that should significantly boost its prospects for capital appreciation and dividend growth in the years ahead.
Positive catalysts:
The company announced this morning that it will spin off its California operations. This is a move that has been pushed by activists. The new entity will be the largest natural gas play in California and in early trading Friday the move is being applauded by the investment community.
This follows an announcement yesterday that Occidental will sell some non-core assets in Kansas, Texas & Oklahoma for some $1.4B. These properties had production that was 70% natural gas. These two transactions will result in a more 'oily' production mix, something the market should reward.
In addition, the company is making progress in selling a 40% minority stake in its operations in the Middle East & North Africa. This deal could fetch $8B to $10B and will provide funds for investment, debt retirement as well as additional stock buybacks & dividend growth.
Finally the company stated it is raising its dividend payout by 12.5% and adding 30mm shares to its stock repurchase plan.
Yield & Increasing Domestic Focus:
With the new dividend the shares will yield 3.1%. This is the twelve straight year that Occidental has hiked its dividend payout. During that span the total dividend increase has been over 450%. These are reasons why OXY is a good selection for income portfolios.
The company is becoming a more focused domestic oil concern via these strategic moves. Occidental raised domestic oil production by 4% in 2013. As importantly, thanks to the focus on operational efficiency, domestic operating costs have fallen by 17% during that period.
The stock is reasonably valued at under 7x operating cash flow. The company has a solid balance sheet and insiders bought over $600K in new shares in December. I believe Occidental's transformation will continue and will be awarded in the market. Investors get paid an over 3% yield and growing while the company continues its journey to delivering more shareholder value. I will continue to add to my shares on any significant dip in the market. ACCUMULATE
Disclosure: I am long OXY. I wrote this article myself, and it expresses my own opinions. I am not receiving compensation for it (other than from Seeking Alpha). I have no business relationship with any company whose stock is mentioned in this article.