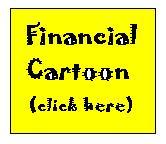 Outlook: In another blow to investors' egos, a recent report by TrimTabs, as reported in the WSJ, showed a strong negative correlation between the funds' flow into U.S. equity ETFs and the returns on the S&P 500.
A Leading Contrary Indicator: According to TrimTabs, during 2008 investors poured $120 billion into ETFs just in time to experience a 39% decline in the S&P 500. So, acting on "knee-jerk investment logic", investors pulled out $24.5 billion in 2009 just in time to miss a 24% rally. A spokesman for TrimTabs commented, "ETF investors, many of whom are day traders, are an outstanding leading contrary indicator."
Looking for Mr. Goodbar: Assuming ETF sponsors will launch funds where there is investor interest—and since ETF investors are typically wrong-footed—I surveyed the increase in the number of ETFs launched in the past 12 months (March) to scout for potential victims.
Not to my surprise, the largest percentage increase in the number of new ETFs was bond related: government bonds (111.1%), munis (86.7%) and corporate (52.6%). On the equity side it was: emerging markets (72.2%), real estate (30.8%) and large cap (29.7%).
Investor Courtesy: I always found it to be an investment courtesy to leave the last 10% of a stock price's summit for the investor who will be buying the investment I'm selling prior to its "rolling over". As it relates to bonds, we're moving ever closer to the "top tick" and I'd be looking for the exit.
CEF Weekly Review: The 13 closed-end fund (CEF) types on average posted a 0.1% decrease for the week ending 4/30/10. The high-low spread was 2.4% vs. 3.3% the previous week. On an aggregate, unweighted basis the weekly average price change for the 500 plus CEFs was off 0.1%.
The PowerShares CEF Income Composite (NYSEARCA:PCEF), an ETF that invests in taxable income CEFs, decreased 0.6% for the week. The S&P 500 declined 2.5% for the week, up 1.4% for the month and up 6.4% YTD.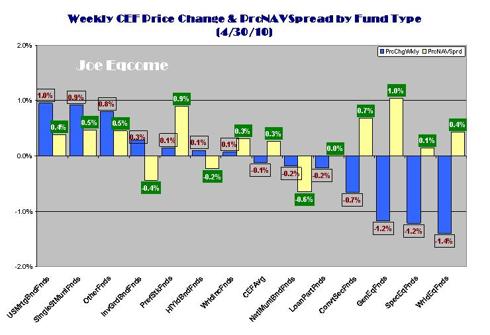 (Click here [2] for YTD CEF Performance. The table is based on a smaller CEF sample size as all the data fields are not available for the CEF universe.)
The Eqcome CEF Fear Index flat-lined for the week with the average price decreasing 0.1% versus a 0.2% decrease in the NAV. The CBOE Volatility Index (VIX), which typically moves inversely with the stock market—but is more a measurement of volatility based on stock options' premiums, spiked 32.7% for the week on investor uncertainty regarding financial reform, Goldman and European sovereign debt.
The S&P 500 average daily trading volume jumped 8.8% to 6.3 billion shares this week as investors sold into the mid-week stock market swoon and registered over 6 billion shares daily the balance of the week.
CEF Weekly Fund Type Performance: The weekly performance of the fund types were biased toward fixed-income oriented funds as investors sought shelter from international and domestic political uncertainties. USMrtgBndFnds, SingleStMuniFnds and OtherFnds were the week's best performers with an average price increase of a 0.9%. GenEqFnds, SpecEqFnds and WrldEqFnds were the worst with an average decline of 1.3%.
WrldEqFnds were impacted by the EU's debt crisis spilling over into the respective equity markets as concern built regarding their respective banking sectors. Investors expressed increased anxiety regarding the value of banks' collateral and capital ratio if sovereign loans had to be revalued downward. An inadequate solution to the Greece sovereign debt problem will reignite a US styled banking crisis without a strong central bank.
Despite the likelihood of Harrisburg, PA, filing for "Chapter 9" municipal bankruptcy, SingleStMuniFnds performed well for the week outpacing NatlMuniBndFnds which fell below the average. Either investors have already priced the vulnerability of muni bonds or they view them as a safe interim alternative while another port emerges in the storm.

The PrcNAVSprds[1], which typically move in the direction of stock prices, exhibited an atypical pattern this week—particularly in the equity-oriented funds where prices declined and respective NAV increased. There are two likely causes for this. The first is that investors panicked and sold a fund type indiscriminately or the CEF price is predicting the subsequent decline in NAV which may take longer to adjust to changes in valuation.
I'm placing my money on investors panicking. The underlying economics appear to be improving in many of the important categories such as consumer confidence, housing and manufacturing. I'd be looking possibly to buying some of the WrldEqFnds with exposure to Asia as it is Europe that appears most burdened.
CEF Winners and Losers: Cornerstone Total Return (NYSEMKT:CRF) was one of the CEFs with the greatest positive PrcNAVSprd. For the week CRF's price appreciated 3.0% while its NAV declined 2.3% generating a positive PrcNAVSprd of 5.3%. Why anyone would want to own CRF is a mystery to me.
CRF is an inferior CEF essentially gaming unwitting retail investors by distributing back to them their own money in the form of a return of capital distribution—after they've taken a fee. In my opinion, the Cornerstone funds (which include CFP and CLM) are operating a legalized Ponzi scheme enabled by the SEC.
This is a $22 million CEF with 10% leverage that is selling at almost a 50% premium to NAV. By comparison, the average CEF net asset value is $415 million and it is selling at an average discount of 2%. For those investors willing to own CRF, I've got an investment opportunity in a bridge in New York City in which they might be interested.
The CEF having one of greatest negative PrcNAVSprd for the week was Energy Income & Growth (NYSEMKT:FEN). FEN share price dropped 8.5% and its NAV declined 1.3% generating a negative PrcNAVSprd of 7.2%. The CEF priced a 1.7 million common share follow-on offering at $24.20 per share which raised $39.3 million (without an overallotment) in proceeds on Friday. The stock was priced at a 4.5% discount and the shares closed at $24.01. The shares were priced at above the NAV of 22.74 per share. The offering resulted in a dilution of 22% of pre-deal shares outstanding. The stock will likely adjust upwards in the next week or two.
Economic & Earnings Outlook: (Click here [3] for next week's economic calendar; click here [4] for earnings announcements and estimates.)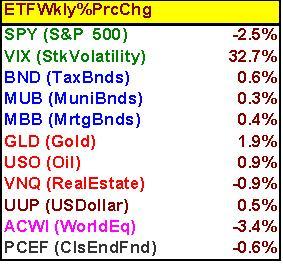 ETFs: For a more detailed EFT performance by sectors, click here [5].
Insider Trading: The last week of April was busy for CEF insider transactions with nine CEFs seeing activity.
There continues to be significant insider buying of TCW Strategic Income Fund (NYSE:TSI) by officers and portfolio managers. YTD, there has been 266,208 shares acquired at an average cost of $4.77 per share for a total expenditure of $1,275,271. Most of that buying has occurred in April with 201,708 shares purchased for a value of $973,054. TSI is trading at a 5.1% discount and at a 6.8% yield. (See "CEF Focus Stock of the Week" below)
The Horejsi Group (Horejsi) continued to add to its position in Boulder Total Return Fund (BTF) this week with the acquisition of 15,000 shares at for an expenditure of $222,660. This brings its monthly total to $723,558. Horejsi owns 24.2% of the outstanding shares of BTF. There were no new purchases of Boulder Growth & Income Fund (NYSE:BIF) which was the subject of a recent derivative lawsuit alleging that BIF's advisors and its Board breached its fiduciary duties.
There was some insider selling in Cohen & Steers Quality Income Realty Fund (NYSE:RQI). Bonnie Cohen indirectly sold (by trust) 8,000 shares at a price $7.54 per share repatriating $60,320 in capital. The shares have advanced approximately 30% this year as another Cohen & Steers CEF merged into RQI.
(Click here for a hyperlink to the Joe Eqcome's CEF Weekly Insider Report.)
CEF Distribution Announcements This Week: The following is a link to a table of CEF distribution announcements this week as well as the previous week's with yet expired ex-dividend dates. The list is not intended to be inclusive. (Click here for Joe Eqcome's Weekly CEF Distribution Announcements.)
Significant CEF Corporate Events: Nuveen Investments has deferred further purchase of auction rate preferred securities of its 26 leveraged closed-end funds. This is a result of Nuveen being threatened with a class action lawsuit. The suit alleges it breached it fiduciary duties to its common shareholders by redeeming at par its ARPs.
In my humble opinion, a suit of this nature is essentially a legal "stick up" and is embarrassing to the legal profession. (It's 90% of the lawyers who make the other 10% look bad.) From an analytical point of view, I'd be interest in how they're arrived at damages?
Aberdeen Chile Fund (NYSEMKT:CH) announced Friday the commencement of a cash tender offer to purchase up to 2,542,026 shares, representing approximately 25% of the Fund's outstanding shares. The tender price will equal 99% of the Fund's net asset value ("NAV") per share determined on the business day immediately following the day the tender offer expires. The offer commenced today, April 30, 2010, and will expire at 11:59 p.m. EDT, May 28, 2010, unless the offer is extended.
Western Asset Variable Rate Strategic Fund Inc. (NYSE:GFY) announced Monday that it is offering to purchase up to 20% of the Fund's common stock or 1,664,686 of the Fund's issued and outstanding shares of common stock at a price equal to 98% of the Fund's net asset value per share on the day on which the tender offer expires. The offer commenced today and will expire at 5:00 p.m., New York City time, on May 24, 2010, unless extended.
Energy Income and Growth Fund (FEN) announced Friday the pricing of a public follow-on offering of 1,700,000 common shares at a price of $24.20 per share (exclusive of 255,000 common shares over-allotments). Net proceeds from the offering of approximately $39.3 million will be used to make additional portfolio investments that are consistent with the Fund's investment objective and policies, and for general corporate purposes. The offering is scheduled to close on May 5, 2010.
CEF Focus for the Week: TCW Strategic Income Fund (TSI) is the focus stock of the week. As indicated in the insider trading section of this article, there has been significant insider trading in the stock since the beginning of the year by a coterie of its officers and portfolio managers.
Source of Insider Buying: This insider trading is likely a consequence of the acquisition in December of last year of Metropolitan West Asset Management ("WAM") by TCW Investment Management Company. It appears that the principals of WAM assumed the role of portfolio managers of TSI and have been the insiders aggressively buying the stock. Which leads to the question: Are the insider purchases of TSI by its new portfolio managers a "show of good faith" or a management policy of TCW regarding management's ownership—or, is it truly reflects the prospects of TSI?
A Strong Finish: At the very end of Friday's trading session, there was a spike in the price of TSI's stock and it finished the day up 2.0% in a market that was off 1.7% as measured by the S&P 500.
Portfolio: Over 90% of TSI's portfolio is mortgage backed securities with a small participation in convertible securities and CDOs. Approximately 30% of the portfolio is U.S. Government Agency Obligations and 55% private mortgage backed securities (MBS). TSI has modest leverage at less than 20%.
Distribution Policy: TSI's current distribution policy is to pay at least 7% annually based on the previous year-end NAV. The net asset value at year-end '09 was $4.77 per share or a baseline quarterly distribution of $.0835 per share. Based on today's share price of $4.90, that would represent a base-line market yield of 6.8% as your downside yield.
Last year TSI paid a combination of quarterly distribution of $.254 per share plus a special year-end distribution of $.26 per share for a total distribution of $0.514 per share. This represented a 16.8% yield on TSI's 2009 initial share price. During 2009, TSI generated net investment income on a GAAP basis of $0.78 per share.
TSI's fixed income strategy goes against the often expressed sentiments regarding fixed-income investments at this cyclical juncture. However, given its 6.8% base-line distribution yield, a discount of 5.1% (most of the assets are Level II), the potential of an additional boost in the distribution year-end and the recent insider buying, TSI deserves further consideration.

---
[1] All things being equal, price and NAV should move in tandem. A price movement greater than the NAV generates a positive PrcNAVSprd and may be interpreted as negative on a near-term basis and indicate the stock is overvalued relative to its NAV which in theory is the stock's intrinsic value. The opposite would be true for a negative PrcNAVSprd.
---
[1] here
[2] here
[3] here
[4] here
[5] here

Disclosure: Author owns a diverse portfolio of CEFs including TSI