Executive summary
Annual revenue growth of over 30% is expected for SILC in the short term
High volatility, lack of access to relevant information in the U.S. gives SILC an elevated risk profile
SILC shares have experienced gains of at least 80% in three of the last five years, but SILC is still a good value
It's not correlated to market returns, but is highly exposed to economic downturns
Price Target: $71.70 (8.4% upside)
_________________________________
(Unless otherwise noted, all historical information referenced here can be found in SILC's SEC filings)
Silicom (NASDAQ:SILC) is a mid-stage growth company in the networking devices industry. They are based in Kfar Sava, Israel, with offices in Paramus, N.J. Their main line of business is server networking adapters (server adapters), which they began producing in 2002. Their products are meant to boost the capabilities of their clients' products in unique ways. Their clients are original equipment manufacturers (OEMs), which make servers that are then sold to organizations. Additionally, SILC has started to branch out into server to appliance converters (SETACs) and time stamps. SETACs are patented devices that convert servers into network adapters, and time stamps give servers the ability to time stamp Ethernet frames.
Although SILC makes other products, server adapters, SETACs, and time stamps will most likely be their primary revenue sources for the foreseeable future. SILC makes sales through the Design Win process, during which customers evaluate network devices for use in their servers, then enter into negotiations to buy those devices once they are satisfied that they fill their requirements. This is a long process, but the result is that a design win usually results in sustained revenues in the long term.
Risks
SILC's competitors include Intel (NASDAQ:INTC), Broadcom (BRCM), Netoptics, Cavium (NASDAQ:CAVM), Adlink, Interface Masters, and Portwell. The technology sector changes quickly, and should SILC be slow to adapt to new technologies, they could easily be eclipsed by one of these competitors, or their products could become irrelevant. However, given the technological expertise and manufacturing capability necessary to compete in the networking devices industry, the threat of new entrants is small.
Additionally, SILC's reliance on a small number of customers for the majority of their revenue means that they would suffer large losses if just one of those customers decides to stop or reduce their use of SILC's products. Over 40% of SILC's 2012 revenues came from sales to two customers. They are also very vulnerable to market downturns, as evidenced during 2008 and 2009, when EPS decreased by 31% and 40.6%, respectively. Finally, although SILC's facilities in Israel are outside the range of most rockets fired from the Gaza Strip, its workers' homes may not be, and any extended disruption due to rocket fire may result in a significant drop in productivity. Additionally, should Israel enter into war, many of SILC's employees could be required to serve in the military, resulting in a significant drop in productivity.
Highlights
SILC's overall risk is mitigated by the fact that it operates internationally. 68.9% of SILC's revenue is from the United States, while most of its costs are incurred in Israel. Their revenues should be more geographically diversified in the future, as SILC announced a design win involving a large Chinese customer in late 2012, which could lead to more Asian sales in the future (source: Reuters). There is very little information about industry market share, but of SILC's publicly listed competitors, SILC is the smallest in terms of overall sales. However, that does not mean that SILC has lower market share in the networking devices industry, as most of their competitors operate across many industries. Additionally, SILC's combination of innovative networking products and extensive patent protection puts it in a unique position to take advantage of nascent cloud computing and big data trends. Overall, after considering all the risks, I expect SILC to experience large earnings growth for the near future, with growth rates transitioning to 6% by 2021.
Summary of Valuation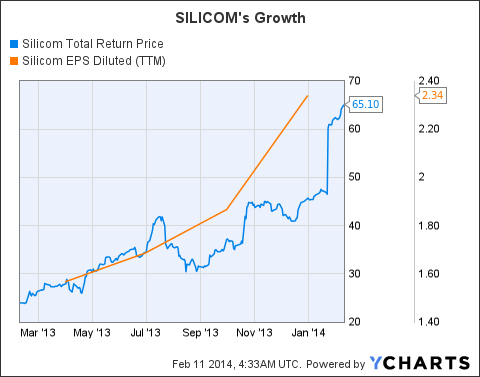 SILC Total Return Price data by YCharts
Projections (in millions of USD unless otherwise noted)
2012
2013
E2014

Revenue

$48.730

$73.298

$99.69

EPS

$1.420

$2.36

$2.23

Dividends/share

$0

$0.55

$0.95

FCFE/share

$1.161

$0.318 (Est.)

$2.11

Book Value of Equity

$74.966

$90.691

$100.89

Current Financial Information:

Price/Book

$5.131

Enterprise Value/Sales (2013)

$5.12

8 year dividend growth (2013-2021)

244%

8 year EPS growth (2013-2021)

148%

ROE (2012)

13.2%

Sources: Bloomberg Terminal, SEC filings.
Due to the company's position as a medium-stage growth company, I decided to value SILC through three methods: free cash flow to equity (FCFE), price/book (P/B), and enterprise value/sales (EV/S). Through these methods, I arrived at a price of $86.34, $64.79, and $63.96, respectively. The differences between these valuations can be explained by the different weights that they place on cash flows in the short term and various asset classes. FCFE puts more weight on short term cash flows, P/B and EV/S focus on the value of the company in 2021. Additionally, EV/S places more value on specific cash balances, while P/B focuses on net assets as a whole.
Notes on Valuation
My valuation is based on the methods listed above. It assumes a steady transition to mature growth by the year 2020. Revenue growth is projected to be in the double digits through 2018, and above 20% through 2016. Most costs will grow in line with revenues, as will capital expenditures. The exception will be cost of sales, which will increase relative to revenue as many of SILC's products become commoditized and the profitability of those products decreases. I assume that there will be no new equity offerings, and that the company continues to finance its growth without the use of any debt, as is common of many tech companies.
My model assumes that days sales outstanding, days inventory on hand, and days payable outstanding all stay at 92.642, 149.976, and 126.796, respectively, for the foreseeable future. For simplicity's sake, we assume that all short-term marketable securities are sold, and that there are no purchases of such securities in the future. However, that assumption does not affect the result of my valuation, as none of the valuation methodologies used depend on the specific asset balances, just changes in net assets. This may affect the specific yearly free cash flows to equity, but only by changing the timing of certain cash flows, and should not affect the FCFE valuation noticeably. Any and all changes in assets, liabilities, or equity are reflected in the statement of cash flows, and vice versa. In order to determine the value of the required rate of return, which was necessary for all of the valuations, I used the macroeconomic model to determine the equity risk premium, and used current 10-year Treasury Bond and TIPS yields to estimate inflation (I did not use the Israeli bond rates and inflation protected rates because as American investors, we should only care about the risk free rate and inflation where it will affect our returns).
Also, it is worthwhile to note that my model projects a drop in net income in 2014. That is because, while both revenue and costs increased dramatically in 2013, revenues decreased significantly more than costs did. Because it is unknown whether that trend will continue in 2014 or whether they are just an anomaly, costs are projected to return to more normal levels (as a percentage of revenues) in that year, causing a 7% drop in net income for that year. This drop could cause some inaccuracy in my valuation, most likely causing my valuation to be too low. However, because all of my models rely on long-term returns, this should not affect my valuation too much.
Free Cash Flows to Equity Valuation
The free cash flows to equity model is a valuation model that uses the present value of FCFE as a way to value a stock or firm. This method is very useful for stocks that don't provide reliable dividends, as it works under the idea that all of a firm's free cash flows after interest payments are theoretically owned by shareholders. Therefore, shareholders can claim theoretical ownership to a the firm's FCFE per share. It is important to note that one of the downsides of FCFE is that due to the agency problem bad management can keep cash flows from going to shareholders and can take action that may damage FCFE. Given the track record of SILC's management, that does not seem to be an issue in this case.
FCFE per share can be found through a number of methods, but in this case, I added subtracted capital expenditures from the cash flows from operations. I then divided that by the expected number of shares. Normally, we would also subtract interest expenses and add the net cash from borrowing and debt repayment before finding the per share value, but since SILC does not have any debt, all of those items are equal to $0. We then find the sustainable growth rate, which I have determined using the PRAT Method. Using this method, we take the return on equity in 2020 and multiply it by the retention ratio to find the sustainable growth rate. I then found the terminal value of the stock by taking the expected FCFE per share for 2021 and dividing by the difference between the required return and the growth rate. Finally, I took sum of the present value of the terminal value of the stock and all intermediate FCFE per share, to arrive at a value for the stock.
Results
Using the methodology described above, I found that SILC's sustainable growth rate is 6%, and that the terminal value of SILC in 2021 should be $172.95. This leads us to present value of $91.41. When we account for the present value of intermediate cash flows, the value of the stock is $86.34 per share.
Price/Book Valuation
The price/book valuation model is a model that attempts to value a company based on its expected future ratio of share price to earnings per share. This model is useful for comparing companies within the same industry, because it assumes that the companies we are comparing have similar amounts of assets and liabilities relative to their valuation. It should be noted that one of its downfalls when comparing technology companies is that it does not account for intangible assets such as patents. However, because we are comparing companies in the same industry, and those companies should theoretically have a similar amount of patent protection, using this model should not be problematic. Additionally, an advantage of price/book valuation is that it allows us to compare SILC to competitors that aren't profitable, such as Cavium. This is necessary because SILC has so few competitors that are listed in the U.S. that it not including Cavium in any comparables valuation would limit the reliability of my valuation.
In this model, I determined the expected future book value by creating a projection for SILC's balance sheet through 2021. I did this through the methods mentioned in the "Notes on Valuation" Section. I then found the book value of equity, and used an estimated price/book ratio to find a price for SILC in 2020, and discounted that using the required return calculated above to find a present stock price. The estimated price/book ratio was found by averaging the price/book ratios for SILC's competitors. Most of SILC's competitors are not listed on any stock exchange, but Intel, Broadcom, and Cavium are all listed on the Nasdaq. I found the average price to book ratio for these three stocks, and used that as the expected price/book ratio for SILC.
Results
Using the methodology described above, I found that the average price/book ratio for the networking devices industry was 3.96. Using this as SILC's expected price/book gives us a 2021 price for SILC of $121.39, and a present value of $64.79. It is worthwhile to note that 3.96 is lower than SILC's current price/book ratio of 4.96.
Enterprise Value/Sales
Enterprise value/sales (EV/sales) is a method of valuing a company by comparing the relationship between its enterprise value (market value of equity + market value of debt - cash) and sales to that of its competitors. This type of comparison is especially useful for technology companies, as it allows us to compare companies with different levels of debt. A second advantage to this type of comparison is that it allows us to compare SILC to companies that may not be profitable. This is useful for the same reasons that price/book valuation is useful.
In valuing SILC through this method, I found the industry EV/sales by taking the combined sales of INTC, BRCM, and CAVM, along with the combined enterprise value of those companies, to find an industry average EV/sales. I then used this information, along with my projections for SILC's sales and balances of cash and short-term bank deposits to find a projected 2021 price per share for SILC. I then discounted this to the present day to get a current recommended price for SILC.
Results
Using the methodology described above, I found that the average EV/sales ratio for the networking devices industry is 2.096. Using this as a projected EV/sales for SILC, I found that SILC's expected EV is $782.7, and that their projected price per share in 2021 will be $119.83. After discounting this to today, I arrived at a value of $63.96.
Historical Financial Information
Income Statement and Balance Sheet
(Source: SEC filings. The 2012 and 2013 filings can be found here and here.)
Click to enlarge images.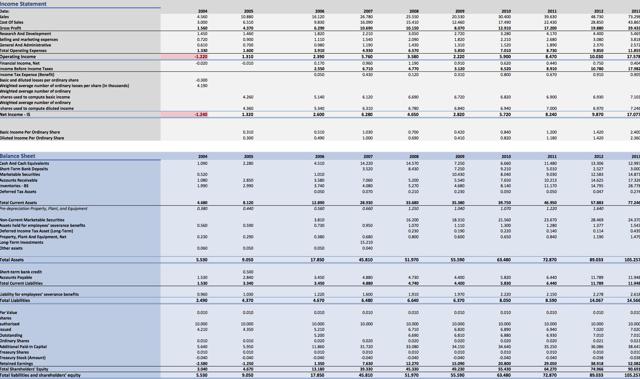 Click to enlarge
Statement of Cash Flows
(2013 data not available yet. All data sourced from SEC filings.)

Click to enlarge
Projected Financial Information
Income Statement and Balance Sheet
(Source: My own calculations.)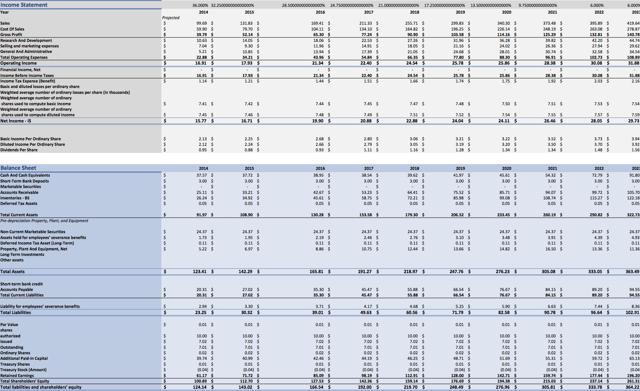 Click to enlarge
Statement of Cash Flows
(Source: My own calculations.)

Click to enlarge
Conclusion
Based on these findings, I believe that SILC has significant upside. Although there is the obvious volatility, and the stock has already risen by incredible amounts of the last couple of years, the data suggests that there is still much room to grow. I believe that SILC's sensational growth will continue for the time being, with annual revenues breaching $100 million by 2015. Based on this, my opinion is that SILC will be fairly priced at $70.70. SILC is a buy as long as the price is under that level. I expect SILC to reach this level within the next two months and (pending a successful Q1) breach it in the beginning of the next quarter, as the valuation changes with new information.
Disclosure: I am long SILC. I wrote this article myself, and it expresses my own opinions. I am not receiving compensation for it (other than from Seeking Alpha). I have no business relationship with any company whose stock is mentioned in this article.
Disclaimer: I am a graduate student, not a paid analyst. All investment decisions should be made after consulting multiple sources and conducting thorough research.