Executive summary:
Cliffs' earnings per share are hiding excellent cash flow numbers.
Because the company expects to slash its capital expenditures by 50% this year, I'm anticipating a free cash flow of $4/share.
Thanks to the recent share price volatility, I think writing put options is a good strategy.
_________________________________
Introduction
In this article I'll have a closer look at Cliffs Natural Resources (NYSE:CLF) which has just reported its FY 2013 earnings. A lot of investors were looking forward to see the final numbers, as Cliffs has had a very bumpy year.
I will provide my view on the financial results and the company's balance sheet. Thereafter I will discuss my outlook for 2014 which will result in my conclusion at the end of this article.
All images in this article were sourced from the press release.
My view on the financial results
In the final three months of financial year 2013, Cliffs reported a revenue of just over $1.4B, which is quite good given the fact that the revenue for the entire year is 'just' $5.35B. Unfortunately the operating income for the quarter came in at just $16.7M (after writing down another $250M on its assets) and the income statement shows a net loss of $14.2M which is being compensated by a $57.5M profit attributable to non-controlling interests. This results in an official EPS of $0.20. This sounds bad, but I'd like to emphasize the majority of the misfortune was caused by the impairment charge. When we look at the full year results, the operating income was actually a positive $671M (which includes the $250M impairment charge in Q4, so excluding the impairment, the operating income would actually have been in excess of $900M), and the net income was almost $365M or $2.40/share, which is already much better than the $0.20/share in Q4.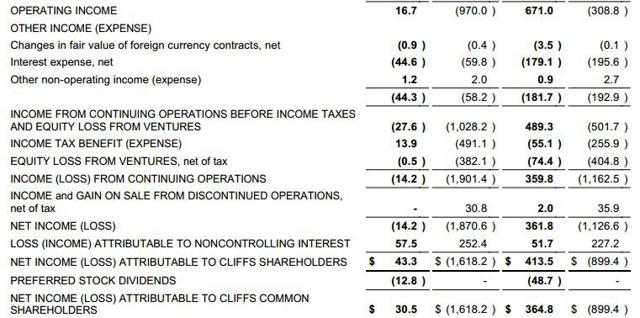 In situations like this (with a huge impairment charge), it's always important to have a look at the cash flow statements, because an impairment charge is a non-cash charge and should not influence the operating cash flow at all.

When looking at the cash flow statements, Cliffs reported an operating cash flow of $1.086B which is much higher than the $915M in the same period last year. As the company's capital expenditures were "just" $862M in 2013, Cliffs Natural Resources was effectively free cash flow positive to the tune of $325M. This might not sound like a lot, but the company actually generated in excess of $2/share in free cash flow.
My view on the balance sheet
Now we established that Cliffs is one of the very few major resource companies which is free cash flow positive, let's move over to determine the quality of the balance sheet.
As of at the end of 2013, Cliffs had a working capital position of $475M which is more than 75% higher than the working capital at the end of 2012. As the current ratio is 1.44, I don't expect Cliffs to run into any short-term liquidity problems (as a current ratio higher than 1 means the company has sufficient current assets to cover its current liabilities).
The book value per share as of at the end of 2013 (excluding non-controlling interests) was $39/share, which means that Cliffs is currently trading at a discount of 41% to its book value.
Outlook
What's most important for this year, is the fact that Cliffs expects to slash its capital expenditures by approximately 50% to $375-425M. This means that Cliffs' free cash flow will very likely jump to over half a billion dollars again, and I sincerely hope the company will use these funds to further reduce its debt profile.
Even though Cliffs Natural Resources had a very bumpy 2013, I think 2014 looks quite bright if the iron ore price remains stable. I am personally expecting a free cash flow of approximately $600M, which would result in a free cash flow per share of $3.90 and a free cash flow yield of in excess of 15%. However, investors should be careful, as the outlook for coal and iron ore prices is quite volatile, with some analysts expecting a steep drop in the iron ore prices.
Conclusion
Cliffs Natural Resources seems to be on track to generate a lot of free cash flow in 2014, which will ultimately benefit its shareholders. Thanks to slashing its capital expenditures, I'm expecting a free cash flow of $600M in 2014 (based on the current iron ore and coal prices).
After reading these results, I'm not surprised at all to see Cliffs trading 7% higher, and I actually think the share price could/should go higher based on its expected free cash flow yield. Thanks to the recent volatility, I'd like to take advantage of the high option premiums and effectively plan to write a P20 July 2014 at $1.60 and a P15 January 2015 at $1.05 for an annualized yield of respectively 17.5% and 7.3%.
Disclosure: I have no positions in any stocks mentioned, and no plans to initiate any positions within the next 72 hours. I wrote this article myself, and it expresses my own opinions. I am not receiving compensation for it (other than from Seeking Alpha). I have no business relationship with any company whose stock is mentioned in this article. I will very likely write out of the money put options today.