A company I recently started accumulating is PGT, Inc. (NASDAQ:PGTI). The company had a stellar 2013 with impressive earnings, and I expect 2014 to be another big year. I have initiated a position around $10.30, and will add to my position as the company makes new highs. This article will explain why I have been a buyer and explain why the future looks bright for PGTI.
The Company
PGTI is the leading U.S. manufacturer and supplier of residential impact-resistant windows and doors. Their impact-resistant products are marketed under the WinGuard, PremierVue, and PGT Architectural systems brand names. They combine heavy-duty aluminum or vinyl frames with laminated glass. This helps in providing protection from hurricane-force winds and wind-borne debris, and helps in maintaining structural integrity and preventing penetration from outside objects. They combine the impact resistance of their products with their insulating glass, which can significantly reduce cooling and heating costs. They also manufacture nonimpact resistant products in both aluminum and vinyl frames including the SpectraGuard line of products.
PGTI has a very strong market share in Florida, and also operates in the southeastern U.S., Gulf Coast, coastal mid-Atlantic, the Caribbean, Central America, and Canada. Their products are distributed through multiple channels including more than 1,200 distributors.
Earnings
The last earnings call was a strong one. Here are some impressive numbers:
Highest quarterly sales since the first quarter of 2007, at $64.9 million, up 45% over the third quarter of 2012.
Sales increased in both the repair and remodel and new construction markets. Repair and remodel sales were up 40% over the third quarter of 2012, while new construction sales increased 58% over the same period.
Impact sales grew 47% over the third quarter of 2012 and represented 78% of total sales. In addition, sales of non-impact products grew 38% over the prior year.
Aluminum products grew 44% over the prior year. Vinyl products grew 48%. WinGuard products grew 65% over the third quarter of last year.
Some impressive numbers over 2013 can be seen below.
Click to enlarge images.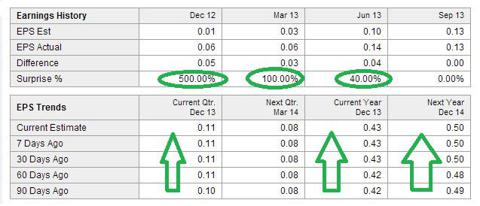 Click to enlarge
Source: Adapted from Yahoo Finance.
Fundamental Analysis
PGTI's market capitalization currently reads at around $485 million. This is relatively cheap considering that PGTI's revenues for 2014 should be around $275 million. One has to consider that the float is quite low at around 44 million shares. Furthermore, 30% of the float is owned by insiders while institutions also own around 33% of the float. This is very bullish as it only leaves around 17 million shares available to trade.
Technical Analysis
The daily chart shows a nice symmetrical triangle forming. A breakout just occurred on Friday, as the chart below shows. If one studies the weekly chart, one can observe that a nice base has been forming since April and as volume comes in, this is ready to take off.
The Homebuilding Industry
The SPDR Homebuilders ETF (NYSEARCA:XHB) has been very strong and has just broke the resistance around $32-$33. I expect this trend to continue and new highs should be around the corner.

Click to enlarge
Source: Adapted from Freestockcharts.com.
The uptrend in the chart also is in line with what the homebuilding industry is showing. In November, housing starts rose to the highest levels since February 2008. New-home construction on buildings with five or more residences jumped to the highest level since March.
In mid-December, Lennnar Corp. (NYSE:LEN) reported strong earnings. Lennar is the No. 3 U.S. homebuilder, and it reported a 32% jump in quarterly profit while orders rose 13%. Net income rose to 73 cents compared to 56 cents a year earlier. These were strong numbers and I expect good numbers from homebuilders coming up in the near future.
Conclusion
I like how the technical picture is lining up with the fundamentals for PGTI. The potential of homebuilders in 2014 looks to be good, and as home sales and repairs continues to rise, I believe PGTI will ultimately rise to $15 -- the IPO levels seen in 2007. As this resistance is taken, I expect new highs over the levels we have seen in 2007, provided earning estimates continue to impress.
Disclosure: I have no positions in any stocks mentioned, but may initiate a long position in PGTI over the next 72 hours. I wrote this article myself, and it expresses my own opinions. I am not receiving compensation for it (other than from Seeking Alpha). I have no business relationship with any company whose stock is mentioned in this article.