Editors' Note: This article covers a stock trading at less than $1 per share and/or with less than a $100 million market cap. Please be aware of the risks associated with these stocks.
Northwest Biotherapeutics (NASDAQ:NWBO) develops cancer vaccines designed to treat patients with different types of solid tumor cancers. The vaccines are developed with the company's own technology, known as DCVax, that uses activated dendritic cells to mobilize the whole immune system in order to attack cancer cells more effectively and in a cost-efficient manner.
DCVax Technology
Northwest Biotherapeutics is designing products that mobilize the entire immune system, going beyond the limitations of a standardized vaccine that utilizes just a single agent or a category of agents. Standard vaccines are considered as passive immune therapies targeting the pathogen with only one category of antibodies; however, active immune therapies target the pathogen with different categories of antibodies, resulting in a more effective and faster response.
DCVax technology deals in an advanced form of active immune therapy, where activated dendritic cells are removed from the patient's body and filled with antigens from the patient's own cancer site. The antigen-filled dendritic cells are placed in the body again, where they prompt the other agents in the immune system (including T-cells, B cells, NK cells and others) to attack the pathogen.
Normally in cancer patients, dendritic cells fail to do their job as effectively as other agents because cancer cells have the ability to suppress or block the agents attacking them. Most of the therapeutic vaccines for cancer focus on enhancing the tumor's signals to the dendritic cells by making them "louder" so that the blockage gets removed, but they have been unsuccessful to do so as yet. However, the DCVax technology is based on filling newly-matured, activated and educated dendritic cells (which the tumor has not blocked), which does not impair the flow of signals.
We believe that this technology has the potential to cure cancer more effectively and safely, as the immune system itself is prompted to fight against the cancer cells without any intervention of chemical substance (chemotherapy) or radiation, which results in high-grade adverse events.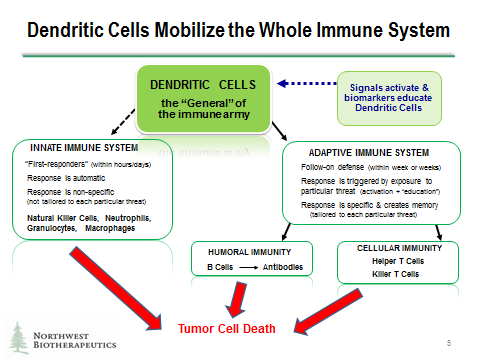 Source: Dendritic cell immunotherapy diagram
Products:
DCVax-L
DCVax-L, one of the star candidates in Northwest's pipeline, is a personalized vaccine designed for patients that are suffering from GBM. Gliobostoma Multiforme (GBM) is the most common and most aggressive malignant primary brain tumor in humans. DCVax-L has recently passed its first two phases of clinical trials and Northwest is currently conducting the Phase 3 trial.
GBM
GBM is a fast-growing brain tumor and is the most common tumor in adults. GBM is mostly found in adults between the ages of 45-70 years. The charts below show the estimated survival rate of patients diagnosed with GBM.
Overall, the patients with GBM survive not more than 15 months after the initial diagnosis. Normally, the patients receive the standard care treatment, which includes brain surgery and removal of a growing brain tumor. This is followed by the patient undergoing radiotherapy or chemotherapy, or even both. The decision rests with the doctors, i.e. the neuro-oncologists. It has also been observed that GBM's recurrence is inevitable after a median survival time of six to seven months.
Overview of Phase I/II DCVax-L
The trial consisted of 39 patients, of which 19 had recurrence of GBM and the remaining 20 were diagnosed with GBM for the first time. The patients with a new diagnosis of GBM (that were treated with DCVax-L in addition to standard care treatment) were able to survive for approximately 3 years and had a recurrence rate of 2 years. The trial showed promising results, as the survival rate was doubled and the recurrence rate was tripled in DCVax-L-vaccinated patients.
| | | |
| --- | --- | --- |
| | DCVax-L | Standard of Care Treatment (SOC) |
| Median Progression-Free Survival | 25 months | 6.9 months |
| Median Overall Survival | 36.4 months | 14.6 months |
| 3-Year Survival Rate | 55% | 16% |
Phase III Trial
Northwest, after the successful Phase I/II trials, is currently conducting the last phase of clinical trials for DCVax-L. The primary objective of this trial is to increase the recurrence rate of tumors (Progression-Free Survival). The secondary objective is to increase the overall survival rate. The trial is being conducted in around 51 sites across the U.S. and around 30 sites in U.K. and Germany.
A Potential Candidate
DCVax-L has shown better results of increased survival and recurrence rates than its competing candidates which are also in clinical trials. In Europe and North America, there are almost 2-3 cases of GBM per 100,000 people each year.
| | | |
| --- | --- | --- |
| Region | Population | Total Cases (3 per 100,000) |
| North America | 528 million | 15840 |
| Europe | 739 million | 22170 |
This means that around 38,000 cases per year can be expected just from Europe and North America, with the rest of the world yet to be targeted. We expect the market of cancer to grow with time as the majority of the population reaches 45 and above, resulting in a higher chance of GBM. We believe that the product has the potential to generate billion-dollar sales because it has shown results that have clearly surpassed the current available standard care treatment. This validates the fact that the product will most likely be approved by the FDA, because it caters to an unmet need and is safe and effective and has achieved its primary and secondary endpoints in its clinical trials.
DCVax-Prostate
DCVax-Prostate is a vaccine that is developed to treat patients with late-stage, hormone-independent prostate cancer. The number of cases of this cancer is around 152 per 100,000 men each year, making it one of the most common types of cancer. This candidate has passed its Phase I/II trial that treated 11 patients with non-metastatic and 22 patients with metastatic, hormone-independent prostate cancer. There are just two treatments for prostate cancer in available in the market, one is Taxoterre (SOC) and the other is Provenge.
| | | | |
| --- | --- | --- | --- |
| | Taxoterre | Provenge | DCVax-Prostate |
| Median Survival (months) | 18.9 | 25.9 | 38.7 |
| Overall survival (3 years) | 11% | 33% | 64% |
If Northwest can continue these positive results in Phase III, we expect that DCVax-Prostate has the potential to take a huge chunk of market share from approved FDA drugs and generate considerable sales. DCVax-Prostate also solidifies its claim of approval from the FDA, as it has shown better results when compared with its competitors.
DCVax-Direct
DCVax-Direct is a vaccine that is being developed for patients with inoperable tumors. A patient might have multiple tumors, or it might not be possible to remove the tumor via surgery. In these cases, where tumors are locally advanced or have begun to metastasize, DCVax-Direct is injected into a patient's tumor and enables their treatment. DCVax-Direct can be injected at any location of the body or even delivered by ultrasound guidance.
The vaccine is in its Phase I/II trials. In the Phase I stage, the trial will test various dose levels of DCVax-Direct and then proceed into the Phase II stage to test the efficacy of the DCVax-Direct treatment. The primary endpoint for measurement of efficacy will be tumor regression, in other words shrinkage or elimination.
The candidate is a universal vaccine for almost every cancer, but its future depends upon its trial results.
ImmunoCellular Therapeutics and Northwest
ImmunoCellular (NYSEMKT:IMUC) and Northwest are both developing dendritic cell vaccines for the treatment of GBM. However, Northwest's DCVax-L appears to be much superior than ICT-107, a vaccine developed by ImmunoCellular, because of two main reasons:
ICT-107 can only work in a certain immune type (HLA A1 and A2 Positive) and not in the entire GBM population. DCVax-L, on the other hand, has no such limitations and can target any type of immune system, allowing it to cover the entire population of GBM patients.
ICT-107 targets six different antigens associated with GBM, but DCVax-L targets the whole population of antigens associated with GBM, making it a more effective cure.
| | | | |
| --- | --- | --- | --- |
| | Standard of care treatment | DCVax-L | ICT-107 |
| Median Progression-Free Survival (months) | 6.9 | 24 | 16.9 |
| Median Overall Survival (months) | 14.6 | 36 | 38.4 |
| 3-year survival | 16% | 55% | 55% |
Though both vaccines use the same technology and are seen as identical products in the market, we believe that with the differences in its vaccine formulation and manufacturing process, DCVax-L is more effective and profitable.
Even though Northwest's candidate has proved to be better in terms of safety and efficacy and this defines the success of the drug, in our opinion immunotherapies are too expensive for most patients to afford, which is a major reason behind Provenge's inability in generating as much sales as expected. The success of Northwest's candidates also depends upon their pricing and agreements with national and private insurance companies.
Partnership with Fraunhofer and King's College
Fraunhofer is a research institute in Germany that has a reputation for advancing science in healthcare and many other related areas. King's College is a teaching hospital in London and has around 5 million patients undergoing treatment. It also has expertise in the production of living cell products.
Both these institutions have existing clinical-grade manufacturing facilities for living cell products, which allows them to avoid major capital expenditures and time delays. The partnerships with these two institutions will help Northwest in manufacturing, clinical trial support and interaction with regulatory agencies. Northwest has done well to form such highly valuable collaborations that are normally not available to small pharmaceuticals. These partnerships indicate the confidence of these organizations in Northwest's technology, which has prompted them to lend their support in clinical trials and manufacturing.
The September 2013 results showed a cash and cash equivalent balance of $7.4 million, which was not enough for Northwest to continue operations in the future and prompted the company to propose public offerings of common stock on 19 Nov, 2013. The offering was made at a price of $4.80 per unit, resulting in gross proceeds of $23.5 million. Northwest also received a $5.5 million grant from Saxony Bank of Germany. The total cash balance expands to around $36 million, which means a cash burn rate of $2.5 million per month, enabling the company to survive till the end of 2014.
On the other hand, Northwest's auditors have issued a "going concern" audit opinion, highlighting the threat to the company's survival if sufficient funds are not generated. These funds can be garnered in the form of borrowing or dilution, because Northwest is still some time away from launching a product in the market.
Even though the company has recently issued common stock, we still expect it to run out of cash much earlier than the end of 2014 because it has candidates in the pipeline that are advancing onto bigger trials and will need a significant amount of cash for funding. For this reason, we advise investors to expect a dilution in mid-2014, which will negatively impact the company's share price in the short term. However in the longer run, we expect the stock price to rise, compensating the losses at the time of dilution.
Risks of Investment
Northwest is delving in a technology that is new and uncertain. Many major companies have worked on dendritic cell vaccines, and have either failed or voluntarily abandoned because they could not enroll enough patients or ran into manufacturing problems. Considering such setbacks to companies working on this technology, Northwest could also end up in the same difficulties. However, positive signs are given by the success of Dendron's Provenge and companies such as Chiron, ImmunoCellular and Curetech working on dendritic cell vaccines; indicating that these vaccines are promising candidates in the healthcare industry.
If the company goes bankrupt, investors will not be able to recover their investment because biotech firms are valued on the potential of their drugs in the market, and therefore, with positive clinical trials, these companies experience an increase in their stock value. The salvage value of these companies is much less than their market cap, and in the case of Northwest going bankrupt (either because of cash constraints or drug failure), the investors will not be able to recover their investment.
Conclusion
Northwest is a company with promising candidates in its pipeline that have provided better results than their competitors in terms of safety, efficacy and profitability. The company is also receiving attention from the media (FOX and BBC) and has partnerships in Europe and Germany. The stock price is expected to rise if the announcements from the trials of DCVax-Direct are positive; the initial results from the preclinical animal study did show an 80-100% tumor regression. In our opinion, the company is a 'Buy' in the long run, with major results yet to be announced. However, we expect the share price to be volatile in the short term due to the dilution expected this year.
Disclosure: I have no positions in any stocks mentioned, and no plans to initiate any positions within the next 72 hours. I wrote this article myself, and it expresses my own opinions. I am not receiving compensation for it (other than from Seeking Alpha). I have no business relationship with any company whose stock is mentioned in this article.
Additional disclosure: Equity Flux is a team of analysts. This article was written by our Healthcare analyst. We did not receive compensation for this article (other than from Seeking Alpha), and we have no business relationship with any company whose stock is mentioned in this article.