FY 2013 turned out to be an outstanding year in the history of Ford Motor Company (NYSE:F) in terms of its financial performance. The company made record profits in North America and Asia Pacific, Africa along with recovery in Europe. But the company's performance in Europe is still a concern for investors. So my write-up will focus over the Ford Europe segment to discover the reasons behind the deterioration in geographic segment's FY 2013 performance. I will also consider the outlook of this region for Ford for the coming years.
To begin, let's have a look at Ford Europe's contribution to Ford's overall top-line and bottom-line. This will elaborate how material is the geographic segment for the company.
Importance of Europe for Ford and the Company's Performance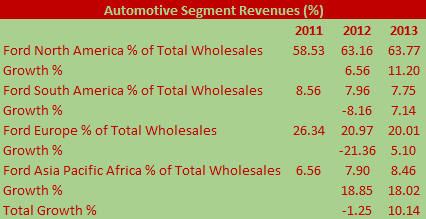 Source: Ford 10 Filing and Earnings Release
In the table above, you can see that Ford Europe is the second largest contributor to the company's revenue from 2011-2013. But the segment's contribution to the company's overall revenue has declined from 26.34% in 2011 to 20.01% in 2013. The segment has also recorded least growth of 5.10% in its FY 2013 revenue in comparison to other three geographic segments of the company. But the segment's revenue growth in FY 2013 has recovered from a negative 21.36% growth as recorded in 2012. I will further discuss about chances for the company's revival in Europe, while assessing the forecasts for the European automobile industry as you will read through my article.
Next is what Ford Europe contributes to the company's bottom-line. For this, I am presenting the following table.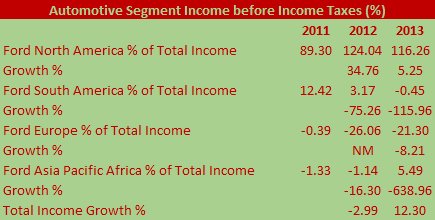 Source: Ford 10 Filing and Earnings Release
From the table above, you can find that Europe has turned into a major problem area for the company from 2011 to 2013. The segment has made double-digit negative contribution of 26.06% and 21.30% to the company's total income before income taxes in 2012 and 2013, respectively. This has necessitated to go into details of what is actually contributing to this fall and for that, I have prepared the following table.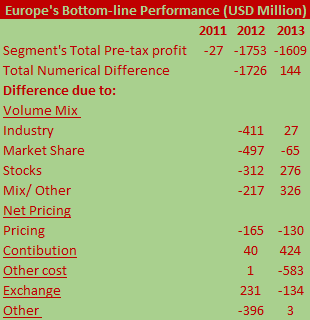 Source: Ford Earnings Presentations
You can see from the table above that Ford has recovered a bit in FY 2013. The company has recorded $144 million reduction in its pre-tax loss in contrast to pre-tax loss booked in FY 2012. Industry in the volume mix reflects the effect of industry sales, the performance of which can be seen in the following chart.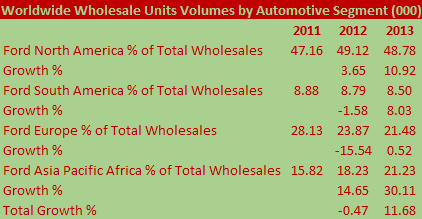 Source: Ford 10 Filing and Earnings Release
From the chart above, you can see that Ford Europe has registered a bit of a recovery of 0.52% in its wholesale unit volumes. This contributed to segment's pre-tax income positively. Forecasts for further recovery in the company's sales is a part of the discussion under industry outlook as follows.
Next comes the effect of market share over segment's contribution to the company's overall bottom line. A small improvement there can be observed as the negative figure declined from $497 million in FY 2012 to $65 million in FY 2013. This can be seen as an effect of a lesser decline in the company's market share in Europe in FY 2013 against the decline recorded in FY 2012.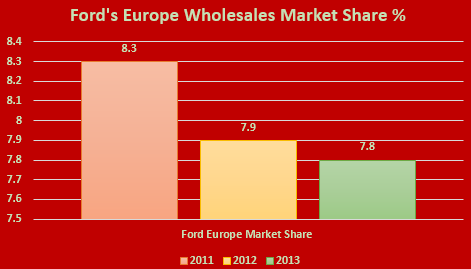 Source: Ford 10 Filing and Earnings Release
The effect of stock that refers to dealers' stocks was also positive in FY 2013 against negative influences in FY 2012. Prices have also turned a bit favorable in FY 2013 compared to FY 2012. Both of these show a bit of a recovery in the company's position and performance in the European markets. But the adverse effects of exchange were in FY 2013. So I will be considering the currency valuation and exchange rate forecasts to find out the impact over the company as you follow through my article. Other costs increased to $583 million due to the company's ongoing restructuring program in Europe, which I will discuss under activities undertaken by Ford to support performance in Europe. This is also likely to turn out as beneficial for the company after a bit of a stain over bottom line due to heavy restructuring costs. But as far as Ford's industry volume and market share in Europe is concerned, the company seems optimistic as per the following forecasts.

Source: Ford Earnings Presentations
You can see from the preceding table that in FY 2013, Ford has captured industry volume of 13.8 million. This figure is near the higher end of forecast range of 13.0-14.0 million units made by the company for FY 2013. The forecast for 2012 was a lower range compared to actually achieving by 2011 accounting for predicting weakness. The company has increased this range from 0.5 million units in its forecast for 2014. So let us be hopeful that the company will be able to keep its market share there in FY 2014.
After having enough analysis of the company's performance in Europe till the FY just ended, it's time to assess the general business environment for Ford in Europe. To analyze the upcoming business environment in Europe is essential as it will impact various performance metrics of the company such as its industry sales and effects of exchange.
Ford and European Industry Outlook
Economic Conditions and Automobile Industry
Slow expansion and beginning of the return of capital in Europe's economy is anticipated for 2014 but growth will stay quite low. European policy makers are optimistic over 1% economic growth in 2014. Twenty Eight countries of the EU who have recorded a zero growth rate in 2013 are expected to grow by 1.4% in 2014. Britain and Germany are the company's highest-volume markets in Europe, while Germany is the largest vehicle market in the European Union. The prediction of both of these markets are to start on growing in the coming years with their GDP growing at above 1%.
As far as Europe's automobile industry is concerned, after experiencing 6 years of decline in new-car sales, the region is expected to bounce back. The region has a forecast of a 3% rise to around 14 million sales of light vehicles in 2014 according to Deutsche Bank's forecast. The bank expects that aging fleet of cars on European roads and a scarcity of used cars will bring more buyers to showrooms in 2014. You can see from the table below that Western Europe including Germany recorded year-over-year decline in units of car sales including trucks from 2011 to 2013. But moving ahead a positive change is anticipated for 2014.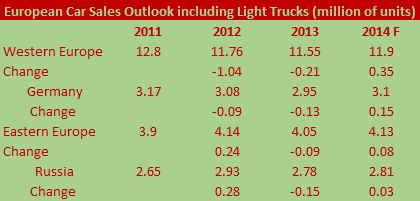 Source: Global Auto Report
Currency Headwinds
Impacts of exchange turn negative for a company when it is unable to do effective hedging against adverse impacts. The company's plans go wrong with respect to hedging against currency headwinds when forecasting the outlook of currency becomes difficult. This difficulty gets created due to high volatility in currency value. As currency values are dependent upon economic stability and conditions of the region, it is vital to consider what forecasts say about the Eurozone.
The main early business cycle indicators from Eurozone began indicating strong and integral upward trend since mid-2013. The Eurozone is expected to settle its apparently endless recession in 2014. The region recorded a negative 0.4% growth in 2013 but has forecasts of around 1% growth in 2014. As a result, the value of Eurozone's currencies will turn a bit predictable, hence reducing currency headwinds for the company.
Not just industry support, but Ford itself is also striving to regain its performance and place in Europe, the discussion is as follows.
Further Activities to Support Ford Europe
Europe has been a great money-loser for Ford during recent periods, but the company has an ongoing reversal plan that made hopeful progress in 2013 as well.
In October 2012, the company declared its plan to alter its European operations to combat structural industry overcapacity in the Eurozone. The company's plan aims to improve all areas of the business, including product, brand, and cost. This embraces an aggressive product hastening in Europe, including the introduction of 15 global vehicles within 5 years. The company is also taking steps to further strengthen its brand along with boosting its brand awareness in rapidly growing emerging markets within the region. Additionally, the company is putting efforts to guarantee a more efficient manufacturing footprint. The company declared its intention to shut 3 European manufacturing facilities, reducing headcount by around 6200.
Concluding Commentary
Moves in 2013 actually look like an amazing step in the right direction. FY 2014 is expected to be the end for Ford's losses in Europe. The company initially foretold its losses from Eurozone to reach $2 billion in FY 2013 but it ultimately checked in at $1.6 billion, $144 million better than last FY. That's still an enormous amount of loss, striking the company's bottom-line, but is signaling recovery.
The company's management still anticipates to lose but a lesser amount of money in 2014 and break even in Europe in 2015. The launch of at least seven new models in the region should aid in conserving the company's margins and retail market share. While Europe is still a work-in-progress and an enormous graft on earnings, I'm buoyant, taking support from my analysis that indicated an industrial recovery, Ford's brand place and new vehicle unveiling by the company will bring rich returns for the company's investors in 2014.
Disclosure: I have no positions in any stocks mentioned, and no plans to initiate any positions within the next 72 hours. I wrote this article myself, and it expresses my own opinions. I am not receiving compensation for it (other than from Seeking Alpha). I have no business relationship with any company whose stock is mentioned in this article.