Our evaluation of Dover Downs Gaming & Entertainment ("DDE", "Dover Downs" or the "company") was based primarily on fundamental factors such as past and future operating performance, as well as the company's current competitive environment. There is no guarantee that the market price of the company will accurately reflect its implied value as derived from fundamental factors.
Due to the result of our evaluation of the company's fundamental factors, little time was spent analyzing the technical aspects of the company's stock price and volume patterns. Furthermore, the reader should note that the links within the following post provide additional information regarding the company and its market space.
We recommend following the links for a more complete picture.
Our initial interest in Dover Downs as a potential investment resulted from its: (1) relatively low market price to its historical earnings before interest, taxes, depreciation and amortization ("EBITDA"); (2) historical operating margins, as seen in Exhibit 1; (3) historical legislative protection/moats; and (4) regional market.
The objective of our research was to understand: (1) the decrease in the company's operating margins; (2) the ability of the company to grow its revenue; (3) the ability of the company to increase its operating margins; and (4) any other events/opportunities that could increase or decrease the value of the company.
Based on the findings, it appears that Dover Downs is currently priced at or above fair value. The company offers the investor more downside risk, due primarily to legislative headwinds and a new competitive environment, than potential profit potential.
While some of the research indicates that the company is capable of modestly growing its revenue in the near-term, these gains will most likely not be enough to offset the decreased profit margins the company faces as well as any potential long-term revenue erosion.
One should note that the company's value is much more vulnerable to changes in margin than changes in sales.
click to enlarge images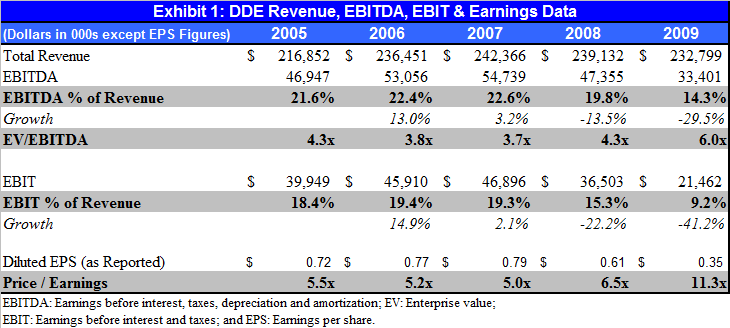 Our research yielded the following:
During the last couple of years, Delaware has increased the gaming tax rate from 36.0% to 43.5%, while dropping the racinos' share of video lottery ("VL") revenue, or net win, from approximately 48% to 40%. Furthermore, in 2009 and thereafter, the Delaware racinos have to pay additional gaming and horse expenses that were not required in previous years. Effect: Increased gaming expenses and decreased margins relative to the historical figures.
The implementation of table games in 2010, while necessary to compete with surrounding regions, will likely have lower margins than the VL terminals, which currently represent 90% of the company's total revenue. The company will initially implement 40 table games and 12 poker tables, for an estimated capital expenditures cost of $4.5 million in 2010. The table games will be released during the second half of 2010. Effect: Potential increase in revenue with the potential to cannibalize a portion of the VL revenue. Regardless, there will likely be downward pressure on margins since table games tend to have more costs than VL terminals.
To remain competitive, Pennsylvania and West Virginia also implemented table games for 2010. Effect: Dover Downs' table games may appeal to a new demographic in regards to age and gender, but will not likely result in it taking market share from the casinos in other states also offering table games. The move helps t

he company remain competitive, but does not provide a significant competitive edge over Pennsylvania, Atlantic City and West Virginia.
The addition of sports wagering on National Football League games has had little impact on overall Company operations (with net proceeds of $616,965) and will probably continue as long as parlay wagering is the only method used. Effect: Increased revenue from both sports wagering and the VL terminals. Unless the Supreme Court repeals the Third Circuit Court of Appeals decision prohibiting single game betting, the positive effect of sports wagering will probably remain constrained (single game bets are much more popular than parlay bets).
Legislation from Pennsylvania and Maryland has authorized the use of slots in those states. Despite Maryland's slow implementation of its slots, these two states are threatening to steal a portion of Dover Downs primarily out-of-state player base. As budget deficits pressure legislatures of surrounding states, expect increased gambling friendly legislation. Effect: Eventual deterioration of revenue and out-of-state player base. The effect from Maryland may take several years to be felt significantly by Dover Downs.
Legislation in Delaware, driven by the budget deficit, seeks to maximize gaming tax revenues, which could result in higher gaming tax rates and the possible addition of more VL terminal locations in Delaware. Effect: One should note that a decrease in Delaware gaming taxes appears very unlikely; however, further gaming tax increases remain possible. Furthermore, the possible addition of more VL terminal locations in Delaware will probably erode t

he company's revenue.
Atlantic City has increased its promotions and advertising to better compete in the current environment. Effect: Facing an increased competitive environment, Dover Downs may have to incur additional costs, not previously required, in an effort to maintain current market share.
Company management has stated that Dover Downs has experienced a recent decrease in customers that travel longer distances to reach the racino; however, this decrease has been offset, in part, by increased visits from local customers. T

he company's revenue will likely benefit as the region recovers from the recession. One should note that higher gasoline prices also tend to discourage some of the non-local customer base.
With an average of 3,039 terminals for 2009 and VL revenue per terminal per day at $187.26, which is below the five-year average of $210.46, Dover Down's is operating with an excess of VL terminals as the current VL terminals are experiencing lower volumes than in previous years (see Exhibit 4). Effect: At present, increasing VL terminals or expanding the casino will not increase revenue.
The company recently reduced its quarterly dividend, which indicates management recognizes the challenges of the new environment. Despite being a company of high free cash flow in the past, the company has shown very little inclination towards expansion beyond Delaware, with the exception of a small potential operating agreement in Georgia, if slots should be authorized in Underground Atlanta. In the past, Dover Downs has spent its money increasing its dividend and buying back shares, which may have pleased shareholders in the near term. Yet, these activities do not signal a company pursuing geographic growth. Effect: The company's policy of putting all of its eggs in one basket is dangerous, and leaves the company vulnerable as structural changes evolve in its single market place. The margin pressures discussed above will likely lead to a decrease in free cash flow. Such a decrease, will limit the company's ability to expand into other locations as well as limit its ability to issue new debt (another means of funding expansion) at relatively low interest rates. Consequently, t

he company's potential revenue growth appears to be constrained to the existing market.
One shareholder, Henry Tippie the Chairman of the Board of Directors, controls more than 50% of the company's voting power, while Gates Capital owns more than 10% of the company's common shares. Furthermore, new owners acquiring 10% or more of Dover Downs may be required by the Delaware Lottery to undergo extensive background checks as well as apply for a new license. Effect: These circumstances increase the difficulty of the company being acquired at a premium through a merger or a buyout, thus possibly eliminating one method of gain for investors. Moreover, the company is essentially controlled by one owner, which means the other shareholders have little ability to effect change in t

he company. Due to the lack of voting power, some investors prefer to avoid controlled companies like Dover Downs.
At this time, we've concluded that Dover Downs is treading water as it faces numerous legislative and competitive threats from Delaware, the surrounding states of Maryland and Pennsylvania, and other casinos. The company will be challenged to reach the levels of free cash flows and operating margins that it had prior to 2008. In order, to increase its EBITDA and free cash flow, the company will have to grow revenue extensively as there appears to be few options for increasing the company's operating margin.
Nevertheless, such revenue growth is very unlikely in the current competitive environment. Despite management's claims of increased promotions and amenities for players, these items may help retain current customers, but may not be enough to offset the on coming competitive headwinds.
Our belief that revenue will not increase enough to offset the decreased margins, leads us to conclude that the company does not offer enough upside potential at the current market price to offset its downside potential.
Some Math and Financials for Those Interested
For those interested in the company's financial data, we will briefly flesh out in numbers what has been discussed above. In Exhibit 2 (below), we took the company's last five years of operating data and represented all the income statement line items as a percentage of total revenue, or we created a common-sized income statement. A common-sized income statement illustrates the relationships some expenses have to total revenue.
These relationships aided in calculating the company's recurring earning power, which is important since we put more weight on the company's future results than its past. Readers should note, that since Dover Downs had already been marked in the "do not buy" category, we kept the normalization and valuation processes simple. For "buys" we usually will cover more valuation processes and details.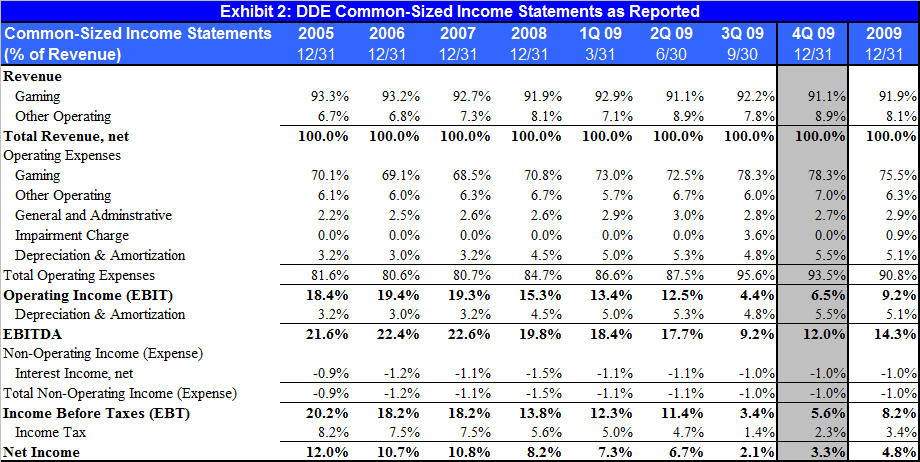 In order to understand the company's recurring earning power, the company's operating results have be normalized, meaning operational effects that will not exist in the future need to be removed, while operational effects that will exist in the future need to be added.
For example, in the preceding paragraphs, we discussed the increased gaming expenses and taxes that Dover Downs faces. One can see from Exhibit 2 that gaming expenses, which include gaming taxes, increased from 70.8% of total revenue in 2008 to 75.5% of total revenue in 2009. Nevertheless, the most recent increase in gaming expenses did not occur until the second half of 2009, which explains why gaming expenses are 78.3% of total revenue for both the third and fourth quarter of 2009.
Relying primarily on the common-sized operating results from the fourth quarter 2009, with a few minor changes, we normalized the 2009 annual operating results. The fourth quarter operations were used since they showed some of the increased expenses Dover Downs can expect to experience in the near future and do not include a nonrecurring impairment charge the company recorded in the third quarter of 2009.
In Exhibit 3 we show the normalized income for 2009 along with seven different scenarios exploring basic cost changes and revenue changes. Scenarios one through four apply the stated revenue change to the 2009 total revenue, while also applying the "Normalized Common-Sized 2009" cost structure to each scenario. Meanwhile, scenarios 5 through 7 apply the stated revenue change to the 2009 total revenue, while also applying the "Normalized Increased Expenses" cost structure to each scenario. Although basic, these scenarios provide some clear insights into the valuation of the company.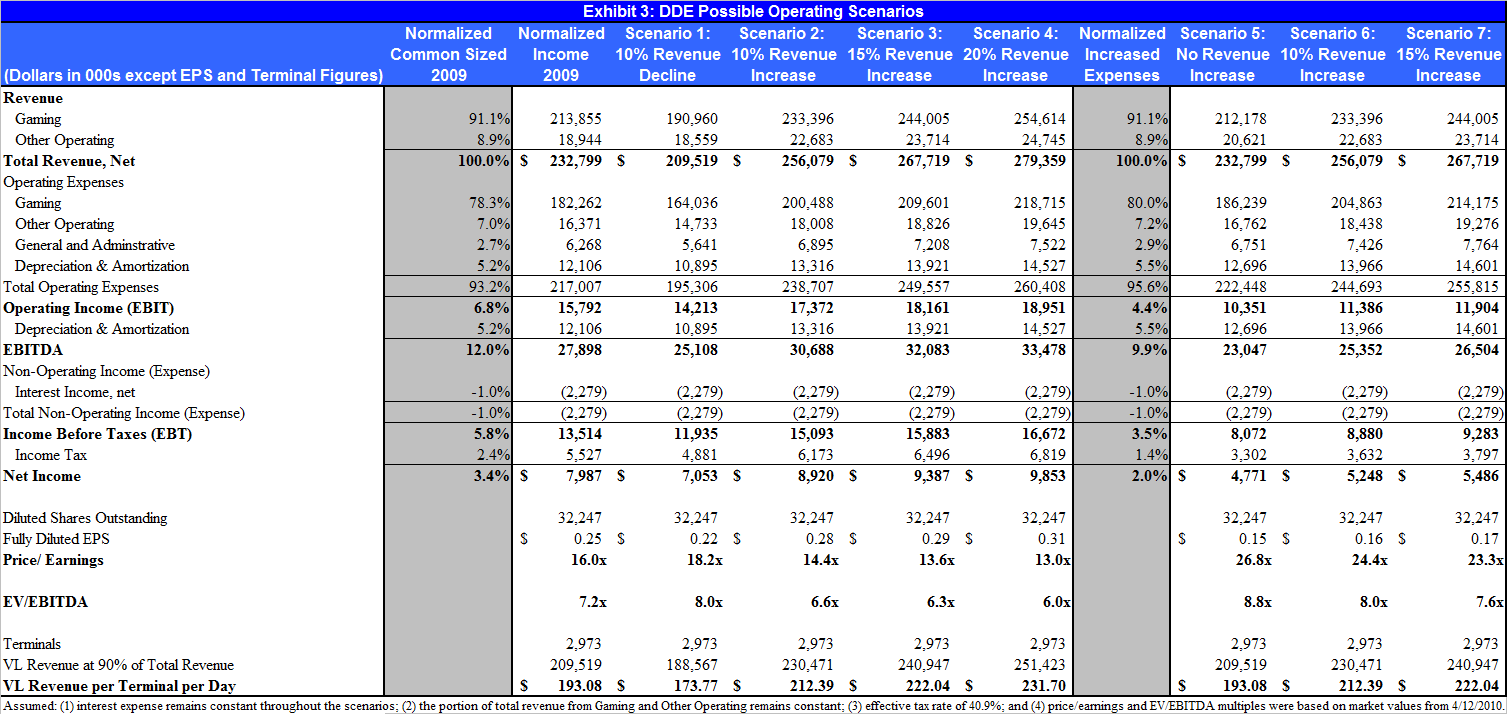 To add a sanity check the results, we assumed 90% of the total revenue was derived from VL terminals (this is likely to change in the future but was calculated in accordance with historic data). Assuming the current number of terminals remain in use, we then calculated the VL revenue per terminal per day. According to the historic figures for this metric, scenarios three, four, and seven are the most unlikely. But in those scenarios, either the number of terminals would have to increase or the portion of total revenue derived from VL revenue would have to decrease significantly.
Nevertheless, according to our research, we believe it to be reasonable that the price /earnings multiple is within the range of 14.4x to 24.4x, much higher than the current 11.3x multiple and enough to confirm our initial thoughts that Dover Downs is not a good investment at this time. The company offers little upside from a fundamental perspective, but has much possible downside.
Disclosure: No positions