Green Mountain Coffee Roasters Inc. (NASDAQ:GMCR) recently reported its first quarter results. The announcement was nothing short of another big leap for the company as there were many promising events that can potentially return more dividends for investors in the future. The share price now trades near $81 and has grown more than 70% year to date. This article will disclose the fact that GMC will continue sustaining value to investors in the future.
The Quarter
Despite the last holiday season being challenging for many retailers, GMC saw its sales rising 4% to $1.4 billion as a result of strong volumetric growth in both its portion pack (12%) and brewing systems (4%). The company sold a record 5.1 million Keurig brewers, successfully implementing its strategy to diversify itself from conventional selling points to away from home non-retail segments.

Source: Earnings Announcement
Lower coffee prices allowed the company to improve its gross margin by 220 bps increasing it to 33.5%. SG&A remained relatively stable reflecting increases in R&D ($7.2 million) and offset by a $6.7 million reduction in marketing expenses.
Higher revenue and better cost control resulted in the GAAP EPS jumping 30% to $0.91. The company generated cash flows of $272 million and returned $160 million in buyback and dividends. Conclusively, the quarter was a healthy period led by volume increases that drew higher profits.
Keurig 2.0
The reason why 2014 is going to be a joyful year for investors is because of the company's products in the pipeline. For 2014, GMC has been working on moving towards the new Keurig 2.0 systems 0 as well as its portion packs. According to a research study, consumers with and without Keurig brewers want the ability to brew both a single serving and a pot of coffee from one system and state it is their priority when selecting a brewing system. The Keurig 2.0, which will be available for sale this fall, will include these features and will be the first system to brew both one cup using a single serve pack and a carafe of coffee using the new Keurig K-Carafe pack.
The K-Carafe pack will include many of GMC's Keurig family beverage brands including its partner varieties. The packs will only operate using the Keurig 2.0 and discourage consumers to switch to other manufacturers.
I believe the new system will tap into another market that was left over while companies focused on single cup brewing. On average, 75% of coffee is made using brewing systems at home that only produce single cup servings. By producing a brewing system that could produce 28 ounces of coffee in a single serve means that GMC will be able to tap into that 25% market that was left unattended.
Different Coffee Varieties Will Enhance the Appeal of Keurig 2.0
More than 200 coffee and tea varieties offered for brewer systems will add to Keurig 2.0's appeal as consumers will be able to serve a large gathering some of the best coffee at a reasonable cost. This will in turn bring a higher attachment rate per brewer for GMC.
Secondly, GMC is working to take away market share from its competitors by bringing unlicensed packs into the Keurig system. At the end of the first quarter these packs made 14% of the company's Keurig systems and the rate is further expected to grow for the first half of 2014.
The company's conversion efforts have been successful thus far and include converting a number of large, midsize, and small partners across all channels and geographies. GMC converted several formally unlicensed players to become licensed Keurig system participants in the first quarter. The company refused to disclose the number but stated that the recent converts as well as some prior converted brands will begin shipping in the second half of 2014.
Coca-Cola Partnership
If the above initiatives were not impressive enough to support top line growth the recent partnership with the renowned beverage giant could shed light on future investor value. Coca-Cola (NYSE:KO) recently announced it will make its brand portfolio available for the upcoming Keurig Cold brewing system and will put its marketing expertise behind the new soda-making machine. Coke has bought a 10% stake for the cost of $1.25 billion or $74.98 per share in the company.
The 10-year agreement opens up a world of possibilities for the two companies even more so for GMC because it is a smaller counterpart in the established beverage industry. The Keurig Cold will be available to the market by 2015 and even though it is hard to put a number on the expected revenue it will bring the fact that Coke is backing this project will ensure that the outcome is positive to a material extent for the company.
Conclusion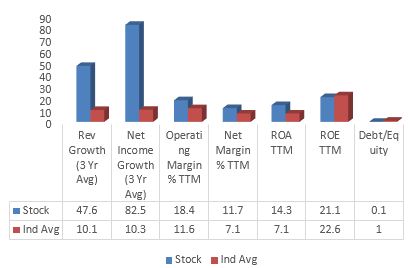 Source: Morningstar
GMC already operates at a prime level within its industry. During the last twelve months, the company's profit margins have remained well above the industry. The company has experienced revenue growth of 47.6% at its 3 year average surpassing the industry by more than 35%! GMC has been able to produce these results at a debt to equity of 0.1 nearly 90% less from the industry it operates in.
These values reflect a solid company along with optimistic future prospects thanks to the Coca Cola partnership and effective strategies to cater to exactly what consumers demand. All in all, GMC offers a premium return potential for investors in the future. Therefore, I give it a strong buy rating.
Disclosure: I have no positions in any stocks mentioned, and no plans to initiate any positions within the next 72 hours. I wrote this article myself, and it expresses my own opinions. I am not receiving compensation for it (other than from Seeking Alpha). I have no business relationship with any company whose stock is mentioned in this article.