Executive summary:
Fugro has announced a new long term maintenance contract with Royal Dutch Shell in Malaysia and a large contract in India is becoming visible.
Fugro has a lot of short activity and a short squeeze is realistic when the 2013 results on March 7 confirm or exceed Fugro's own outlook.
Returning to a PE of industry average offers 70% upside potential, but a 30% upward potential is more likely upon a return to Fugro's own average PE.
_________________________________
Fugro (OTCPK:FURGF) announced a five year contract for subsea services with Royal Dutch Shell (NYSE:RDS.A)(NYSE:RDS.B) in Malaysia. Fugro expects to engage most of its Asia Pacific subsea fleet over the duration of the contract. Subsea is Fugro's weakest division, so this is an important order.
Fugro is active in the following divisions:
Geotechnical: engineering behavior of rocks, soil and water both on- and offshore;
Survey: accurately determining the three-dimensional position of points and between points. Both offshore (e.g. offshore positioning and marine environmental) and geospatial (satellite, aerial, GIS and terrestrial);
Subsea: engineering below the sea level. Inspection, repair, ROV, subsea engineering. Subsea Fugro's newest division;
Geoscience: Seabed Geosolutions Joint Venture with CGG Veritas (NYSE:CGG) and multi-client data.
With the exception of Subsea, Fugro is the market leader (1st to 3rd position) in all niches in which it is active. According to Fugro it is the market leader (1st to 3rd position) in all divisions with the exception of Subsea. This is mainly because of capital and knowledge barriers to entry in the niches in which it operates.
In less than a month, Fugro will announce the 2013 results on March 7; at the moment, Fugro is undervalued with a lot of short activity. A short squeeze is likely to occur when the results confirm the outlook Fugro has given.
As described in Fugro: An Undervalued Gem With An Upside Of 60% Fugro has a lot of upward potential but is plagued by uncertainty because of:
Selling part of their business in 2013 to CGG Veritas and starting another joint venture with CGG. This results in reporting large continued and large discontinued business.
Claims of accounting irregularities (which have been proven to be unfounded).
Invisibility because Fugro doesn't communicate a lot. In fact they do tell a lot, tell honestly what they are doing, but are too modest about it and do it verbally.
In September 2013 Fugro's CEO casually remarked that Fugro is more conservative in expectations than other companies, but he also stated that "we do not have to do more to achieve our targets."
The following table contains both the continued and discontinued (sale of Geoscience to CGG) business as 2013 is a transition year in financial reporting. Sources are the annual reports and outlook for 2013 published by Fugro.
The 2013 figures are from the outlook for 2013 that Fugro presented in August and confirmed on 2 occasions in November and December.
| x1M | 2010 | 2011 | 2012 | 2013 |
| --- | --- | --- | --- | --- |
| Revenue continued/discontinued | $3,147.0 | $3,557.4 | $4,074.7 | - |
| Net result continued/discontinued | $ 375.6 | $ 396.9 | $ 402.4 | $ 598.9 |
| EBIT continued/discontinued | $ 485.1 | $ 482 | $ 575.9 | |
| Revenue continued | | $2,564.0 | $2,987.7 | $3,588.0 |
| Net result continued | | | $ 319.6 | $ 317.4 |
| EBIT continued | | $ 485.8 | $ 425.5 | |
| EPS continued/discontinued | $ 4.79 | $ 5.01 | $ 5.01 | $ 5.34 |
| Dividend/share | $ 2.07 | $ 2.07 | $ 2.76 | $ 2.07 |
| Dividend yield | | | | 3.73% |
FUTURE CONTRACTS
Fugro has also remarked that projects are becoming bigger and the contract size will increase 10-fold within the next 7 years. This increase has a downside in that the projects take longer to negotiate and order intake is 'lumpy'.
Fugro is the market leader in the niches where it operates and the company is especially good in (ultra) deep water oil services. New fields are often located in (ultra) deep water, as the list of the 10 largest new discoveries in 2013 shows. Fugro will participate in (almost) every deep water project.
Next week Fugro is on a Dutch trading mission [along with other usual suspects such as Royal Dutch Shell and Vopak (OTCPK:VOPKF)] to Mozambique, where large new oil and gas fields were discovered, and other east African countries.
Fugro has already been active in Mozambique for years. In December 2013 Fugro opened a new office in Maputo and Fugro has established the only internationally accredited laboratory in Mozambique.
Fugro's whole range of services are available in Mozambique includes onshore and nearshore geotechnical and CPT testing, geotechnical engineering reporting and airport and pavement evaluation. Fugro also provides in diving and salvage services, offshore positioning and geospatial services. Fugro expects to grow progressively in Mozambique.
INDIA
Today another big project in the pipeline became visible. India is working on a pipeline to import gas. This has been stalled for almost a decade, but since the easing of sanctions on Iran it has become active again.
India is 13th largest gas consumer and fourth largest importer of gas in the world.
The pipeline will probably have the following route (because Pakistan is not an option and the Sultanate of Oman is also participating in the project)
(Source: Google maps, pipeline is author's insertion)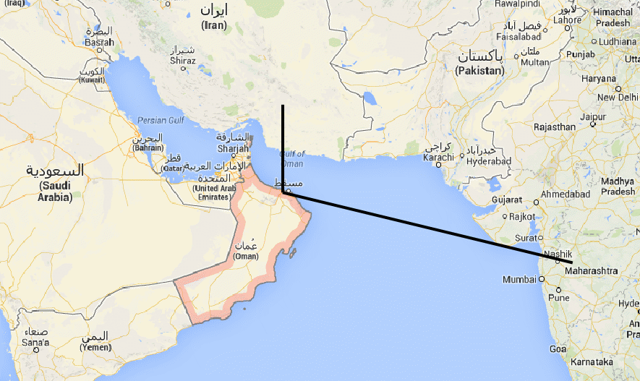 The Front End Engineering & Design Study [FEED] of the pipeline will be completed in 2014 or early 2015. The pipeline will probably be laid in 2017-2018.
Although construction is not yet final, Fugro definitely is involved in the FEED-phase.
This is just an example of the kind of projects Fugro does. Usually they only publish these when the contracts are signed and are tight-lipped on prospects.
SHORT ACTIVITY
Fugro is one of the most volatile stocks in the world and thus attracts a lot of short activity because of the movement possible. These are the current positions:
| | |
| --- | --- |
| The Children's Investment Fund Management (NASDAQ:UK) LLP | 0.55% |
| Adelphi Capital LLP | 0.66% |
| Marshall Wace LLP | 0.50% |
| Citadel Europe LLP | 0.72% |
| BlackRock Investment Management (UK) Limited | 0.68% |
| AQR Capital Management, LLC | 1.50% |
| AKO Capital LLP | 2.54% |
| Total | 7.15% |
Over the last week some shorting parties have decreased their positions, while others have added to their positions.
MAJOR SHAREHOLDERS
Since the uncertainty started in November 2012 (with the departure of the old CEO) none of the major shareholders have reduced their positions. In fact they have only added to the positions in the last year.
The only exception is former CEO Kramer who has sold a very small percentage of the shares. When the shares dropped hard in November 2012 he added to his positions to show his confidence in Fugro.
| | |
| --- | --- |
| | Shares |
| Franklin Resources Inc (Franklin Templeton) | 5.01% |
| ING Bank | 5.05% |
| Harris Associates L.P. | 5.00% |
| BlackRock Inc | 2.59% |
| Sprucegrove Investment Management Limited | 5.18% |
| Capital Group International Inc. | 4.60% |
| G-J. Kramer (former CEO) | 5.52% |
| Ameriprise Financial Inc | 4.97% |
| WAM Acquisitions GP, Inc. | 5.26% |
| FMR LLC | 4.80% |
| Total | 47.98% |
FUGRO's COMMUNICATION
Because of the volatility Fugro's stock price can change rapidly, mainly caused by short selling parties. Fugro doesn't help by communicating progress or communicating its successes.
In 2013 Fugro ranked 3rd (2nd in 2012, 2011) of the ENR Top International Design.
On February 6 the Arctic Technology Conference announced Fugro as the recipient of two 2014 Spotlight on Arctic Technology Awards:
Integrated 3D iceberg mapping technique, which defines complex iceberg properties using high precision subsea imaging systems and above-water imaging techniques.
GeoSAR sea ice mapping system which is mounted on an aircraft to acquire sea ice data over very large areas.
Neither of these are listed on Fugro's website. The same applies to other positive news.
CONCLUSION
Fugro is undervalued right now with a PE of 10.
With a dividend yield of 3.73%, increased focus on results and steady revenue and order book increase Fugro, Fugro has an asymmetric risk/reward value.
Because of the high percentage of short activity and high percentage of major shareholders a short squeeze is likely to occur when the results confirm the outlook.
The table below states the upside/downside potential and is based on:
Current stock price of $ 55.46 (€40.19)
Fugro's average PE of 13.5 (PE 10 at the current price)
Sector average PE is 18
Exchange rate used €/$ 1.38
Because of the soft winter in 2013 (in Europe) it is also possible that the results are better than expected because the ships could operate at sea for a longer period of time. The first half year of 2013 was negatively influenced by the long winter.
| | | | |
| --- | --- | --- | --- |
| | EPS | Stock Price | Change |
| Downside | | $48.30 | -12.91% |
| Low upside | $4.83 | $65.21 | 17.58% |
| Outlook | $5.34 | $72.10 | 30.00% |
| High (PE sector average) | | $96.13 | 73.33% |
| Targets 2016 | $7.10 | $95.96 | 73.02% |
| High 2016 (PE sector average) | | $127.80 | 130.43% |
Based on the outlook Fugro an upside of 30% is possible when the final results of 2013 confirm the outlook given for 2013 (and repeatedly confirmed).
Notes
1. All financial data used is taken from reports published by Fugro's investor relations.
2.The spelling used is the same as used by Fugro.
Disclosure: I am long FURGF. I wrote this article myself, and it expresses my own opinions. I am not receiving compensation for it (other than from Seeking Alpha). I have no business relationship with any company whose stock is mentioned in this article.