Pepsico (NYSE:PEP) is a food, snack and beverage company which manufactures or uses contract manufacturers, markets and sells a variety of salty, convenient, sweet and grain-based snacks, carbonated and non-carbonated beverages and foods.
The company is obviously most well-known for its Pepsi brand, but what is probably less well-known is that it actually owns and sells a host of other brands in both the drink category but also within foods, like Lay's and Quaker.
The Fundamentals
Pepsico has marketed and sold Pepsi for more than 100 years and today sells its products in more than 200 countries and territories worldwide, which for all practical purposes means everywhere. Throughout its history it has been merging or buying additional brands into its portfolio, slowly but surely making it into the company it is today.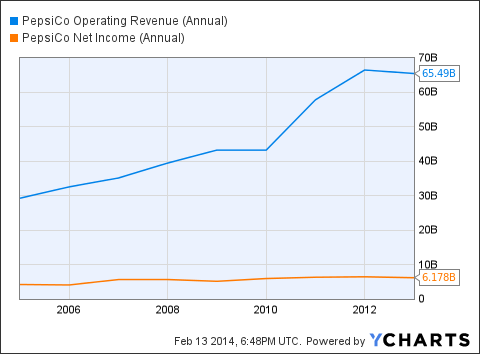 PEP Operating Revenue (Annual) data by YCharts
Often when a company grows both organically and through acquisitions, it dilutes shareholder value by overpaying for the acquisitions. We can see from the chart above that margins have slipped somewhat over time. However, what's important is the bottom line and that has increased from $5.142 billion in 2008 to $6.178 in 2012.
Its latest numbers, just released this Thursday, show continued growth for the company as revenues increased slightly to $66.415 billion. The most encouraging development in my view was that it finally managed to expand its margins as net income increased by 9% to $6.74 billion.
The company itself seemed quite satisfied with its results in 2013; it stated that it achieved its goals in organic net revenue, cash flow, productivity and core operating margin, constant currency EPS, and net ROIC targets and at the same time continued investing in its brands and in innovation. Management further says it is confident about 2014 and the longer term. As an illustration of this confidence, they decided to increase cash returns to shareholders by both hiking its dividend and boost share repurchases.
Still, the company was punished by Mr. Market and ended the day down by more than 2%. Why? It seems there is one primary reason -- For some time the company has been pressured to spin off its drink business as this has struggled somewhat in the competition against Coca-Cola (NYSE:KO). Its snacks business has performed markedly better and some investors would like the company to retain that better-performing part of the business. Well, management decided to keep the company together as it is as it thinks that is the best way to maximize long-term shareholder values. It seems Mr. Market didn't quite agree on that point and as a consequence sent the shares down.
It is certainly true that the snacks business is growing faster, but the drink business does have some very strong brand names that, with the right investments behind them, have the potential to compete more strongly against Coca-Cola. In the past, there have been periods when Coca-Cola was on the defensive and Pepsi on the offensive and vice versa. I tend to agree with management here that one should not give up on the drink business just because it has had a couple of tough years as it relates to growth. There is tremendous value there, it is just a matter of making a way of exploiting it.
Risk Factors
Macroeconomic factors are certainly a risk but not a significant risk in my opinion. The products Pepsi sells are not expensive products so almost anyone in almost any situation will be able to buy a Pepsi or a bag of Lay's. A clear medium-term risk is currency depreciations as several emerging market currencies have reminded us of lately. Another risk is the increasing health focus which make people both in developed and developing economies less likely to buy lots of sugary drinks. This risk is somewhat mitigated by sugar-free sodas but more research is needed in order to come up with better sugar-free alternatives. Another risk is of course the constant competition from its rivals, most notably the global giant Coca-Cola.
Valuation
As we have seen, Pepsico has been growing its revenues nicely over the years and net income has increased noticeably as well. Judging from management, the company will continue to grow in the years to come but Mr. Market is clearly a little bit skeptic about the future prospects. So it would be interesting then to see what price Mr. Market puts on this company.
| | | | |
| --- | --- | --- | --- |
| | Pepsico | Coca-Cola | Dr. Pepper |
| Price/Sales | 1.9x | 3.7x | 1.7x |
| Price/Earnings | 19.1x | 20.0x | 16.2x |
| Yield | 2.8% | 2.9% | 3.0% |
Source: Morningstar.
Dr. Pepper Snapple Group (NYSE:DPS) wins all three categories handsomely. It has to be kept in mind though, that the company is quite small compared to the other two and therefore entails bigger risks.
Pepsico is cheaper than Coca-Cola on both Price/Sales and Price/Earnings but gets beaten on the dividend yield. Please note that the yield above is Morningstar's old yield and does not include the dividend raise that was announced in the latest earnings release.
Judged by its competitors and the general market as represented by the S&P 500, which trades at a Price/Earnings ratio of 17.9x, Pepsico looks fairly valued. It is priced slightly below its main rival but above the general market as defensive, branded consumer goods companies usually do.
The Dividend
This company is as stable a dividend growth company as they come. Pepsico has increased its dividend for 41 years according to dividend.com. It increased its dividend once again this Thursday by 15% to an annualized rate of $2.62 from $2.27 which means its new yield is approximately 3.3%.
The analyst community expects the company to make $4.69 per share in fiscal year 2014 which means its payout-ratio will be 56%. That leaves ample room for investments behind its brands, share repurchases and future dividend growth even in years with less than stellar earnings growth.
The analysts further expect the company to achieve an average annual EPS growth rate of 7.7%. Coupled with a dividend yield of 3.3% and assuming the same multiple on earnings five years from now as today, that translates into an annual total shareholder return of 11%. Not something that will get you rich quick but certainly compelling for a long term dividend growth investor given the company's defensive characteristics in uncertain economic times.
Conclusion
As with most companies, Pepsico certainly has its share of challenges ahead. But the company has a strong portfolio of brands, a history of rewarding long term shareholders, compelling defensive characteristics and looks likely to deliver decent growth going forward. It is not a company for the impatient, but today's sell-off presents a nice entry point for the patient long term dividend growth investor.
Disclosure: I have no positions in any stocks mentioned, and no plans to initiate any positions within the next 72 hours. I wrote this article myself, and it expresses my own opinions. I am not receiving compensation for it (other than from Seeking Alpha). I have no business relationship with any company whose stock is mentioned in this article.