"Formula for success: rise early, work hard, strike oil." J. Paul Getty
Regular readers of these columns know that I take a keen interest in the huge domestic energy boom that has been occurring in the United States over the past half dozen years. It has been great territory for unearthing some significant stock market winners both for growth and income investors.
I also like writing about small cap stocks, especially those priced at just under $5 a share as these types of plays have produced the largest returns in my portfolio during the rally of the past few years. Combining these two areas of interest leads to a couple of small cap energy plays. Both are selling at right around $4 a share and have been on a sharp upward moves recently.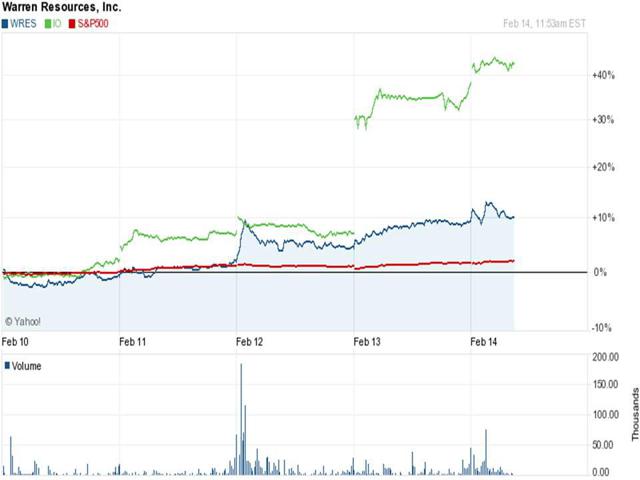 Warren Resources (NASDAQ:WRES) is an independent energy company engaged in oil and natural gas production. The company focuses primarily on its waterflood oil recovery programs and horizontal drilling in the Wilmington field within the Los Angeles Basin of California.
The stock has moved ~20% in the last month as two analysts took their earnings estimates up on the company. The consensus earnings estimates for FY2014 have moved up more than 15% in last thirty days. The stock has also moved recently from "Neutral" to "Strong Buy" at Zacks.
I also believe Occidental Petroleum's (NYSE:OXY) announced plan today to spin off its California operations could be a positive for Warren Resources. Hopefully this decision and associated news will highlight the value of California's energy assets.
California has more recoverable energy from shale than any other state in the union. However, it is not associated with the huge energy boom in the United States as the state has been slow to embrace "fracking" and also new drilling technologies.
The company reports earnings again in early March. On its last quarterly update it beat bottom line expectations substantially. Warren is tracking to better than 30% earnings growth this fiscal year and analysts project another 15% to 20% gain in FY2014. Given this, shares are still attractive after recent rally at under 9.5x forward earnings.
ION Geophysical Corporation (NYSE:IO) is a small energy services firm that provides geophysical technology, services, and solutions for the oil and gas industry internationally. I bought this name too soon but averaged down after the stock has a significant slide. My timing was not as good as some insiders that bought over $230K in new shares in December at ~$3 a share.
The company soared on Thursday as the company submitted an earnings report after the bell Wednesday that absolutely crushed expectations both on the top and the bottom lines. The company is showing strong sales growth for its products in areas offshore of Africa, the Gulf of Mexico and India.
Look for myriad upward earnings revisions as well as upgrades to ratings and price target on this company in the coming week or two from analysts. The median price target by the three analysts that cover the stock is $6 a share, more than 45% above the current stock price even after the huge rally in the shares Thursday. The stock is cheap at ~5x operating cash flow and has a five year projected PEG of under 1(.73).
Disclosure: I am long IO, WRES. I wrote this article myself, and it expresses my own opinions. I am not receiving compensation for it (other than from Seeking Alpha). I have no business relationship with any company whose stock is mentioned in this article.