Many investors have made note of the recent downgrades Wall Street has issued on the oil services industry and on Transocean LTD (NYSE:RIG) in particular. Some have dismissed this bearish market outlook as a type of "Bear Raid" lead by Wall Street, intended to manipulate prices. I encourage this line of independent thinking but that is not the case this time. As explained in the first part of this series, this trend of decreasing deepwater day rates is an actual trend within the offshore drilling industry. However, this bearish market outlook has been way overblown. Many seem to misinterpret this outlook and perceive warnings predicated upon it to mean there won't be demand for ultra-deepwater drill ships period. This is not the case. An over supply of drill rigs has resulted in oil exploration and production companies opting for the newer state of the art rigs over the older decrepit rigs.
Why Are Day Rates Decreasing?
An oversupply of new drill ships has resulted in the offshore drilling industry being forced to compete for a limited number of contracts. As a result the oil exploration and production industry has significant advantage during contract negotiations. In order to ensure their new rig gets contracted, the offshore drillers must offer their services at a lower rate per day.
An Alarming Pattern
Aside from decreasing deepwater day rates, Transocean's fleet status report provides evidence of an alarming trend. The rigs built during the 1970s and 1980s are very quietly being placed on "idle" status and being "stacked." These "stacked" rigs will need to be disposed of and removed from the balance sheet quickly because they're sandbagging Transocean's profitability and inflating their bottom line. This is a perfect explanation of why Transocean's profit margin is so small and why an activist investor would feel the need to get involved. They incur expenses on behalf of rigs in storage, no longer desired by the oil exploration and production industry. Some of these rigs have been in storage since 2010.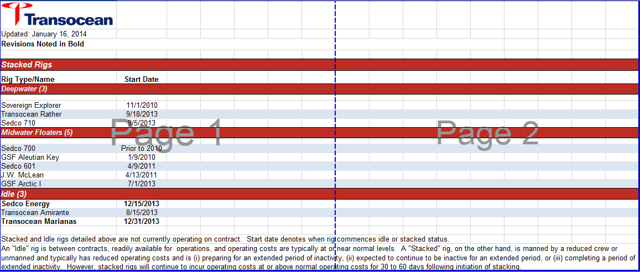 Click to enlarge
The Pattern Continues:
An examination of the January fleet status report revels there are eight rigs stacked and three rigs idle. All eight stacked rigs were constructed in the 1970s and 1980s. Of the three rigs idle there are two which fit the description of rigs about to be stacked. An even further examination of the January FSR reveals there are another eleven rigs which fit the description of rigs about to go idle and then be stacked. All have contracts expiring in 2014 and none have replacements as of January 16, 2014. Although it would appear Transocean will add two drill ships to its fleet this year, its fleet is likely going to shrink due to an oversupply of new drill ships in the industry. Transocean could lose as many as 11 rigs in 2014, since 11 rigs fit the description of rigs on the verge of deactivation. Furthermore, despite a majority of Transocean's ultra-deepwater rigs being relatively new and certainly not in danger of de-activation, there is an oversupply of ultra-deepwater drill ships. It would be logical to speculate that Transocean will have difficulty contracting its deepwater drill ships because its competitors all have brand new ultra-deepwater drill ships without contracts and will be competing with Transocean for a limited number of contracts.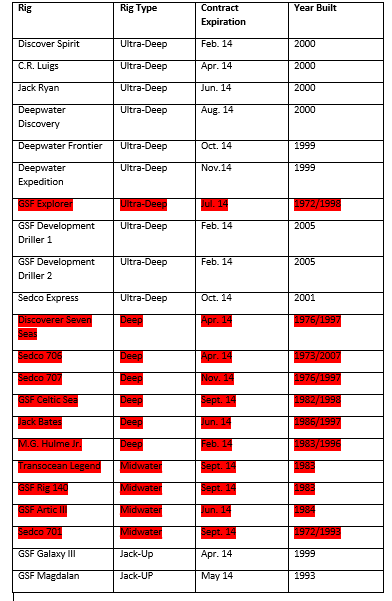 Conclusion:
I don't want to jump to conclusions. But the situation appears as though it's going to deteriorate rapidly before it eventually improves. In other words, profitability and margin of profit will decrease before they begin to increase. The oil exploration and production industry appears to be opting for brand new rigs offered by Transocean's competitors over the thirty and forty year old rigs offered by Transocean. Although two new rigs will join the fleet this year, that is misleading because the fleet will likely shrink due to deactivation of older rigs. Although it will likely be less, there could be as many as eleven more rigs on the brink of retirement. There are eight rigs already stacked, two idle which will most certainly be staked and an additional eleven which fit the description of rigs about to be stacked.
In order to avoid jumping to conclusions, we as investors need to see further evidence of this trend continuing into 2014. In February the M.G. Hulme Jr.'s contract is expiring. That rig fits the stereotype of a rig about to be deactivated. If that rig is not contracted and goes "Idle", we as investors must conclude that further downside is imminent because the ugly pattern of deactivation will continue. I reiterate an aspect of my previous conclusion: the short-term outlook is severely bearish.
Disclosure: I am long RIG. I wrote this article myself, and it expresses my own opinions. I am not receiving compensation for it (other than from Seeking Alpha). I have no business relationship with any company whose stock is mentioned in this article.
Additional disclosure: I am long puts at various strike prices and expiration dates