On Wednesday, Advanced Micro Devices' (NYSE:AMD) CFO Devinder Kumar spoke at the Goldman Sachs (NYSE:GS) Technology and Internet Conference. In that presentation [linked here] a good portion of the discussion centered around the miscommunication of how AMD's semi-custom business model should be valued by analysts, many of whom are stuck in the traditional chip manufacturer focus on gross margins. This misunderstanding of the business model and how lower gross margins are not the right metric to look at has led to volatility in the stock's price post earnings reports. Investors need to be aware that this sentiment mismatch creates an arbitrage opportunity for trading and accumulating AMD.
Here's AMD's 9 month daily chart. The three big gaps down coincide with the day after earnings reports. Even though in each of these earnings reports AMD actually outperformed market expectations and its own guidance, the market responded to a degradation of gross margins with a large sell-off.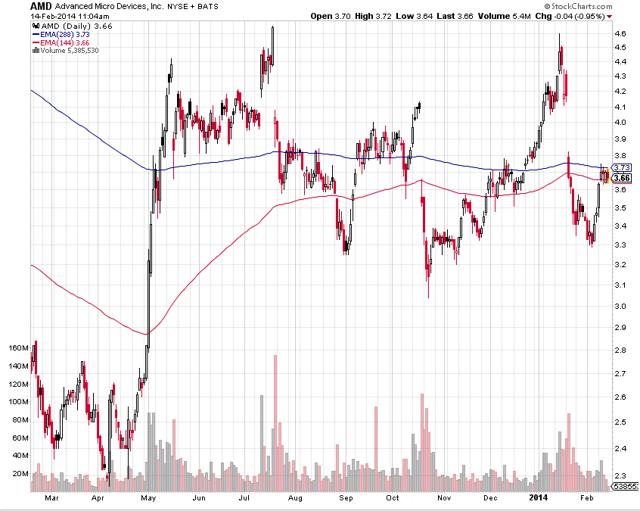 The table below breaks out the company's shift in profitability during 2013 and clearly shows the influence on net margins by the semi-custom business since it is booked under the Graphics and Visual Solutions vertical. I includes Q1 and Q2 in the mix to show the difference between the company's revenue structure with and without data from Microsoft's (NASDAQ:MSFT) Xbox One and Sony's (NYSE:SNE) Playstation 4.
Marginally Mistaken
| | | | | |
| --- | --- | --- | --- | --- |
| Company Wide | Q1 2013 | Q2 2013 | Q3 2013 | Q4 2013 |
| Gross Margins | 41% | 40% | 36% | 35% |
| Net Margins | -4.2% | -1.7% | 2.1% | 2.8% |
| Graphics and VS | | | | |
| Net Revenue (MM $USD) | 337 | 326 | 671 | 865 |
| Op. Income (MM $USD) | 16 | 22 | 79 | 121 |
| Op. Margin | 4.7% | 6.7% | 11.8% | 14.0% |
Selling discrete video cards was a commodity business for AMD in the first half of 2013. Without a significant presence in the professional graphics market where rival Nvidia (NASDAQ:NVDA) has most of the market share, that vertical was barely going to carry the company at 5-7% net margins on revenues of $300-400 million. But once we add in the revenue from the two consoles, the story changes completely with both revenue and income rising significantly.
In fact we know that the launch of the R9/R7 rebrands of AMD's Radeon discrete cards were a major success in Q4, which contributed nicely to revenue. But with it still being a low margin business, the greater mix of cards to console APUs likely depressed net margins for the vertical a couple of points. In his talk at the Goldman-Sachs conference, Kumar made this point directly, saying that AMD expects net margins for this segment to continue to grow towards 18% over the course of 2014.
This margin expansion will come from 1) an acceleration of console sales, 2) improvements in the operations of console APU production, i.e., increased yields at lower costs and 3) increased sales in the professional graphics market.
This alone should give investors pause when valuing the company at its current price of around $3.70 per share. Looking at the chart above, you should note the concentration of volume and price highs and low around the current price range. Simply put the market is under-valuing the income potential for AMD's current semi-custom wins by focusing on the wrong metric - gross margin.
This keeps the stock volatile as we approach each earnings report with short covering and investor enthusiasm only to be crushed by unreasonable expectations and a reliance on tools that are no longer predictive of the company's business model.
Managerial Focus
In my previous articles on AMD, I have focused on the company's technology and the potential for things like HSA and Mantle to disrupt a number of markets, most notably gaming. But the other part of this story is that, for lack of a better turn of phrase, this is not your father's AMD. Gone are the days of crazed spending and competing directly with Intel (NASDAQ:INTC). In today's chip market, struggling companies have fabs. This has been my main argument against investing in Intel since I began writing on the subject last year.
Management under CEO Rory Read is far more focused on what Wall St. values - profits - but Wall St. is still unconvinced. The company has executed an excellent turn-around strategy and increased its liquidity position to the point where that $500 million in 6.5% convertible notes maturing in 2015 does not look quite so scary.
I think Read's experience at Lenovo (OTCPK:LNVGY) when it was a low-margin commodity player serves him well here. Lenovo is a company focused on protect and attack. Grab a foothold in a market, protect your position in it by leveraging your uniqueness and then attack the next market that makes sense. Read is doing this with AMD's product portfolio using the unifying theme of gaming to launch new attacks at niches in the market where AMD is unique.
Moreover, management has been very conservative in its estimation of its future business, preferring to focus on plans and execution rather than hype and hyperbole. That's the marketing department's job in selling AMD's products. Shifting that perception of a more sober, yet sanguine AMD is no easy task and is likely the company's biggest task at this point.
It looks to have rebuilt its relationship with its industry partners in getting Mantle and TrueAudio adoptions early, as well as scoring major wins with Verizon (NYSE:VZ) on the server side and Apple (NASDAQ:AAPL) on the professional graphics side. These are both markets AMD needs to gain share in and soon.
Current Technicals
While I am not crazy about using moving averages to support price movement predictions, the current price action in AMD is bounded by the 144 and 288 EMA. And there is a lot of volume to slog through to generate momentum above $4.00. The current gap-down post January's earnings looms large on the chart at this point and will be filled at some point this quarter.
The strong performance by the stock this week has created a two-bar reversal signal on the weekly chart setting up a high probability for a challenge of that gap next week. Look for a daily close above $3.82 to set off a bout of short-covering and gap filling back to around $4.10 before running into significant resistance.
But for right now, $3.70 looks to be fair value that the market is oscillating around. While this current range holds, AMD is a trader's dream, spiking up and down seasonally between $3.30 and $4.70 per share. And this will persist until this sentiment surrounding the company changes, creating a near arbitrage play between the reality of improving fundamentals of the business and the perception of its business model.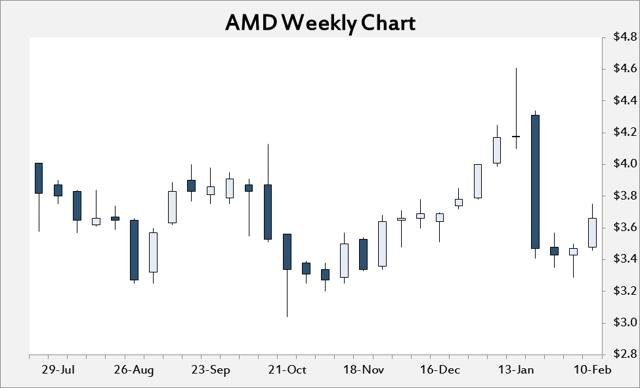 Disclosure: I am long AMD. I wrote this article myself, and it expresses my own opinions. I am not receiving compensation for it (other than from Seeking Alpha). I have no business relationship with any company whose stock is mentioned in this article.