Executive summary:
Realty Income presented another record quarter with substantial y-o-y increases in revenues and earnings.
Accretive transactions are driving shareholder value.
Recurring cash flow from property portfolio backs long-lasting dividend stream.
Realty Income is among the best managed REITs in the sector.
_________________________________
Realty Income (NYSE:O) reported record fourth quarter earnings yesterday and it looks like that nothing can stop this real estate investment trust. Specifically, Realty Income reported:
A whopping y-o-y revenue increase for the fourth quarter of 62.4% to 215.7 million vs. $132.8 million last year and a 61.2% increase in full-year revenues to $778.4 million resulting from Realty Income's portfolio acquisitions
EPS of $0.26 in Q4 2013 compared to $0.21 in the same quarter last year (an increase of 23.8%)
Full-year 2013 EPS of $1.06 vs. $0.86 in 2012 - a jump of 23.3%
Normalized funds from operations (FFO) per share for the fourth quarter of $0.61 compared against $0.56 in the year ago quarter (plus 8.9%)
For the full-year 2013 Realty Income reported a normalized FFO of $2.41 per share compared to $2.02 per share in 2012 (a y-o-y increase of 19.3%)
Adjusted funds from operations (AFFO) also increased markedly y-o-y: Realty Income achieved an AFFO per share of $0.62 in the fourth quarter compared to $0.55 a year ago (a plus of 12.7%)
For the full-year 2013 Realty Income showed adjusted funds from operations per share of $2.41 -- up 17.0% from last year's $2.06.
In terms of key performance indicators for real estate companies, Realty Income improved already respectable results:
Like-for-like rents increased 1.8% in the fourth quarter and 1.4% for the full-year
Realty Income also increased its occupancy rate by 100bps to 98.2% from 97.2% in the year ago quarter.
Acquisition strategy paying off - to the benefit of shareholders
In the fourth quarter of 2013 Realty Income invested $145.3 million in 66 new properties/developments and a total of $1.5 billion in 459 new properties in 2013. This comes after the $3.2 billion acquisition of American Realty Capital Trust which added another 515 properties to Realty Income's portfolio at the beginning of 2013. Realty Income's total property count at the end of the year stood at 3,896 properties. If Realty Income continues its aggressive portfolio growth policy, I think the real estate investment trust could even surpass the 5,000 property mark by 2015. Impressive y-o-y increases in revenues, earnings and funds from operations are largely attributable to Realty Income's acquisition of American Realty Capital Trust underlining that management drives shareholder value mainly through acquisitions.
Just yesterday I wrote an article (here) about Realty Income's explosive portfolio growth which dates back to 1969. Realty Income's acquisition spree in 2013 not only added to Realty's already impressive transaction record, but fourth quarter results highlight that Realty Income is one of the few companies that consistently achieve accretive transactions. The mergers and acquisitions environment is a tough field in finance and many practitioners will be able to confirm that it is immensely difficult to achieve consistent, accretive earnings growth via portfolio acquisitions and integrations.
Realty Income's Chief Executive Officer John P. Case commented on fourth quarter results and its property acquisitions [emphasis added]:
We completed $1.5 billion in acquisitions for 2013, of which $145.3 million were closed during the fourth quarter. The weighted average remaining lease term of the properties acquired in 2013 was 14 years, and 84% of the acquisitions were retail properties. Including our acquisition of American Realty Capital Trust in January 2013, we invested approximately $4.7 billion in real estate, the highest level of acquisitions in the company's 45-year history. We funded the 2013 acquisitions by issuing $3.2 billion of common stock, $820 million in unsecured notes with an average maturity of 10 years, and assuming approximately $630 million of existing debt.

We also expanded our unsecured credit facility to $1.5 billion from $1.0 billion, providing us with additional liquidity to fund acquisitions. We are currently anticipating approximately $1.2 billion in acquisitions for 2014. As of February 12, 2014, we have borrowing capacity of approximately $917 million on the credit facility to fund additional property investment activities."
10 reasons why Realty Income is a great portfolio addition for long-term oriented investors
The company structures its real estate portfolio for the long-term. Realty Income largely relies on 10-20 year net leases for its commercial real estate portfolio which significantly de-risks its cash flow profile.
Its long-term commercial real estate leases provide the basis for recurring cash flows which fund a substantial dividend stream for shareholders.
Realty Income has an outstanding portfolio occupancy rate of 98.2% highlighting that its properties are well managed and in high demand.
The company pursues an aggressive portfolio growth strategy to deliver shareholder value.
Acquisitions are accretive and oftentimes immediately benefit shareholders.
Realty Income has grown throughout the financial crisis and is a major beneficiary of the US real estate collapse (which is very comforting to know).
Its highly-rated tenant base is diversified across industries
Realty Income's property portfolio also shows a high degree of geographic diversification.
(Source: Realty Income Investor Presentation November 2013, click to enlarge)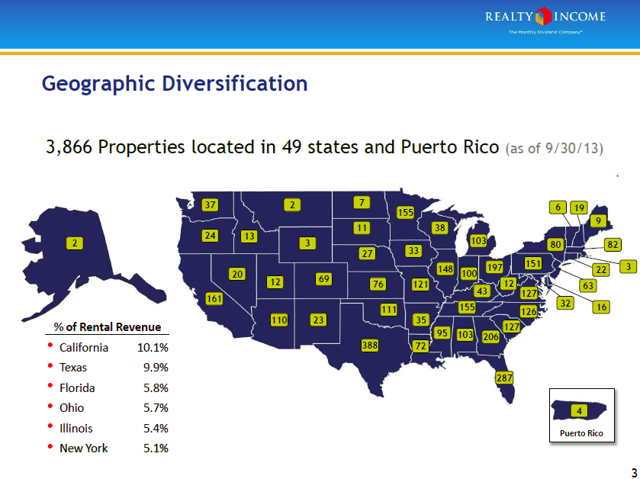 Realty Income has an extraordinary dividend payment record: In January 1995 Realty Income paid a dividend of $0.075 per share which has now risen to $0.1821667 representing an annual dividend yield of 5.27%.
Realty Income pays its dividend monthly offering investors more reinvestment opportunities.
Bottom line
Realty Income has marched on to another record quarter and showed investors once again that it grows its property portfolio aggressively and with the goal of accretion. Strong y-o-y results also indicate that Realty Income's management is on top of its business delivering substantial long-term value for shareholders. I believe Realty Income is one of the best-performing and best-managed companies in the real estate investment trust sector.
All its key evaluation metrics (FFO growth, occupancy rate, like-for-like growth) have been convincing once again. Long-term investors looking for a reliable income stream backed by recurring cash flow from an ever growing property portfolio should consider Realty Income. In addition to favorable financial metrics, REITs like Realty Income or American Realty Capital Properties (ARCP) also offer investors diversification potential and, to some degree, inflation protection. Strong, long-term BUY on top quarterly results which couldn't have been any better.
(Source: Yahoo Finance, click to enlarge)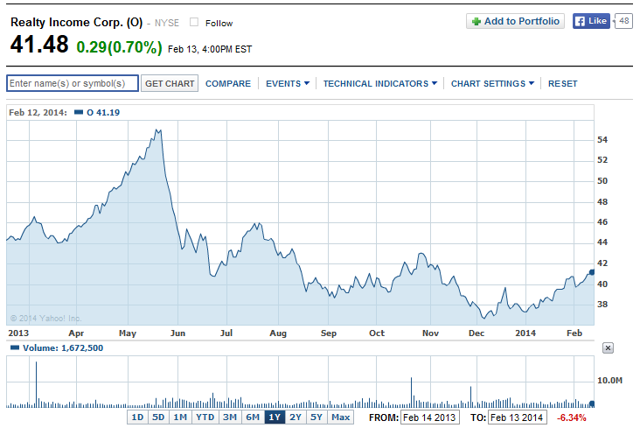 Disclosure: I am long O. I wrote this article myself, and it expresses my own opinions. I am not receiving compensation for it (other than from Seeking Alpha). I have no business relationship with any company whose stock is mentioned in this article.