Recent trading has been very rough for retailers as intense competition and worries over consumer demand have crushed many stocks in this space. One company that has been particularly impacted by this trend is undoubtedly Elizabeth Arden (NASDAQ:RDEN).
RDEN in Focus
Elizabeth Arden is a Florida-based beauty products company, which makes, markets, and sells a variety of cosmetic products along with skin care items and fragrances. The firm also has a wide variety of celebrity-braded fragrances, and generally distributes its products to department and specialty stores.
While the company recently beat estimates, edging out the Zacks Consensus Estimate by a single penny, it is the outlook that was extremely troubling for RDEN. The company slashed its outlook for the full year, forcing analysts to drastically reduce their expectations for Elizabeth Arden's earnings.
RDEN Earnings Estimates
Thanks to this reduced guidance and the extremely tough environment for discretionary retailers, the earnings outlook for RDEN has crashed in recent sessions. In fact, the full year estimate for 2014 earnings has cratered by over 50% in the past year, though much of the slump in expectations has taken place in the past month following the drastic guidance cut by RDEN management.
The current quarter Zacks Consensus Estimate has plunged from 20 cents a share 30 days ago, to just two cents a share today, an enormous cut in profit expectations. Current year expectations aren't much better, falling from $2.19/share 30 days ago to $1.46/share today.
In fact, not a single estimate for the current quarter or current year has gone up in the past 60 days, while five have gone down for both time periods. And with the big cut, the company is now expected to see an earnings contraction of over 31% (yoy), compared to the positive growth that was expected before this realignment of expectations.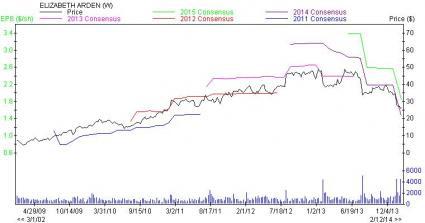 Due to this drastic turn in RDEN's growth story, it shouldn't be too surprising to note that the company has seen its stock tumble by over 15% in the past one month time frame. And with this kind of bearish outlook and a terrible run in terms of earnings estimate revisions, it shouldn't be too surprising to note that RDEN has earned itself a Zacks Rank #5 (Strong Sell), and that we are looking for further weakness from this struggling company in the months ahead too.
Other Picks
Unfortunately, Elizabeth Arden is in terrible company in its industry, as the cosmetics sector currently has a rank that is in the bottom 6% of all industries. In fact, less than ten other industries have worse ranks than this cosmetics segment, suggesting that investors should probably look elsewhere for strong picks.
However, if you are dead set on this space, two companies that have better prospects than RDEN are Estee Lauder (NYSE:EL) and International Parfums (NASDAQ:IPAR). Both of these companies have Zacks Ranks of just #3, but they were both #2s just a short time ago, and they are expected to see double digit earnings growth as well. So, if you need some beauty in your portfolio, either IPAP or EL could be interesting selections that are certainly looking better than RDEN at this time.
Disclosure: No positions