By Jeff Pietsch
Last week we speculated that the market was nearly overbought, and Goldman Sachs (NYSE:GS) certainly lent a strong catalyst towards that thesis. In fact, the market fought its most difficult trade since early in the year, leaving the S&P 500 (NYSEARCA:SPY) down -2.5% with the Small-Cap Value Index (PWY) down further still at -4.1% on the week. On one hand, the market is hardly oversold and it is difficult to gauge whether this news cycle has run its course. I doubt it, but the market has had such a very short memory for these negative events.
Click to enlarge: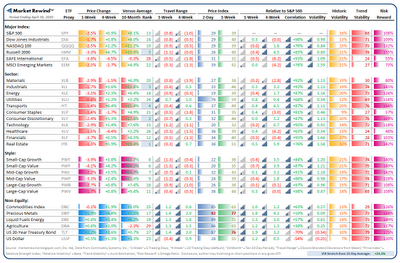 (Click Image to Enlarge/ ETF Rewind Glossary)
On the other hand, we remain in a strong bullish recovery, the VIX is extraordinarily stretched to the upside (+24.4% above its 15-day Moving Average), and nearly every dip like this has thus far been immediately bought. It will certainly be curious to see how much progress the market can make going into next week's Friday Jobs Report (+187,000 jobs expected).

Week Eighteen of 2010 features the following economic and reporting calendars:
I hope you had a terrific weekend!

Click to enlarge: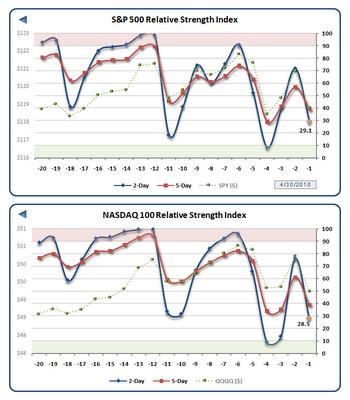 Disclaimer: Never Investment Advice