By Bryan McCormick
Today's economic calendar is quite full, including Motor Vehicle Sales throughout much of the day.
Personal Income and Outlays will be reported at 8:30 a.m. ET. Income is expected to rise 0.3 percent, while consumption is expected to rise by 0.6 percent.
The ideal bullish scenario would be for consumption and income to track one another on the high end of expectations, which are 1 percent and 0.8 percent respectively. Negative readings in either category--and especially both--would be bearish.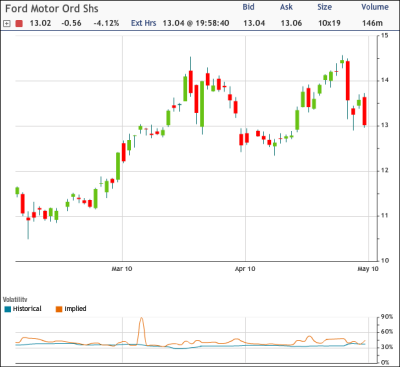 The ISM Manufacturing Index will be released at 10 a.m. ET. The index is expected to rise to 60, up fractionally from the prior reading of 59.6.
A reading higher by 5 percent or more from the expected value would be very bullish. A reading lower by the same percentage would be bearish.
Construction Spending will also be reported at 10 a.m. ET. Spending is expected show a reading of -0.3 percent. The range of expected values is wide, from -1.8 percent to 2 percent. Readings toward either end of the extremes in the range would be bearish or bullish respectively.
The Motor Vehicle Sales generally begin to be released by each company at around noon ET, though that is not a firm rule. Domestic vehicle sales are forecast to come in at 8.7 million.
Ford (NYSE:F), Daimler AG (DAI), Tata Motors (NYSE:TTM), Honda (NYSE:HMC), and Toyota (NYSE:TM) may be active before and after their individual reports.
(Chart courtesy of tradeMONSTER)