While there are rounds of applause after SAP AG (NYSE:SAP), the leading business applications vendor declared Q1 results (see earnings call transcript here), the numbers to me raise more questions than answers.
While a 5% revenue growth to EUR 2.5B and a ~20% adjusted operating profit growth to EUR 557M are encouraging signs, core license revenue growth seems to be lagging behind. A little bit of history and some number crunching helps put things in perspective
SAP acquired Business Objects in Jan 2008. Business Objects had ~EUR 1B in annual revenues. Now this itself should have added ~EUR 200-250M a quarter to SAP's revenues. With SAP's guidance of ~EUR 8.6B in software license and support revenues, the revenues are expected to be flat over 2008. 2009 was down 20% over 2008 but let's leave that as an anomaly. The interesting part is that support revenues have been increasing QoQ thanks to the fact that the total client base is increasing (it can only decrease when net adds is negative which is very unlikely). If we annualize the Q1 support revenues (EUR 1.4B), it gives annual support revenues of EUR 5.6B in 2010 (a pretty conservative estimate as support revenues from new clients is not being taken into account). So if we deduct EUR 5.6 B of support revenues from guidance of EUR 8.6B, it gives ~EUR 3 B in license revenues which is still ~15% lesser than 2008. Even worse, it's less than 2007 software revenues when Business Objects was still not in the equation and is close to 2006 levels. See the chart below which gives software (license) revenues over the last five years. The question for the SAP management is then, which segment is performing poorly - Is it the BI revenues which are still badly hit or is it the core ERP application revenues?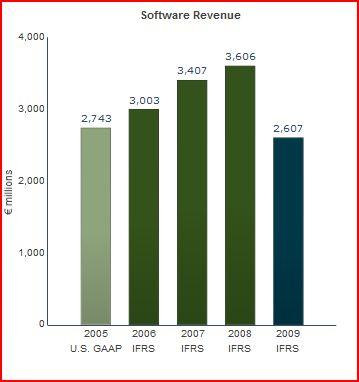 Source: SAP company filings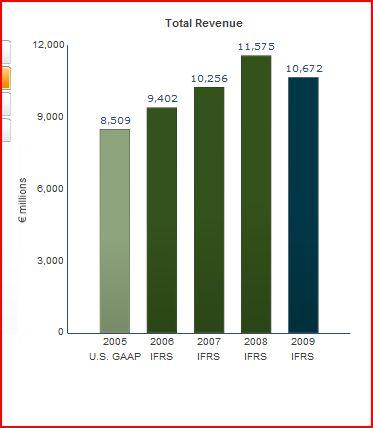 Source: SAP company filings
There is a nice chart in the company reports for fiscal 2009 which shows that the rate of volume decline (number of contracts) has shown an encouraging trend as 2009 progressed. From a 21% volume decline in Q109, the decline rate came down to 8% in Q409 indicating a recovery in client spending. But since software license revenues declined nearly 30% in 2009, the overall revenue decline is much higher than volume declines in any quarter. So what caused this divergence where revenues were impacted much more severely than volumes? Was it pricing or client mix or a mix of both that led to this decline? Did you see an observable change in Q1,2010 in this front?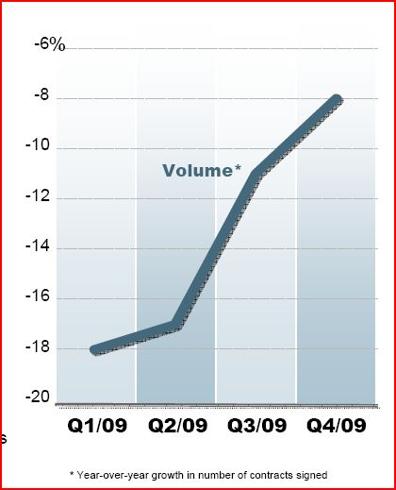 Source: SAP company filings
Operating margins on an adjusted basis have gone by ~8 percentage points to 24% in Q1,2010 compared to the year-ago period. However, excluding restructuring charges, operating expenses have gone up on a YOY basis marginally. While it is understandable that S&M and R&D expenses can go up as SAP prepares to ramp-up its product features, it's quite surprising that G&A expenses has gone up on a YOY basis. Expenses in Q1,2010 were EUR 148M against EUR 139M in the year-ago period. Though revenues are below 2007 levels, G&A headcount is above 2007 levels. Has the SAP management really looked at all costs and have they re-structured the organization to make it more efficient and cost-sensitive?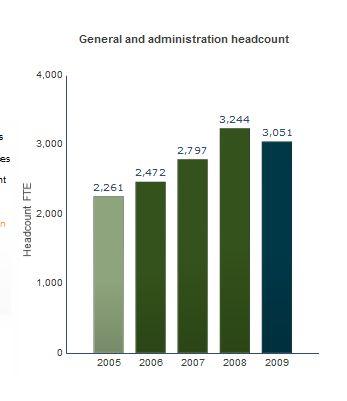 Source: SAP company filings
So, overall, I feel that SAP's Q1 performance is nothing to write home about. It's been a recovery from the abysmal lows of 2009 but that offers no comfort if new license contracts are yet to gain momentum. SAP seems to have lost the plot to Oracle (NASDAQ:ORCL), which has made rapid strides in the business applications space in the last 4-5 years.
Disclosure: No positions