Executive summary:
Cummins is a cyclical stock and is likely to perform well over the next few years.
Steady economic gains and new emissions regulations should catalyze growth.
The stock could see gains of 30% to 40% over the next two years.
Know when to lock in profits before the next downturn.
_________________________________
Cummins (NYSE:CMI), the manufacturer of diesel and natural gas engines and related products, recently beat estimates for Q4 2013. Revenue of $4.59 billion beat estimates by $370 million and EPS of $2.32 beat estimates by $0.34. The company is cyclical in nature which makes it riskier than the average stock. However, the stock is likely to reap the benefits from current improvements in the economy. Cyclical stocks such as Cummins should perform well in this stage of the business cycle. The stock should increase over the next few years on increased demand for its products.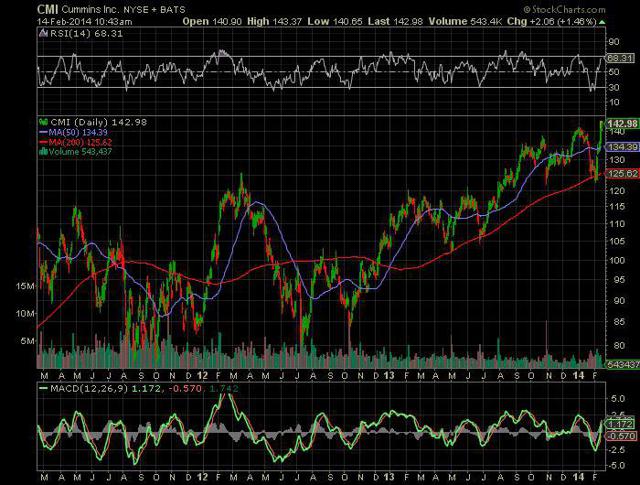 Click to enlarge
The Engine segment comprised 47% of Cummins' 2013 revenue and is the company's largest segment, which brought in $10 billion in revenue last year. Heavy duty and mid-range engines (3-15L) comprise 62% of that segment's revenue, while parts comprise 25% and high horsepower engines (19-91L) comprise the remaining 13%. Although this segment has experienced reduced demand for global mining and power generation, it is seeing stronger demand for construction and agriculture engines in North America and Europe. I think that construction and agriculture demand is likely to continue in the coming years and that the weakness in mining and power generation could be bottoming out.
The Component segment comprised 21% of 2013 revenue. Cummins has experienced stronger demand for its after treatment systems in North America and Europe. The company expects this momentum to continue in 2014 with a revenue increase of 8% to 12% for this segment. This segment is expected to benefit from new emissions regulations. Cummins has been a leader in delivering products that emit fewer emissions. As the EPA continues to require tighter emission standards, Cummins should continue to benefit.
The Distribution segment comprised 18% of 2013 revenue. Strength in this segment was attributed to strong power generation and after market demand in North America. This segment should continue its strength in 2014 as the lower than average temperatures this winter are likely to create increased demand for power generation products/services.
The Power Generation segment comprised 14% of 2013 revenue. This segment saw weakness in Europe and India in Q4, but this was offset by stronger demand in the U.S. Revenues for Power Generation suffered last year because of weak global demand for large power projects. Revenues for the Power Generation segment are expected to be flat for 2014 due to lower power needs in the weaker economies.
Valuation And Growth Outlook
Cummins is trading at 15.8 times expected 2014 EPS and only 13 times expected 2015 EPS. The company also has a PEG of 1.19, a price to sales ratio of 1.5 and a price to book ratio of 3.45. The stock looks fairly valued on the low end at these levels. I think that the company is positioned well to benefit from this stage of the business cycle. The Federal Reserve is now in the tapering process of its bond purchasing. This shows that the Fed has more confidence in the economy to operate more on its own, but not enough to entirely withdraw the bond buying program. With that in mind, we are probably a number of years away from the need for the Fed to raise interest rates to control inflation. It would be likely that the bond buying program would eventually end before rates would have to be raised. This should take some time to play out. Cyclical stocks like Cummins typically perform well during this phase. As the economy gains momentum, demand for the company's engines and related products should also increase, thus leading to higher revenue and earnings growth, and thus a higher stock price.
The Risks
Cyclical stocks like Cummins are highly levered to the health of the economy. Cummins' stock performs worse than average during recessions and times of economic uncertainty. This is one of the first stocks that large institutional investors will short when the economy appears to be in decline. For that reason, I wouldn't consider the stock a typical high-quality buy and hold investment. Long-term investors in Cummins need to have a strong stomach to weather the economic storms. I think that investors can own the stock now and sell when the Federal Reserve raises rates for the third time. This will allow the investor to lock in profits before a recession takes hold and before the inevitable sell-off in the stock.
Conclusion
Cummins is expected to grow earnings at 12.7% in 2014, 22% in 2015 and at an average of 13% annually for the next five years. Revenue is expected to increase by 4% to 8% in 2014 and by about 11% in 2015. Gross margins should increase between 5% and 9% in 2014 due to lower material costs and some pricing improvement. This is based on an overall market share of 38%. Market size is expected to increase by 7% in the medium duty truck market, with market share increasing to 70%. Some of the weaker markets such as mining could be bottoming out and thus see gains in the years ahead. Given Cummins long-term earnings growth at this stage of the business cycle, I think that the stock can increase to about $155 to $160 over the next year and to $185 to $195 in two years.
Disclosure: I have no positions in any stocks mentioned, and no plans to initiate any positions within the next 72 hours. I wrote this article myself, and it expresses my own opinions. I am not receiving compensation for it (other than from Seeking Alpha). I have no business relationship with any company whose stock is mentioned in this article.