Now that ProShares have given us a few months to follow their newer Ultra (Long) 20-Year Treasuries ETF (NYSEARCA:UBT), I am curious how closely it mirrors its well-watched and worn elder sibling, the Ultra-Short 20-Year Treasuries (NYSEARCA:TBT). Considering that Treasuries have been up and down several turns already in 2010, there may be an all-long strategy for traders to take advantage of.
TBT has passed its second anniversary, while UBT is just 3 months old. But if we look at the daily closing prices year-to-date, it appears that a well-timed surfer could ride one wave to the crest, jump to the next up-wave on the opposite ETF and ride it up, and so on. This would seem to be a superior approach to the currently popular one, that is, riding only TBT up, then selling to await the next trough to buy again. Why not take gains on Treasuries movement both ways?
click to enlarge image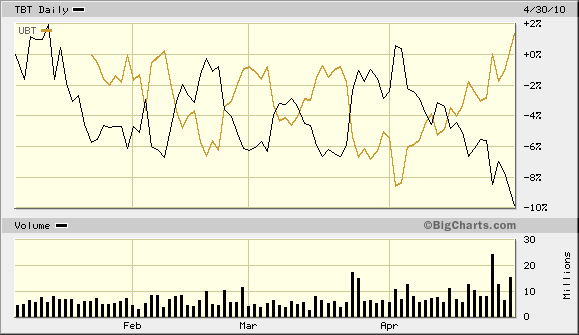 Click to enlarge
In the last week, TBT broke solidly out of its recent range between roughly $46 and $50 on the close. And with recent flight to safety, who can guess the next turn upward? I will be watching a short-term moving average to find an entry.
Disclosure: No positions as of posting