By Sumit Roy
With the exception of Brent crude oil, commodities rallied across the board this week amid fading concerns about emerging markets and the U.S. economy. Stocks also put in a solid gain, with the S&P 500 rallying by 2.3 percent in the period. The index is now only down 0.5 percent since the start of the year.
Macroeconomic Highlights
Janet Yellen's first congressional testimony as head of the Federal Reserve helped propel markets higher. Yellen didn't provide any surprises, which was reassuring to many traders. She said the Fed was likely to continue to taper its QE program "in measured steps." However, she cautioned that the recovery in the labor market was "far from complete," and that highly accommodative monetary policy was appropriate even after QE ends.
Meanwhile, there was some encouraging news on the fiscal front. A divided U.S. Congress managed to narrowly pass a clean increase in the federal debt limit, removing the threat of default through March 2015.
While monetary and fiscal developments were on the bullish side this week, economic data was disappointing. However, traders brushed off the bad news, blaming the severe weather that has affected much of the country.
The Commerce Department reported that retail sales in the United States fell by 0.4 percent in January, well below analyst expectations that were calling for no change. At the same time, December's sales were revised to show a 0.1 percent decrease, down from a 0.2 percent increase in December.
Meanwhile, the Federal Reserve reported that industrial production in the U.S. fell by 0.8 percent in January - the largest drop since 2009 - and well below the anticipated 0.1 percent increase.
On the other hand, data outside the U.S. was a bit more encouraging. In China, the National Bureau of Statistics reported that exports rose by 10.6 percent in January, well above the 0.1 percent increase that was expected. At the same time, imports grew by 10 percent, beating the 4 percent that analysts were anticipating.
Finally, Eurostat said that gross domestic product in the eurozone grew by 0.3 percent quarter-over-quarter in the final three months of 2013, better than the 0.2 percent increase that economists were expecting. On a year-over-year basis, eurozone economic activity expanded by 0.5 percent in the fourth quarter, but contracted by 0.4 percent for the year as a whole.
Commodity Wrap
| | | |
| --- | --- | --- |
| Commodity | Weekly Return | YTD Return |
| Natural Gas | 7.95% | 21.99% |
| Silver | 6.69% | 9.76% |
| Gold | 4.04% | 9.35% |
| Wheat | 3.98% | -0.66% |
| Palladium | 3.61% | 2.78% |
| Platinum | 3.20% | 4.31% |
| Copper | 0.62% | -4.12% |
| Soybeans | 0.60% | 2.06% |
| WTI | 0.27% | 1.76% |
| Corn | 0.00% | 5.21% |
| Brent | -0.80% | -1.90% |
Gold and silver blasted to three-month highs amid strong physical demand following the end of the Lunar New Year holiday in China. Early in the week, the China Gold Association reported that China's consumption of gold jumped a whopping 41 percent to 1,176.40 metric tons in 2013. That was a record high and makes China the No. 1 gold market in the world for the first time, surpassing India.

The breakout rally in prices is well underway thanks to strong demand from China and other emerging markets. As we wrote earlier this week (see Emerging Markets Give Gold & Silver Rally More Room To Run) gold and silver now have a clear path to $1,425 and $25, respectively.
GOLD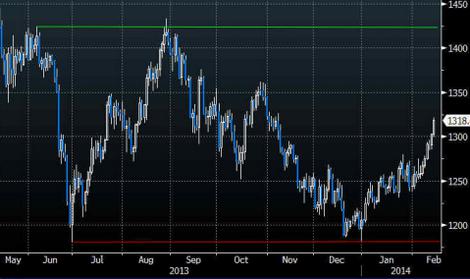 SILVER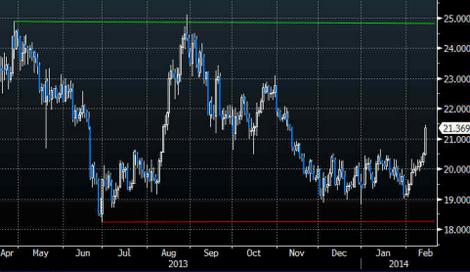 PLATINUM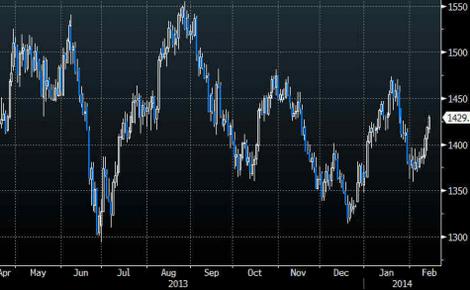 PALLADIUM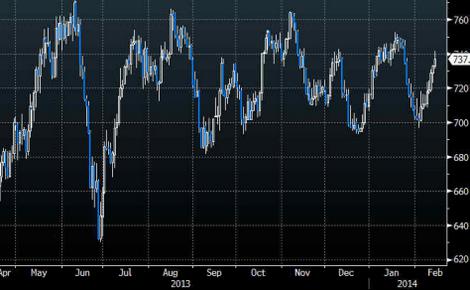 Crude oil underperformed as traders weighed low heating oil inventories against weather forecasts that show moderating temperatures in the U.S. for the end of the February.

WTI is having trouble breaking decisively above $100, though it is holding near that level for now. Our view is that plunging inventories at Cushing, Okla., should keep the spread between Brent and WTI relatively tight.

However, directionally, oil fundamentals are balanced, with strong production growth offsetting accelerating demand.
BRENT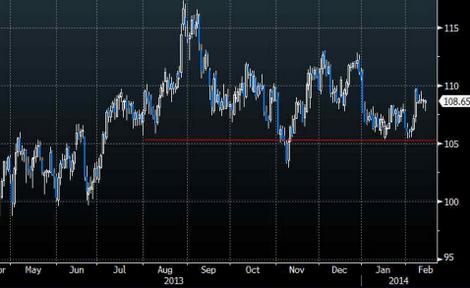 WTI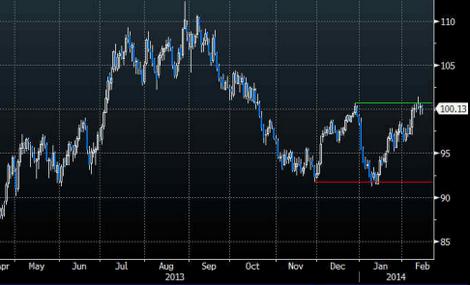 Corn was unchanged after hitting the highest point since October last week, while soybeans advanced to the resistance area near $13.50/bushel, and wheat spiked almost 4 percent amid bargain buying.
CORN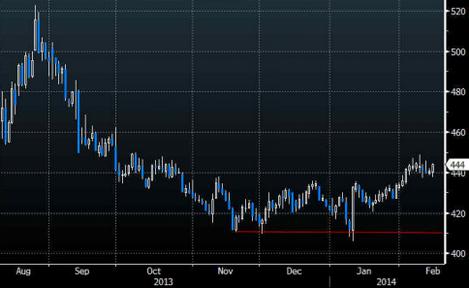 SOYBEANS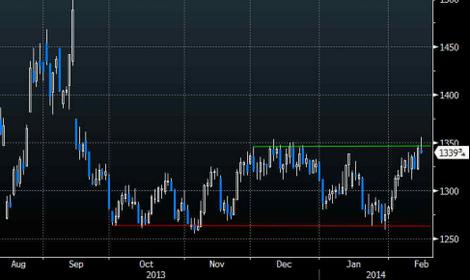 WHEAT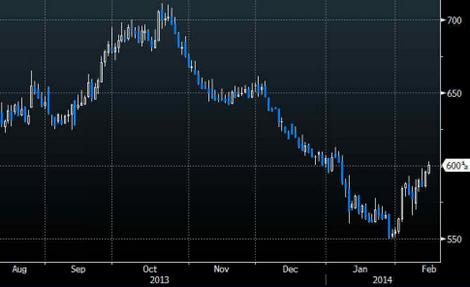 Copper edged only slightly higher despite news that China's copper imports hit a record high in January. Traders do not see those elevated import levels as sustainable given decelerating economic growth in the country.
COPPER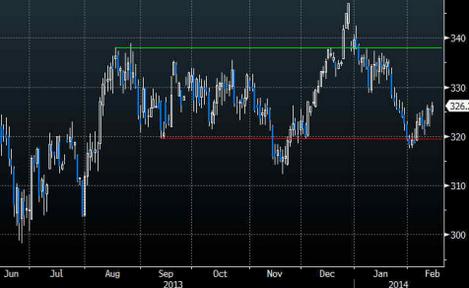 Natural gas managed to spike above $5/mmbtu despite a bearish shift in the weather forecasts. While warmer-than-normal temperatures will spread across the U.S. later this month, inventories remain well below normal, and it will take higher prices and production levels to refill them. We suggest buying on any notable correction.
NATURAL GAS