Arena Pharmaceuticals' (NASDAQ:ARNA) Belviq saw prescription numbers this week track with expectations. I had previously outlined that we wanted to see about 5 weeks of 10% growth, followed by 5 weeks of 7% growth, and then a few weeks at 5% growth in order to hit a reasonable sales goal for the current quarter. While there have been a few bumps in the road due to weather and holidays, the market seeks to see this drug meet a certain threshold in growth and sales despite hurdles.
The goal for the quarter, determined by looking into what the street finds as an acceptable growth rate, is to see sales to consumers at between $25 and $30 million. Depending on how whether you want to count the week ending January 3rd in the current quarter or not, cumulative sales this quarter are estimated to be between $6.4 and $7.4 million. This means that we want to see between $18 million and $19 million in the next 8 to 9 weeks. Sales this past week stood at about $1.4 million.
Industry tracker IMS Health had last weeks sales up 10% at a bit over 5,700 scripts. Industry tracker Symphony Health showed a 7% gain and just over 7,000 scripts. This would put Belviq on a reasonable pace for the quarter and should help stabilize the equity to a certain extent.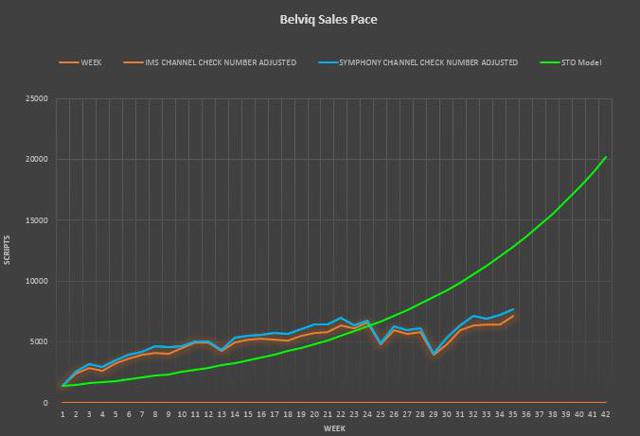 Chart Source - Spencer Osborne
I have cumulative sales (to consumers) since the launch last June at about $34.5 million. In my modeling I have cumulative scripts to date at about 183,000. My adjusted totals for IMS stand at about 173,000 scripts, while my adjusted totals for Symphony are estimated at about 185,000. This would imply that on a cumulative basis my estimated totals fall between the two industry trackers, thus, in my opinion, the scripts are tracking well enough to meet expectations.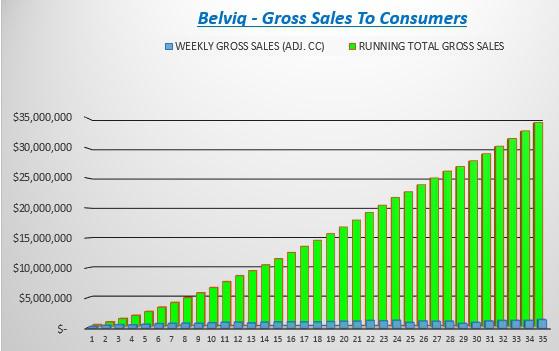 Chart Source - Spencer Osborne
In comparing the current quarter to the last quarter, sales are tracking ahead. As you can see in the chart below, the last 5 weeks of this quarter should provide a sizable boost versus last quarter. This bodes well when the Q1 numbers get reported, though, as yet, we still need to hear the Arena report on Q4. So far, Q1 of 2014 sales are tracking about 12.5% above Q4 of 2013. With some good comparisons getting here in just a few weeks, it would appear that Q1 can finish about 25% to 30% better than last quarter. That would put sales for the current quarter on a pace for between $24 and $26 million.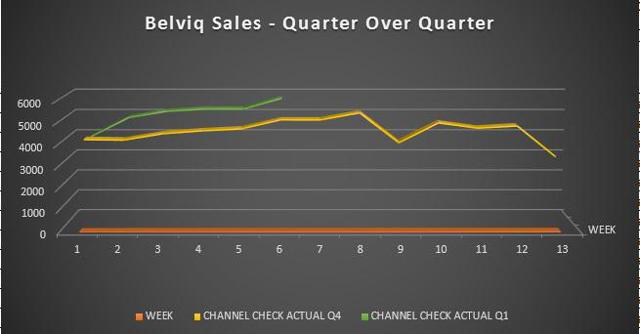 Chart Source - Spencer Osborne
How the equity reacts to script data going forward will be an interesting dynamic. In the past week or so, the equity has seen a nice climb on news regarding the level of insurance, news about a deal with CVS (NYSE:CVS), and news regarding an application for approval in Brazil. These are all positive developments that for the most part caused a bullish near term sentiment on the equity. They are also longer-term positives, which means that the true impacts, on a fundamental basis, will be felt in the longer term rather than the shorter term. Thus, as the equity surges on initial excitement, it will settle back down and normalize again subsequent to exuberance of the news wearing off. If additional news comes out, which can happen any time, the equity can enjoy yet another run. Catalysts include a positive decision in Mexico, Canada, or Switzerland, compelling sales, advertising, and insurance. Possible drawbacks are a lack of news on these fronts. The pipeline has potential, but there are a lot of trials that need time to develop and publish.
What we want to look for next week is another 7% to 10% improvement in script numbers. The bottom line in that focus is getting to what are reasonable expectations for the quarter. Belviq is faring well vs. its competitors Qsymia and generic phentermine by chipping away at market share. Stay tuned.
Disclosure: I am long ARNA. I wrote this article myself, and it expresses my own opinions. I am not receiving compensation for it (other than from Seeking Alpha). I have no business relationship with any company whose stock is mentioned in this article.