Facebook (NASDAQ:FB) announced its financial report for the fourth quarter and full year of 2013. Revenue for the fourth quarter was $2.59 billion, up 63 percent compared to $1.59 billion during the fourth quarter of 2012. Almost 91 percent of the revenue for the fourth quarter, $2.34 billion, came from advertising while the remaining 10 percent was contributed by payments and other fees. GAAP net income for the fourth quarter of 2013 was $523 million compared to the net income of $64 million for the same period last year. Non-GAAP net income was $780 million for the fourth quarter, 83 percent higher than $426 million non-GAAP net income for the fourth quarter of 2012.
Revenue for the full year 2013 was $7.87 billion reflecting a 55 percent increase year over-over year. Net was $1.5 billion. The average amount of daily active users (DAUs) for December 2013 was 757 million, 22 percent higher than the same period last year. The average amount of mobile daily active users for December 2013 was 556 million reflecting an increase of 49 percent year-over-year. As of December 31, 2013, monthly active users (MAUs) were 1.23 billion reflecting an increase of 16 percent year-over-year.
The Asian region was the top performer for Facebook. Daily active users from Asia totaled 200 million in the fourth quarter reflecting an increase of almost 6 percent compared to the third quarter of 2013. Users from the US & Canada grew 2.1 percent while daily active users in Europe and Rest of World grew around 4 percent each. On a full year basis, Asia also led the European and US & Canada regions. DAUs in Asia were 31 percent compared to fiscal year 2012. DAUs in Europe grew 15.4 percent while in the US & Canada this increase was recorded at 9 percent.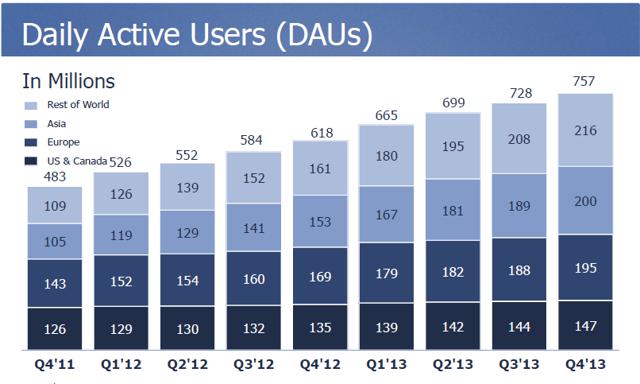 In the fourth quarter of 2013, Facebook's monthly active users (MAUs) in Asia grew around 5 percent to 368 million from 351 million users in the third quarter of year 2013. Europe recorded a 2 percent growth in monthly active users in the fourth quarter while users from the US & Canada grew 1 percent compared to the third quarter of 2013. MAUs from the Rest of World increased 4 percent during the quarter.
On a full year basis, MAUs from Asia increased 23 percent compared to 2012. Europe and US & Canada fetched growths of 8 percent and 4 percent, respectively.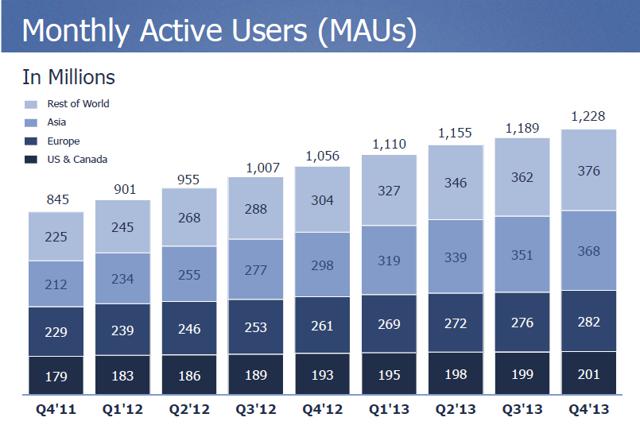 When it comes to revenue generation, the Asian region has again been leading the chart. For the fourth quarter of year 2013 Asia fetched $341 million in revenue reflecting an increase of 0.4 percent compared to the third quarter of 2013. Revenue in Europe grew 0.25 percent and US & Canada experienced revenue growth of 0.13 percent higher than the third quarter of 2013.
On a full year basis, Asia generated 72 percent higher revenue compared to fiscal year 2012. Europe provided revenue growth of around 65 percent while the US & Canada experienced 55 percent higher revenue as compared to last year.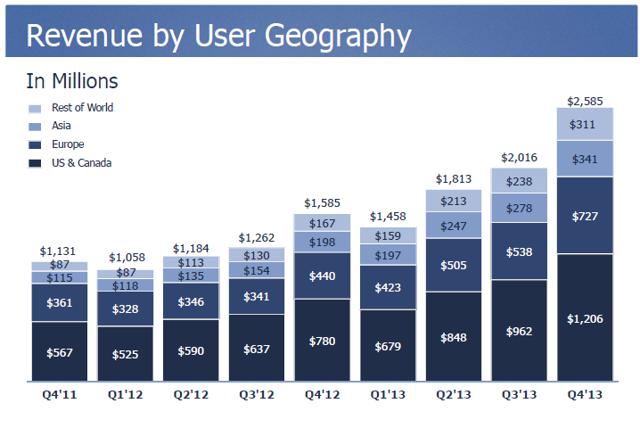 Facebook generates revenue from advertising, payments, and other fees. For the fourth quarter of 2013, Asia provided 25% higher advertising revenue compared to the third quarter of 2013. Revenue from payments and other fees remained flat. For the full year of 2013, an 89 percent growth in advertising revenue was recorded in Asia compared to the full year revenue of 2012.
In Asia, Facebook fetched average revenue of $0.95 per user. In the fourth quarter of 2013 a growth of 17 percent was recorded in ARPU compared to the third quarter of 2013. For the full year, ARPU from Asia increased 38 percent compared to the ARPU for the full year of 2012.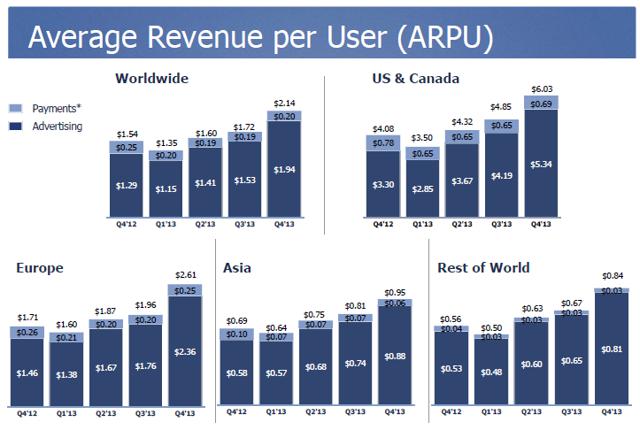 Future Endeavors in Asia
All in all, the results reveal that Asia is not only the most aggressive growth market for Facebook but that it also has massive potential for revenue generation from advertising. Considering the fact that Asia has a population of well above four billion people, Facebook's growth in Asia has not yet reached its peak.
As growth in the Western markets slows down maintaining its growth rate becomes a big challenge for the company. According to AFP, the company is ready to find its next big growth opportunities, especially amongst mobile users, in emerging Asian countries. In 2009, China banned Facebook so almost all of the future growth in Asia is most likely to come from other populous countries like Indonesia and India.
According to eMarketer's estimate by the end of this year India will overtake the U.S. as the nation with the most Facebook Inc. users. India currently has 93 million users and the U.S. has 150 million users. Indian users are expected to reach 152.4 million by the end of this year as compared to the U.S. figure of 151.1 million. Despite enormous growth in Asia the company is facing stiff competition from Line, WeChat and WhatsApp in Asia. Earlier in August, India surpassed Japan and become the third largest internet population after the U.S. and China. According to a survey, more than 97 percent of internet users in India were forecasted to access Facebook. By June 2014, the total number of internet users in the sub-continent is expected to be 243 million. Out of these users, more than 185 million are likely to access the web through their mobile devices. Hence Facebook adoption is bound to further increase in the near future both on desktop and mobile interfaces.
Facebook India's head of growth and mobile partnerships, Kevin D'Souza said that the key to success in emerging markets depends on encouraging access via "feature phones". The major chunk of mobile phone users in India use feature phones and because of low price points these devices have emerged as the first internet connected device that most people will own.
"Facebook for Every Phone" is an app designed especially for non-smartphones. More than 100 million people around the world are the using this app. This app comes preloaded on the Asha 501 feature phone by Nokia. The prominence of the English speaking population in the Philippines and India will also benefit the company. Around 33 percent of the total population of the Philippines has access to Facebook and Indonesia has 65 million Facebook users.
According to Rama Mamuaya, founder of the Indonesian tech blog DailySocial, the Indonesian Facebook user base will keep growing as more and more people get online but due to the availability of many alternatives young people are expected to spend less time on it.
The Cards in Hand
Instagram has successfully doubled its user base over the last quarter. Monthly active users of Instagram are reported to be 180 million. As the first step towards monetization Instagram recently has rolled out video advertisements on its platform. With the addition of group messaging and video Instagram has enriched the user experience and has the potential to outperform Twitter in terms of monthly active users by continuing to grow at the existing pace. The Facebook team has the ability to grow Instagram into a large user base by carefully monetizing it so as not to compromise the superior quality of users' experience. As of December 13, 2013 Thailand has about 1.4 million Instagram users.
Facebook recently launched Paper which is a standalone newsreader app. For now Paper is in trial mode for iOS users and is receiving very encouraging reviews for its flow and great design. The app lets the user see headlines and read news in a highly visual format. Through Paper Facebook has shown that the company understands the way users prefer to consume information. In my opinion it is a great move by the company to help maintain its growth and stay ahead of the curve, globally.
The company has stated its plans to redefine internet search. The largest database of personal information on the planet earth is held by Facebook. Outlining the 10-year plan, Zuckerberg stated that company has a plan to use this data base to make searches more relevant to users worldwide. The main areas of focus would be more personalization and enhanced relevancy for users.
The company has announced that Zuckerberg along with a team of technology companies is working on internet.org. The goal is to make the internet accessible to the 5 billion people who still do not have it. Furthermore, by providing free WiFi and AutoFill Facebook is making itself a keystone of the web.
Valuation
After considering all aspects I have valued Facebook Inc.(FB) using the free cash flows method. Considering the potential positive growth in Asia and relatively slow growth in developed countries I have assumed a long-term growth rate of 2.25 percent. The WACC of the company is 4.65 percent. Incorporating the long-term growth rate and WACC, the terminal value of free cash flows is estimated to be $4,769 million. Total debt is $575 million and cash and cash equivalents are $9.3 billion. Equity value, as per my valuation, is $191.1 billion. Dividing the equity value by the 2.5 billion outstanding shares of common stock gives the stock a fair value of $71.55 per share.
As per my assumptions and analysis, the stock is currently undervalued by at least 12.5 percent.

I have also performed a sensitivity analysis to cater to any possible changes in the company's capital structure and long-term growth rate. In the best scenario of the highest long term growth rate of 2.35 percent and the lowest WACC of 4.39 percent the stock should be priced at $83.85. In the worst case scenario of the lowest long term growth rate of 1.8 percent and highest WACC of 4.95 percent the stock should be priced at S55.30.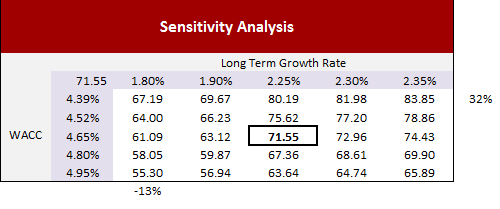 As per my calculation, the stock has a maximum upside potential of 32 percent and maximum downside risk of 13 percent. Considering the historical performance of Facebook, Inc. and its current plans to exploit future opportunities I am quite optimistic about the stock and my recommendation is buy.
Disclosure: I have no positions in any stocks mentioned, and no plans to initiate any positions within the next 72 hours.
Business relationship disclosure: The article has been written by a Blackstone Equity Research research analyst. Blackstone Equity Research is not receiving compensation for it (other than from Seeking Alpha). Blackstone Equity Research has no business relationship with any company whose stock is mentioned in this article