Old School Value Stock Portfolio Performance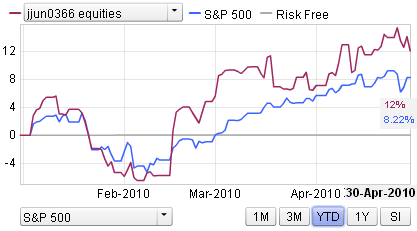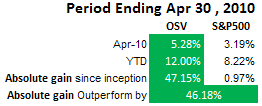 Portfolio Performance
A volatile month, but as I've mentioned in previous monthly reviews, it's a theme that I'm expecting for 2010. I am surprised that the market in general is up so much. The S&P is up 8%, while the Russell 2000 index is up a whopping 18% at the end of April 2010.
The Old School Value portfolio performed satisfactorily. In April my portfolio was up 5.28% compared to 3.19% for the market.
Benchmarking against the Russell 2000, as shown below, I've fallen quite behind. However, my absolute gain remains steady and my objective to not lose money remains intact in 2010.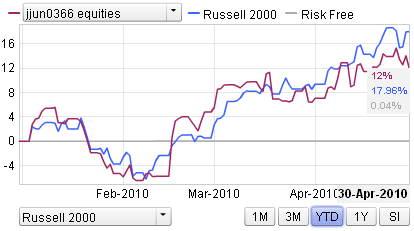 Portfolio Movers
Radio One Inc. (ROIAK: 5.04 0.00%) moved up steeply this month as did all radio stocks. Overtook VVTV to become my second largest holding behind GGP.
Bolt Technology (BOLT: 11.07 0.00%) released first quarter earnings and performance wasn't as strong as anyone would have liked. While the company still managed to profit, revenues declined significantly. If oil prices and demand doesn't pick up, I'm beginning to think the intrinsic value could very well drop towards a price just above what it is trading at now. Intrinsic value of $14 opposed to my initial $18 looks very real if the company doesn't pick it up.
Portfolio Trades
Very busy month with trades this month. It all started at the end of March when I bought more Servotronics (NYSEMKT:SVT). Forgot to mention the purchase last month.
1. Sold Regent Communications (OTC:RGCIQ) then bought it again.
My initial purchase of RGCIQ.PK was below the 12.8c offered to shareholders, so it was simple arbitrage, and then I sold for a tiny gain. However, Resilient entered the picture and started to fight the court on the validity of the valuation method used by the debtors. Long story short, the court denied Resilient's motion and approved the prepackaged bankruptcy plan by the company.
The result is that shareholders will receive 12.8c in cash for each share.
Looking back and after going through what happened, I see that Resilient's chances of winning the case was thin. But at the time, the risk to reward was stunning. A downside of 15-20% compared to an upside of 300%. Based on the information I had I made the right choice, but in hindsight I've got a lot more to learn about bankruptcy investing.
Distressed investing is all about probabilities and it's definitely something I will have to learn more about. I've picked up several books on bankruptcy and distressed investing, so I hope to expand my knowledge in this area.
2. Sold a portion of Valuevision Media (VVTV) at a gain of 934.5%
I'm slowly liquidating my position in VVTV now. With the way the company is operating and the current valuation, there is more downside risk than upside. A 100% return could be achieved within 5 years but the downside looks to be much larger and steeper.
3. Sold Dryclean USA (NYSEMKT:EVI) for a gain of 15.3%
I needed to free up cash for other purchases this month and EVI was at the top of my sell list if a better idea came up. Nothing wrong with the company. I just had better uses for the money.
4. Sold Linktone (NASDAQ:LTON) for a loss of 1.7%
This was the second time I entered LTON after a successful 45% gain last year. LTON is cheap and still trades below net net, but it deserves to be. With so much cash and assets, the company is unwilling to acknowledge the existence of shareholders. Instead, the CEO buys minority stakes in other companies which he owns. Big alarm.
5. Bought Access Plans (OTC:APNC)
A reader wrote about Access Plans Inc in the forum, and after going through the numbers and reports, the company is very cheap. It is not a " true" value investment, but more like a cheap growth stock.
6. Bought Tronox (OTC:TRXAQ)
Of the bankruptcy stocks, TRXAQ.PK is the more typical type of investment that I will try to get into now. Solid fundamentals, operates well, business improving and financing progressing well.
I must warn readers not to follow me or anyone into bankrupt stocks. Volatility is HUGE (+/- 30%) and there is a lot of speculation. Traders and penny stock gamblers just bid the shares up even though there is no clear evidence that equity holders will be left with anything.
Although I see more upside with TRXAQ based on the operating reports, the price of TiO2 and assets, the 70+% rise in April certainly has reduced the margin of safety. Again, I can't stress enough that you find the court dockets and read through it in order to understand where the company stands, who is involved, what the company is doing and what the risks are.
Disclosure: I own all stocks mentioned except sold positions.