By David Russell
TRW Automotive (NYSE:TRW) is stalling after a 2,100 percent rally, and one trader wants to get paid as it consolidates.
optionMONSTER's tracking systems detected the sale of 2,500 May 30 puts for $0.75 and 2,500 May 35 calls for $0.75, resulting in a credit of $1.50. Volume was more than twice open interest in both strikes.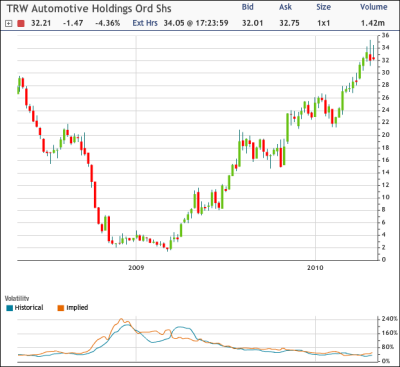 TRW fell 4.36 percent to $32.21 on Friday. The auto-parts company has been fighting back from distressed levels in March 2008, fueled by recovering demand and short sellers forced to buy back stock. Management has also exploited an improved credit market to refinance debt while raising earnings forecasts.
The stock fell sharply after failing to hold $35 on April 26, which could cause some traders to expect resistance at that level. It also has potential support around $30, roughly where it peaked in May 2008.
The options trade, known as a short strangle, is designed to earn income from TRW remaining trapped between those two prices. Given the credit received, the investor will make money as long as the shares close above $28.50 and $36.50 on expiration.
The trade also stands to benefit from the accelerating pace of time decay that will occur as expiration approaches on May 21, erasing the value of the options sold short.
TRW is scheduled to issue first-quarter results before the market opens Wednesday, which could be another positive for the trader because options prices typically fall along with implied volatility after a company reports earnings.
Some 8,615 contracts changed hands in total on Friday's session, almost 23 times greater than average.
(Chart courtesy of tradeMONSTER)