I'm calling for a breakout on Ford (NYSE:F) for two reasons, and I expect to see the stock at $18.50 in the coming months.
The first reason is that Ford is doing beautifully overseas. The second reason is that I think this news is going to catch up to the stock, preventing it from a technical downtrend and keeping it on its current 1-year uptrend.
As I continue to repeat, a good part of the ongoing thesis I have behind buying and adding Ford on dips revolves around the company being able to turn itself around overseas and get traction in both Europe and Asia.
Ford recently announced that European sales continued to impress - especially in Germany, where sales were up 38%. Reuters reported:
Ford increased European car sales by 9.2 percent in January, the eighth straight monthly gain, benefiting from strong demand in the region's top markets Germany and the UK.

Deliveries in the so-called Euro-20 markets, including all major countries plus the Baltic states, increased to 80,800 autos from 74,000 a year earlier, Ford Europe said on Friday.

The 9.2 percent gain, powered by demand for models such as the Kuga SUV and the Fiesta compact, is about twice the size of overall market growth in that region, Ford said.

Ford's loss-making European division is counting on new models and a stabilizing market to increase sales this year, after shrinking demand inflicted a 2.1 percent drop in 2013 deliveries.

"We've launched 11 new vehicles over the past 15 months, and we'll launch more than 10 additional new vehicles in 2014 alone," Ford Europe sales chief Roelant de Waard said.
And earlier this week, Ford announced they're kicking ass in China, too. The press release read:
Ford China gallops into the Year of the Horse with record January sales, posting 53 percent growth and sales of 94,466 wholesale vehicles, compared to 61,567 in January 2013.

Ford China passenger car sales which include imported cars accounted for 72,598 vehicles, a year-on-year sales increase of 63 percent compared to 44,439 sold in January 2013.

With its clever technology, great design, quality, renowned safety features and leading fuel-efficiency, Ford Focus sales continued to lead growth. In January, sales of the Ford Focus nameplate reached 36,385 cars, growing eight percent compared to 33,632 sold during the same period last year. According to data from IHS Automotive, Ford Focus was the top selling nameplate in the passenger vehicle market in China in 2013.
So, what does all this news mean, and why do I think the stock is going to $18.50?
First off, on the news of the recent overseas sales figures, the market doesn't seem to have given Ford (or GM) the credit they deserve. The stock bounced off of its previously set support at $14.50 and in the face of the current news, it has nowhere to continue but upwards, barring any macro market setbacks.
Let's just look at Ford's technicals: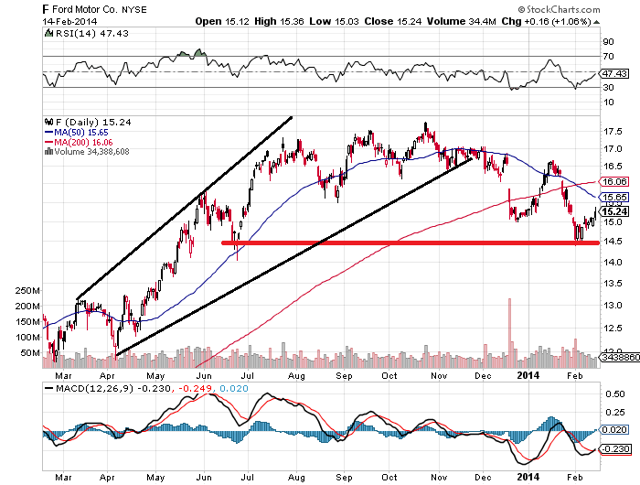 I feel that when the market digests this news and likely comes out buying in the week ahead, that a couple things will take place.
1. The 50DMA will curl back up through the 200DMA, setting off a litany of bullish alerts for technical traders.
2. The stock will find support at $16.50, $17.00 - or on the top of the moving averages as they start to move up.
3. From this support, the stock will resume the 1 year uptrend in the black, eventually propping the stock up to $18.50.
Of course, when betting on overseas economies, there's always risk. Additionally, it's worth noting that Ford continues to operate at a loss in Europe, but that loss is narrowing. Thirdly, from a technical standpoint, the stock technically could be considered in a head and shoulders bearish flag as is - and the shorter DMA did just cross the 200 day.
Also, macro market risk still exists; it's worth noting that the market did open 2014 looking skittish until Janet Yellen's testifying in front of Congress. All eyes will continue to be on the Fed.
However, I'm betting that the news out of Asia and Europe, after being digested this weekend, does well to catalyze the stock in the coming weeks - and I'm predicting $18.50 easily in the next 3-4 months.
Best of luck to Ford investors.
Disclosure: I am long F, GM. I wrote this article myself, and it expresses my own opinions. I am not receiving compensation for it (other than from Seeking Alpha). I have no business relationship with any company whose stock is mentioned in this article.