As a disclosure, I'll say that I'm both a Bank of America (NYSE:BAC) stockholder and a massive bull. Anyone that reads me regularly knows about my love affair with the job that Brian Moynihan has done as CEO, and why I'm content with letting my money ride with BAC - just like Buffett has done.
To start the year, I named Bank of America one of my "8 Attractive Trades for 2014" for these reasons:
With continued cost cutting that's going to run into 2014, Bank of America is set to continue producing an improving bottom line, regardless of possible stagnant revenues.
Although legal issues remain the Bank's biggest caveat, BAC continues to settle litigation relating to the subprime crisis one at a time and will continue to do so in 2014.
CEO Brian Moynihan remains focused on the fundamentals, leading with a clear head, and is the backbone of the bank's lucrative performance in 2013.
Warren Buffett, already yielding a $5 billion profit on paper in his Bank of America investment, remains satisfied in the company and hasn't sold his position.
Bank of America dividends are expected to rise in 2014.
Since the start of the year, the bank has pulled back and condensed a bit - not making the move that many option traders thought it would make after earnings; bets were piled into $17 and $18 calls, yet the stock sits in the mid $16's heading into next week.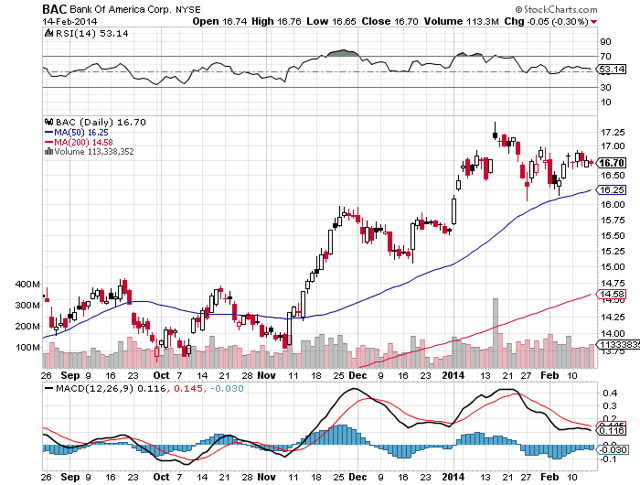 On Friday, Seeking Alpha reported on more mortgage jobs being cut by the bank:
After new loans fell short of internal forecasts, Bank of America is cutting 450 jobs from West Coast offices, reports Bloomberg. A bit of a switch - last year's series of mortgage job cuts were about the big slowdown in refinance business, but these cuts supposedly affect those who process new home loans.
In the bank's most recent quarterly report it disclosed Q4 originations of $11.6B fell 49% from a year earlier.
Perspective: The bank employs about 242K.
I was shocked to read some of the comments on Seeking Alpha and around the web with regards to this news. People are tossing around words like "regression" like the bank never planned on making cuts to begin with. There are many comments suggesting that this is alluding to a slowdown for the bank, which posts a low P/E and has brilliant looking forecasts through 2015. I couldn't disagree more.
I read the headline to this news and didn't bother much to look below the surface. "More cost-cutting," I thought to myself. You see, the bank has been beating earnings not by top line revenue growth, but by managing things more efficiently through making cuts. These layoffs come on the heels of a cost reduction program that is set to finish this year. Inclusive of this program were cuts across the board at the bank as automation starts to play a role - but notably cuts in the mortgage section of the bank.
As one who follows the bank pretty closely, these layoffs - which, by the way, represent 0.1% of the bank's total staff are certainly not the catastrophe that some are making it out to be. The method to this madness is simply - the bank is trimming the fat where it can and when it can.
As 2014 rolls on, it's going to be cuts like this that continue to allow the bank's EPS to grow as expected. I continue to put full faith in Brian Moynihan until he gives me a reason not to - this bank is priced much lower than its competitors and has strong fundamentals. Bank of America is arguably the best deal in the banking sector right now.
If the stock sells off Monday on this news, I'm disclosing that I'm likely to continue to add to my long position. In addition to this, I fully expect the bank to increase its dividends this year, pending the results of its coming "stress test" - which it will pass with flying colors.
Best of luck to all investors.
Disclosure: I am long BAC. I wrote this article myself, and it expresses my own opinions. I am not receiving compensation for it (other than from Seeking Alpha). I have no business relationship with any company whose stock is mentioned in this article.