"Perfect clarity would profit the intellect but damage the will" - Blaise Pascal
Executive summary:
General Motors' stock is a buy here after its recent decline in the market.
Some noted investors and activists have upped their stake in company recently.
Thanks to decline and initiation of a substantial dividend, the stock has become an "accidental high yielder".
General Motors' thriving business in China is underappreciated by the market.
_________________________________
I took the opportunity provided by the recent pull back in General Motors (NYSE:GM) to add to my allocation which I have in the income side of my portfolio. The stock is cheap, has picked up increased investment from a noted value investor as well as an activist fund, pays a significant dividend and the company's booming vehicle sales in China is underappreciated by the market. The stock also looks like it is forming some short-term technical support at current levels (See Chart).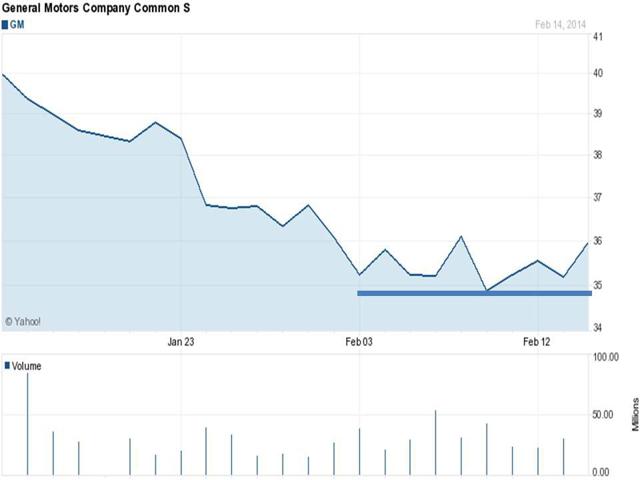 Valuation:
After the sell-off caused primarily by a temporary buildup of domestic inventories which are partly the result of the coldest winter in over two decades, the shares go for around 9x this year's expected earnings. This is roughly a 40% discount to the current overall market multiple (~15x).
In addition, the earnings trajectory of the company is much faster than that of the overall market (See Chart).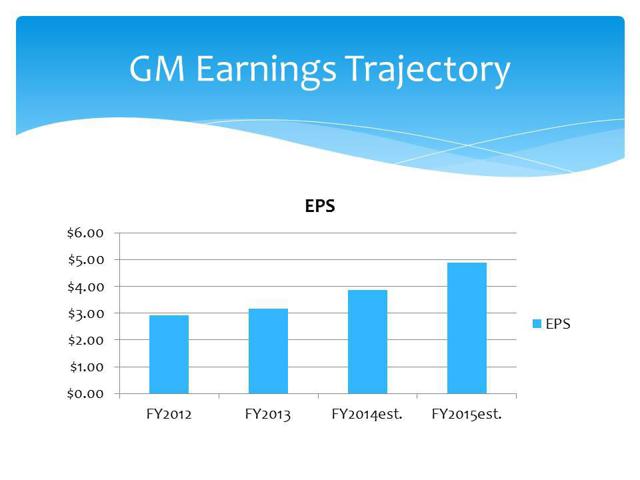 Chart Source: Yahoo! Finance
New Investors:
The stock has attracted some new investments from a couple of high profile funds. Noted value investor Leon Cooperman added over 1mm shares in General Motors through his fund Omega Advisors. Activist fund Jana Partners also added 400K shares to take its holdings up to almost 8mm shares.
Accidental High Yielder:
The company initiated a significant dividend recently. This occurred almost as soon as the Federal Government sold its remaining stake in the company. Thanks to the stock's recent decline, GM has become an "accidental high yielder", and it currently yields 3.4%.
The dividend yield is similar to what is currently available in traditional dividend sectors like Consumer Staples. For example, General Mills (NYSE:GIS) pays a dividend of 3.1% and is selling at ~18x this year's projected earnings. General Motors payout ratio is less than one third of this year's earnings expectations.
China:
I am starting to think the company could easily be called General Tso's Motors given the huge sales it is seeing through its joint ventures in the Middle Kingdom.
The company just announced it sold almost 350,000 vehicles in January, an impressive 12% Y/Y increase. General Motors continues to take market share in China from the Japanese automakers and is benefiting from the increasing tension between China and Japan.
Conclusion:
General Motors provides something for most investors. For income investors, the shares yield 3.4% and should provide solid dividend growth if earnings gains come in as expected. For value investors, the shares sell for approximately 9x this year's expected earnings. For growth investors, the company's sales in China are going gangbusters, and domestically General Motors has a significant amount of new models rolling out this year. BUY
Disclosure: I am long GM. I wrote this article myself, and it expresses my own opinions. I am not receiving compensation for it (other than from Seeking Alpha). I have no business relationship with any company whose stock is mentioned in this article.