Over the last few weeks there has been a rather dramatic jump in the number of commentators who have become bearish on the prospects of European equity markets. Perhaps everyone is somewhat panic stricken over the whole "PIIGS" crisis. We are not going to comment on the debt crisis one bit. Why should we if we have no unique insight as to the goings on? It amazes us how there is so much commentary out there by people who have absolutely no idea as to what is going on behind the scenes, everyone seems to be an expert ... but perhaps more importantly everyone is bearish.
Let's take a step back for a little while. Let us forget all of what we have "herd" in the media of popular opinion over the last few months. Let's go to the market itself and ask it what it wants to do, or at least let us try and interpret its underlying mood. What would we typically expect to see if a market was genuinely bearish? Well we would expect to see a race to "quality," that is a race out of small caps or a breakdown in market internals as technical analysts would term it. We would also expect to see a stampede away from the most risky of risky equities, like emerging market small caps.
Pretending we knew no different ... what is all the fuss about? It seems to us that European equities are engaged in a healthy bull market. The two charts below are not displaying any bearish action worth taking seriously:
MSCI European Small Cap Index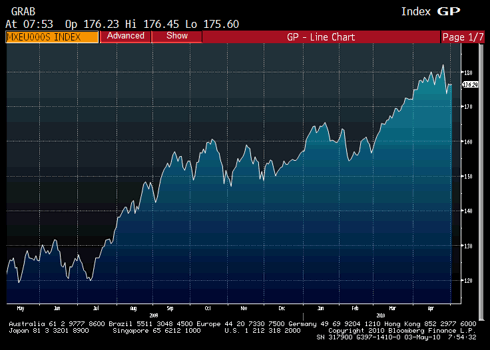 (Click to enlarge)
MSCI European Small Cap Index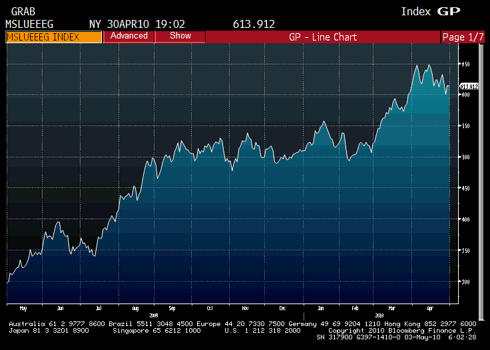 (Click to enlarge)
While small cap equity indices in Europe show little willingness to participate in the downside of major market indices (like the FTSE, CAC, and DAX) we continue to believe that the underlying mood is bullish and that any weakness in the major market indices should be seen as a buying opportunity rather than a reason to sell.
Oh, and you maybe interested in noting that the European stock market remains on the cheap side. The median price to book ratio of small caps in Europe is about 1.35x. The 20 year average is over 2x. Elementary perhaps, but why complicate things.