BlackBerry (NASDAQ:BBRY) is one of the largest positions in my portfolio. So, naturally, when a guy like Dan Loeb comes out and discloses that he has a $92 million position in the company (roughly 2%), it feels good. Especially after the unceremonious couple of weeks BlackBerry has had since running up through $10. I have been adding on the dips, however, as I've been disclosing on my StockTalks and Twitter (@QuoththeRavenSA).
My history with BlackBerry is as follows, in easy bullet point form for your convenience:
In February of 2013, I predicted that the BlackBerry 10 was going to fail, and mark a significant downturn for the company.
Through November 8, I wrote a series of articles explaining why, with Thorsten Heins as CEO, the company remained a significant risk.
On November 20, 2013, at what I predicted was going to be an all-time bottom for the company, I took a long position in the company that I have since sold.
On January 9, 2014, I wrote "BlackBerry Digs In," commenting, "Even with the dilution, there is a decent common sense argument for the company being able to reach the $10 (or potentially above) once again. The question remains, do you think that John Chen is the man for the job? I do, and although I have no position, I remain cautiously optimistic about the future of BlackBerry."
On January 22, 2014, I took a long position in BlackBerry and am reiterating my bullishness on both Chen, and the company. I penned my article "BlackBerry: Rebirth of the Original Gangster" laying out my thesis as to why I went long.
Today, I'm offering a small update on BlackBerry messenger, and generally just basking in the good news released after-market on Friday - that Dan Loeb has bought a stake in the company.
BlackBerry has been trading great over the last three months - Chen's confidence on the company's last call had the stock bounce hard from the $7 region. BlackBerry is up 39.7% in the last three months and up 20.7% in 2014 alone, bucking the uncertainty surrounding trading so far this year.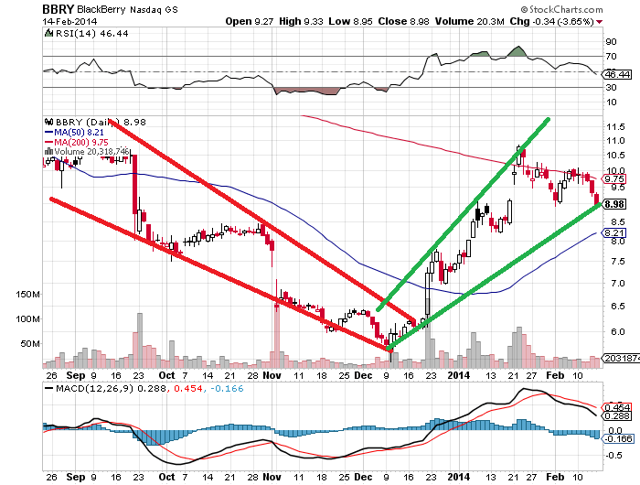 Click to enlarge
From a trend standpoint, the company bucked a major downtrend in the days prior to Christmas. Technical traders are going to be watching to see if the $9 support holds in the coming week and, if it does, if the 50DMA is going to continue to curl up through the 200DMA. If the support holds and BBRY continues its trend upward, it might not be long until we see $10+ again.
BlackBerry messenger has been pointed out as one of the biggest opportunities that the company has for monetizing what it brought into the John Chen era. Most recently, the company released a new version of BBM with tons of new features. Forbes reported:
BlackBerry has taken another step towards revamping itself by releasing a new version of its free, BBM mobile messenger, adding a raft of extra features. Four months ago BlackBerry made BBM go cross platform for the first time, making it available on iPhones and Android phones and swelling its user base to more than 80 million people. Now it's adding voice calling, conversation "channels" for brands and communities, an integration with DropBox and a partnership with the location-sharing app Glympse.

The biggest feature in today's BBM 2.0 update is a direct challenge to free, calling apps like Viber and Skype, letting users call their BBM contacts over Wi-Fi or a data connection. The "channels" feature also looks like it could be a route to bringing in ad dollars for BlackBerry: it invites users to follow and converse with brands on the service, not unlike Twitter.
In addition to the company working on monetizing BBM, other recent news is Dan Loeb's stake in the company. The news shot the stock up from an $8.98 close on Friday to $9.25 after-hours. The Financial Times reported:
The activist hedge fund manager Dan Loeb has taken a stake in BlackBerry, the ailing smartphone maker, in a move that pitches him back into the orbit of Prem Watsa, the Canadian investment guru who sued him eight years ago.

Mr Watsa's Fairfax Financial is BlackBerry's largest shareholder, and led a refinancing of the company last year, after failing to find backers for an outright takeover bid.

A regulatory filing on Friday night revealed that Mr Loeb's Third Point has taken a 1.9 per cent stake in BlackBerry, putting him among the company's top 10 shareholders. Fairfax has 10.5 per cent.
Loeb's reasoning for getting in is likely similar to the thesis that I have surrounding my long position. Some of the key points on why I'm bullish on BlackBerry are as follows:
John Chen has a history of success with turnarounds in Sybase.
Chen has surrounded himself with people he's familiar with and can work with.
BlackBerry has a miniscule price/book ratio of just 1.20 - still significantly undervalued if it can show just the smallest bit of progress.
Chen is focusing on enterprise and security, two of the company's strengths and what I thought they should have done years ago before the Z10 debacle
This price point is still pricing the company for imminent failure, yet it has billions of cash on hand and has just trimmed a significant amount of its staff and non-core assets.
We are just on the back end of what I predict will be the worst time in BlackBerry's history. The company just took massive writedowns and switched CEOs again - there comes a point where things just can't get worse if you have a level minded CEO at the helm.
Chen, who has already shown he has no emotional attachment to parts of the business is the exact level-headed, right minded person to stop the bleeding and start the first of many steps back to profitability for the company.
I'm not really looking for the company to be acquired - I think BlackBerry can do it on their own under the leadership of John Chen.
If the company can come out and show that it has a chance of going from dud to stud (and all its going to take is just a little good news) BlackBerry has the chance to be the stock that doubles for you in 2014.
My price target for BlackBerry remains $17 by the end of 2014.
Best of luck to all BlackBerry bulls in it with me.
Disclosure: I am long BBRY. I wrote this article myself, and it expresses my own opinions. I am not receiving compensation for it (other than from Seeking Alpha). I have no business relationship with any company whose stock is mentioned in this article.