Microsoft (NASDAQ:MSFT) finally made its successor to Steve Ballmer known a short while ago and chose Satya Nadella, a name many outside of the industry had never heard before his appointment. Names like Ford CEO Allan Mulally and former Nokia CEO Stephen Elop were bandied about as potential successors and the news wires ran the story of the day speculating who would be chosen. In the event it was an insider who had been running Microsoft's Cloud-based businesses.
Why did the Microsoft board choose Nadella? Perhaps the board chose Satya Nadella because the directors took their time and thought through where the future of computing generally and Microsoft in particular were headed. Nadella looks like a terrific choice as I see the trends.
Investors seemed destined to look backwards while trying to see the future. Most fundamental analysis is a look at the past few years or the past few quarters and a judgment that things will continue much as they had been trending. In technology that can be a fatal mistake.
Retail investors frequently have no real idea what the "Cloud" is or why it matters. Their limited understanding is similar to the popular misconception that Microsoft only sells Windows OS, MS Office and Xbox and a limited number of smartphones and tablets, not seeing that Microsoft's enterprise businesses are large, profitable and growing very quickly. Units like Azure, Dynamics, SQL Server, Sharepoint or Exchange Server don't mean a lot to the man on the street and when I read the litany of negative comments about the company by SA commentators they are typically not mentioned.
The fact is the Cloud, a term for legions of server farms hosting outsourced applications and storage both publicly and privately, is where computing is heading and it is heading there fast. Satya Nadella understands the Cloud and is a great choice to continue massive growth Microsoft has been making in the Cloud almost under the radar to the average investor.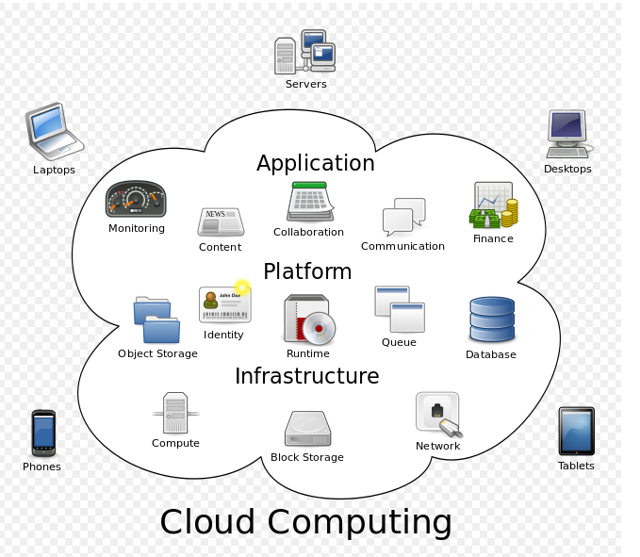 Source: Wikipedia
For those retail investors who have heard of the Cloud, most are aware in a very limited way but do see the value in applications like Dropbox, SkyDrive, iCloud, GoogleDrive or Amazon Cloud Drive which many now use having typically been introduced with the latest smartphone or tablet or on every Windows 8 desktop. Cisco Systems forecasts that data storage on those Cloud services will grow at a staggering 63% annually through 2017.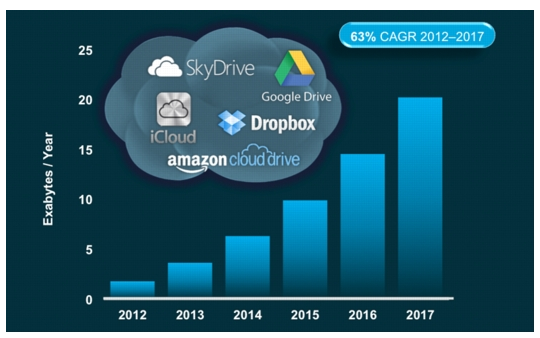 Source: Cisco
By 2017, Cisco's snapshot of mobile broadband usage sees a majority of mobile devices using broadband connections, making Cloud services even more valuable to the users who can have immediate access to their files, photos, music or applications libraries as well as streaming content.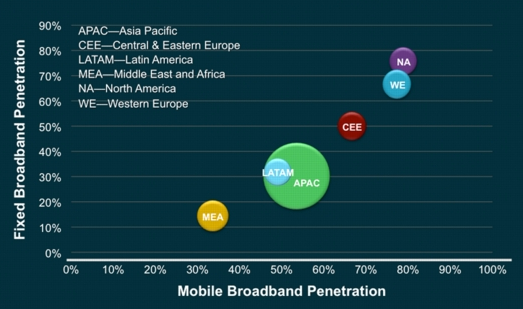 Source: Cisco 2017 forecast
Cisco's estimates of data traffic by region flow, from their assessment of mobile broadband use and Cloud growth generally, are impressive statistics with growth rates from 28% to 57% depending on the region.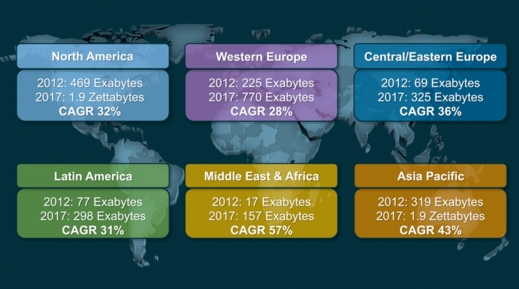 Source: Cisco
Satya Nadella ran Microsoft's Cloud and Enterprise Group of businesses which included 12 businesses with revenues over $1 billion that play a key role in the information technology used by thousands of businesses.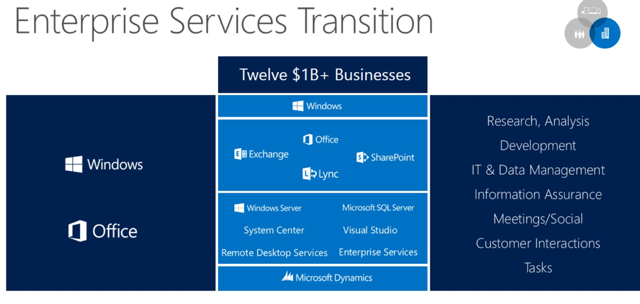 These businesses are vital to Microsoft's future.
Several Cloud businesses fall into the reporting segment called "Other Commercial" and comprised a $5.7 billion business in the year ended June 30, 2013. Some are growing at an incredible pace. Office 365 seats, Azure customers and Dynamics CRM net seat additions all grew over 100% in Q2 2014. Commercial Cloud Services grew 107% in that quarter.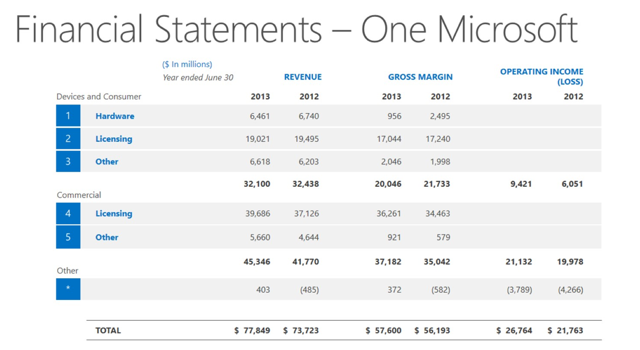 Source: Microsoft
By Q2 2014 the same Other Commercial segment businesses were running at an annual revenue rate of $6.8 billion with year-over-year revenues up 28%. Operating income in Q2 2014 at $690 million was more than double the prior year quarter's $321 million.
In the land of Microsoft these are relatively small numbers. But at a growth rate of over 100% (if sustained) they will not be small for very long.
Microsoft Cloud is not limited to these businesses, of course, with Cloud becoming a component of virtually all Microsoft offerings. The highly profitable Enterprise Services Azure segment is transitioning Microsoft customers quickly to the Cloud. For example, 15% of the Exchange installed base and 25% of new Exchange licenses were Cloud based at the end of last year, with improved margins as a result.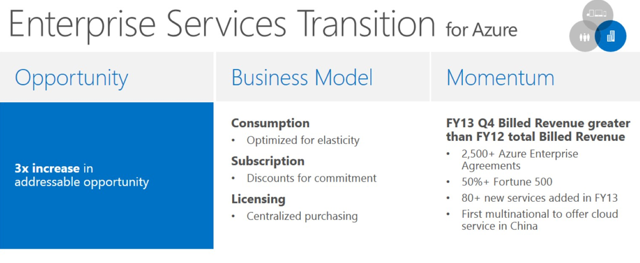 Source: Microsoft
Office 365 is an example of the Cloud putting some steam into Microsoft's growth. Office 365 is reportedly Microsoft's fastest-growing business ever. Introduced to enterprise in 2011, Office 365 sold 5 million seats to its business customers in less than 3 months.
Office 365 for business was followed in 2013 by Office 365 Home Premium. Last May Microsoft reported that Office 365 Home Premium had hit 1 million subscribers showing the appeal of the Cloud-based Office Suite was not limited to enterprise. Office 365 reached 1 million subscribers at a pace reportedly faster than Facebook.
By Q2 2014 the 1 million Office 365 Home Premium user base had grown to 3.5 million. No doubt it is still growing quickly because the product suite is excellent and the Cloud integration means you can access your Office programs and files through a browser on any internet connected device anywhere on earth.
Office is a massive worldwide franchise. In 2011 Microsoft disclosed that Office had over 750 million users worldwide at that time. The Microsoft Office system produced $23 billion of revenue in the year ended June 30, 2013.

Source: Microsoft 10-K
As the 750 million users upgrade to Office 365, I estimate that by 2015 the Office franchise could generate well over $25 billion a year in revenue at an average selling price ("ASP") per user of $35.00. The $35.00 ASP is a reasonable guess taking into account the retail pricing of $99 per year for home use for up to 5 devices; small business plans at $15 per month for a 5-user license; and, mid-sized business plans that cost $15 to $20 per user per month.
More importantly than the higher revenues, Cloud-based delivery of Office promises higher margins, lower distribution costs, easier management of software updates and tighter integration of Office with other Microsoft solutions. Margins of $23 billion are quite possible.
In a somewhat similar fashion, using the Cloud to distribute and maintain Windows OS should make the task of software maintenance less costly and lower distribution costs for online sales of the OS. Windows 8 sales performance has been weak compared to Windows 7 when it was launched. I believe the rate of adoption is lagging in part because Windows 7 is such a stable and functional OS and in part because the real value of Windows 8 is in many ways tied to its "touch" interface which is not yet the prevalent interface among the approximately 1 billion Windows OS users.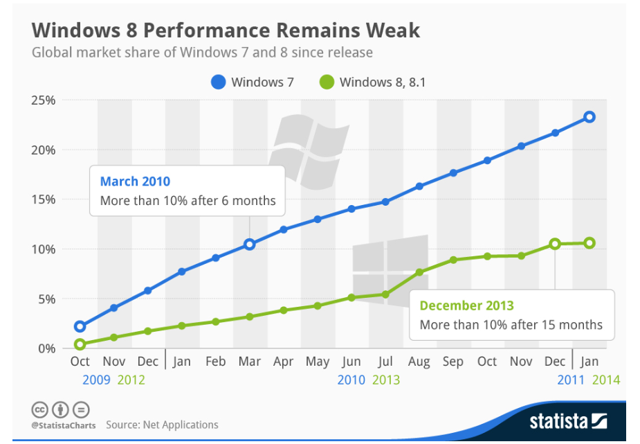 Despite the relatively slow adoption of Windows 8.1 sales of Windows OS including Windows 7 remain strong. Windows 8 OS sales passed the 200 million mark quite recently but are not yet in danger of catching Windows 7 which is still in demand. Hewlett-Packard (NYSE:HPQ) recently decided to bring back Windows 7 in many of its PCs to take advantage of that demand.
Sales of Microsoft's newest OS will likely continue to grow relatively slowly until the release of Windows 9 which reportedly might bring back much of the valued interface of Windows 7 while including tighter integration with Windows phone and features that reduce the calls to the CPU in an effort to prolong battery life of mobile devices. A beta version of Windows 9 is rumored to be out in users hand by May of this year.
While not yet widely accepted, Windows 8 OS grows on you over time, is a treat to use on a touch device, and seems to this user to consume less computer resources and respond more quickly to commands. I think the Windows OS platform will continue to grow slowly and steadily as Microsoft takes advantage of user feedback to improve the OS, make it more or less uniform across all form factors, and build on its integration into the Cloud ecosystem Microsoft is developing.
Windows OS is a work in progress and I don't see any major gains in revenues until the product development is more advanced. In 2015 it might reasonably report $18 billion of revenues and $17 billion in contribution.
The Cloud is already a major component of Microsoft server products and tools with Azure playing an important role in the growth of Microsoft's enterprise suite of products. This is a growth area in Microsoft adding $1 billion in revenue in each of 2012 and 2013. By 2015 it should be $20 billion business with margins of $18 to $19 billion.
In the consumer end of the business, content such as music, movies and television shows are already distributed through the Xbox platform and the new Xbox One consoles were a hit with consumers. As Xbox becomes more of a distribution for platform not only for games but also for other content distributed from the Cloud this business should show profits. By 2015 I foresee revenues from XBox approaching $9 billion and contributing $900 million to Microsoft margins.
Microsoft generated almost $15 billion from its other businesses last year including $4.4 billion from consulting and support services and $3.3 billion from advertising. These sources of revenues have been on a growth track and I see no signs that growth is slowing. For 2015, I expect these lines to generate $17 billion in revenues and turn in $4 billion of margin.
My somewhat bullish projections are for Microsoft to reach about $89 billion in revenues and earn $3.18 a share for its 2015 fiscal year.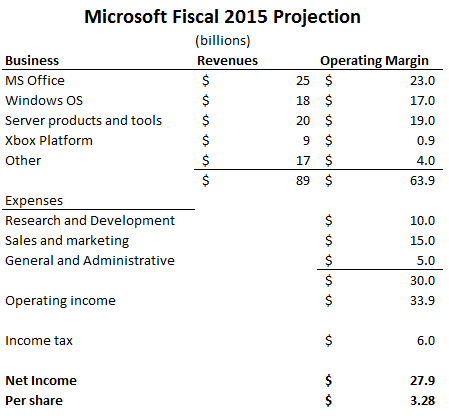 The projections I have made are challenging and Satya Nadella will have his hands full to lead his organization to achieve them. The key to their achievement really lies with the ability of Microsoft management to continue to capitalize on Microsoft Cloud technologies to make the Microsoft product suite compelling, feature rich and convenient for enterprises and consumers alike. In my opinion, Nadella seems well suited to this task.
My projections are more bullish than the high end of analysts' projections for fiscal 2015 as reported by Yahoo.com Finance. That suggests that I may be erring on the side of optimism.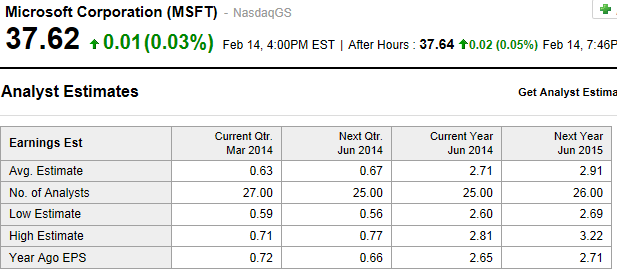 Source: Yahoo.com
I am optimistic. Microsoft has a bit of momentum going for it right now and the appointment of a key insider as CEO makes me believe the transition of leadership will be a smooth one. If Satya Nadella can build consensus, motivate creativity and generate enthusiasm among the thousands of top notch personnel populating Microsoft's ranks he has a good chance of meeting or even succeeding my projections. Given his deep understanding of the Cloud and the Microsoft enterprise offerings it is unlikely he will be distracted by side issues.
I have no current Microsoft holding having recently taken profits on my long position. I will re-invest in Microsoft on any market selloff in the name.
Disclosure: I have no positions in any stocks mentioned, but may initiate a long position in MSFT over the next 72 hours. I wrote this article myself, and it expresses my own opinions. I am not receiving compensation for it (other than from Seeking Alpha). I have no business relationship with any company whose stock is mentioned in this article.