Welcome to the first issue of our weekly update of what happened for the week in the universe of master limited partnership companies and funds. Since this is the first update of this type, the included data covers all - except for the week's top gainers and losers and insider trading - that has happened in the MLP world from February 1 through February 14.
Unit Value Winners and Losers
27 MLP companies set new 52-week high unit prices during the week against just 5 new lows. Click on this chart for the standout performers for the week: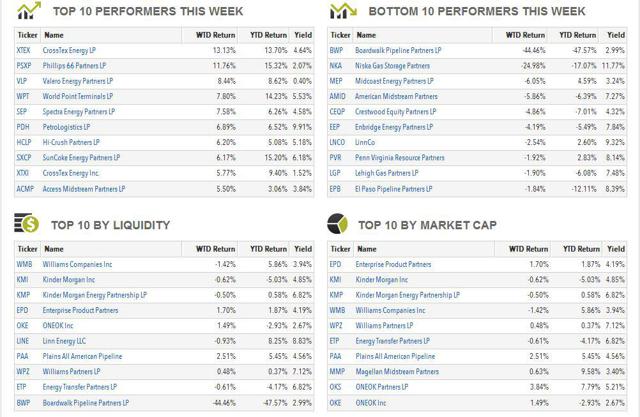 Distribution Rate Changes
While a very large number of MLPs made higher dividend announcements in January, so far in February two variable payout MLPs have declared higher payouts and two regular distribution policy companies announced higher payments to investors.

Three of the four distribution decreases came from variable payout policy MLPs. The big distribution news for the week was the 80% reduction by Boardwalk Pipeline Partners LP (NYSE:BWP), covered in-depth here.

These eight announcements cover the distribution news so far in February. A large number of no-change declarations were announced in January.
Insider Trading
Of the 10 insider transactions this week, 7 were sales against 3 purchases. Three of the seven sales were by Charles Wesley, selling shares worth $3.75 million of Alliance Holdings GP LP (NASDAQ:AHGP) and Alliance Resource Partners LP (NASDAQ:ARLP). On the buy side, Richard Kinder picked up 100,000 shares at a cost of $3 million of El Paso Pipeline Partners LP (NYSE:EPB), which was one of the MLPs hitting a 52-week low.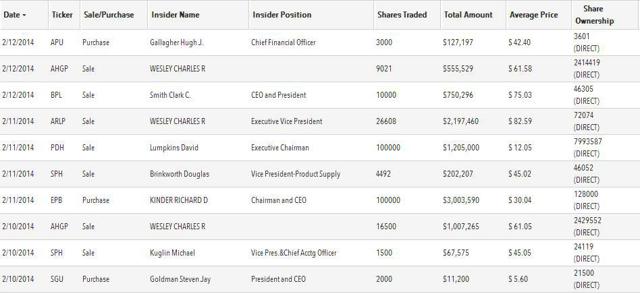 Share Issuance News
Navios Maritime Partners LP (NYSE:NMM) announced a follow-on public offering of 5.5 million common units priced at $17.30 per unit. The offering closed on Friday, February 14.
Paperwork was filed on February 7 for a $500 million IPO for Antero Midstream Partners LP (NYSE:AM). The MLP owns the midstream assets of Antero Resources.
ETF, CEF and Mutual Fund Money Flows
MLP focused funds took in $132 million this week, down from the four week average of $193 million. By type, fund flows showed $216 million into active funds and $85 million outflows from ETFs, leaving the net of $132 million. Mutual fund investors continue to invest in MLP funds, but ETF investors have been on the sidelines.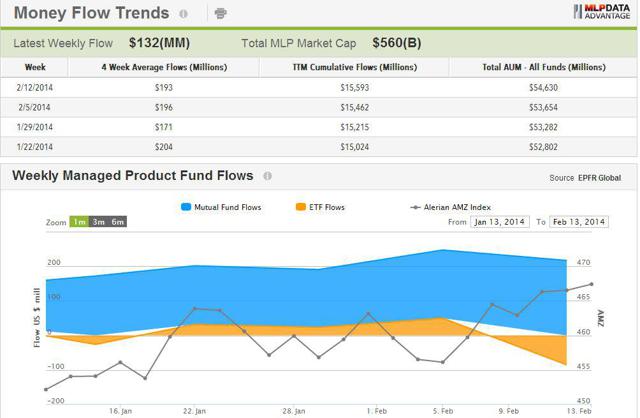 Next Week's Earnings Calendar
The earnings schedule for next week is loaded up with 21 releases scheduled.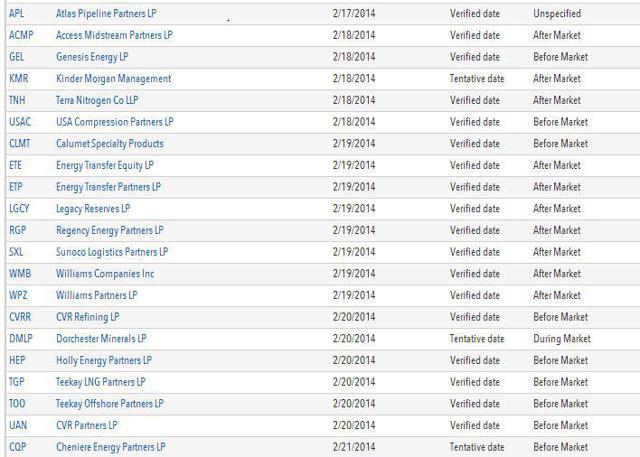 To get email notification this round-up each week, make sure you are Following MLPData here on Seeking Alpha and have checked Author Alerts on this site's email notifications page.
Disclosure: I am long PDH. I wrote this article myself, and it expresses my own opinions. I am not receiving compensation for it (other than from Seeking Alpha). I have no business relationship with any company whose stock is mentioned in this article.