For investors looking to add an independent oil and gas company to their portfolio, the recent pullback in ConocoPhillips (NYSE:COP) stock price has presented an outstanding investment opportunity.
Over the past couple of months many companies within the oil and gas industry have had significant sell-offs. The major concern behind this industry sell-off is, muted oil price growth over the next couple of years. With the limited commodity appreciation on the horizon come concerns over growth and capex spending.
In an article from the Globe and Mail, Pavel Molchanov, a Houston-based analyst with Raymond James Financial Inc. stated that companies within this sector will be focusing on their best assets moving forward. The article explains: "He expects that companies will rein in spending to focus on their best assets, noting that both Exxon (NYSE:XOM) and France's Total SA (NYSE:TOT) have indicated they will be cutting their capital budgets."
With oil prices expected to be muted over the next couple of years, ConocoPhillips will be focusing in on its high-margin, liquids-rich assets within the lower 48. Over the past couple of years the company has spent a significant amount of capex developing this region. During the first three quarters of 2013, ConocoPhillips spent ~$4 billion or around 35% of its total capital expenditure in the development of these reserves.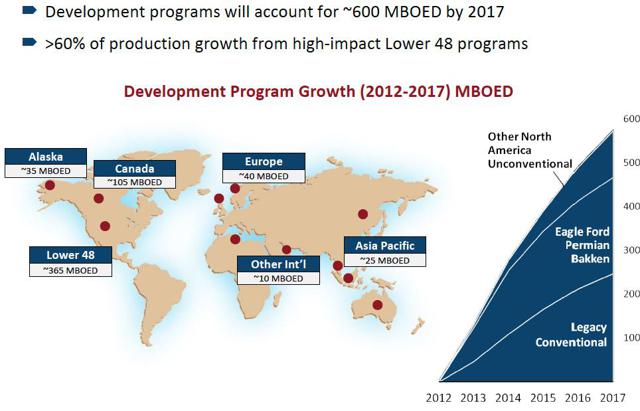 Source: (ConocoPhillips)
To support their capex spending within the Lower 48, ConocoPhillips is predicting their growth in this region to significantly outpace their growth in the rest of the world. Led by Eagle Ford, Bakken and Permian Basins the company is expecting margins and production to increase by 3%-5% CAGR over the three few years.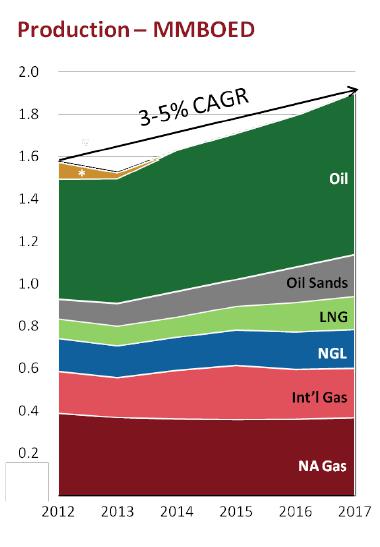 Although ConocoPhillips is focusing on their assets within North America, an expected drag on earnings is located in Libya as there are continuing delays, disruptions and unrest. Production estimates in this region are volatile and questions are circulating if the company will try sell off those assets.
Key Ratio
Return on capital employed = EBIT / (Total Assets - Current Liabilities)
This ratio indicates the efficiency and profitability of a company's capital investments. The higher the percentage the better.
ROCE should always be higher than the rate at which the company borrows otherwise any increase in borrowing will reduce shareholders' earnings, and vice-versa. A good ROCE is one that is greater than the rate at which the company borrows.
2011 = $15.396 billion / $125.162 billion = 12.30%
2012 = $15.423 billion / $99.701 billion = 15.47%
2013 TTM = $15.422 billion / $103.425 billion = 14.91%
According to the list above, all of ConocoPhillip's calculated return on capital employed ratios is higher than the rate at which it has borrowed. As compared to the current WACC 5.42% this indicates that the company is making substantial profits on the capital invested.
Dividend
As the ROCE above indicates ConocoPhillips is creating substantial profits on the capital they have invested. This is utmost importance to the investor as industry growth is expected to be muted over the next few years. To compensate for the lack of growth ConocoPhillips offers a substantial dividend.
At current levels ConocoPhillips offers a 4.30% yield which equates to a payout of $2.76. As the payout ratio is 37.00% this indicates that the company is not overpaying based on their income. With a history of dividend increases this looks to be an attractive long-term investment.
With long-term investments in mind, Exxon , Chevron Corporation (NYSE:CVX), Shell (NYSE:RDS.A) (NYSE:RDS.B) and ConocoPhillips all are currently trading at attractive valuations, have attractive dividends and have management teams seem to "get it" when it comes to rewarding shareholders with dividends and making capital allocation decisions.
Valuation
EV/EBITDA = Enterprise Value/Earnings Before Interest, Taxes, Depreciation and Amortization
In the next section, I will use the EBITDA to calculate the EV/EBITDA. The adjusted EBITDA takes into account foreign exchange and share-based payment expenses. The EV/EBITDA ratio is one of the most commonly used valuation metrics, as EBITDA is commonly used as a proxy for cash flow available to the firm. Independent oil and gas stocks typically have an EV/EBITDA ratio that trades in the 4.0x to 5.0x trading range.
Enterprise Value or EV = Market Capitalization + Total Debt - Cash and Cash Equivalents.
EV = $96.837 billion
EBITDA = $23.136
EV/EBITDA = 4.19
As the independent oil and gas sector often trades in the 4.62 trading range, an EV/EBITDA ratio of 4.19 indicates at current levels the stock is trading just fair value compared to other companies in its sector.
Other metrics that indicate the ConocoPhillips is undervalued are: ConocoPhillips has a P/S of 1.34 below the industry average of 2.44, P/B of 1.57, below the industry average of 1.81, and a P/FCF of 5.06, which is above the industry average of 5.86.
Forward P/E to create a target
To create a target price for ConocoPhillips. I will use ConocoPhillips' forward P/E ratios with estimated earnings to find a target. Currently, ConocoPhillips has a forward P/E of 10.58 and FY 2017 high earnings projected at $6.73. These two metrics lead to a target price of $71.20.
As of February 14th, ConocoPhillips was trading at $64.71. Using the forward P/E model, this indicates that the stock has a 10.03% potential upside from this point.
Conclusion
Since the beginning of December ConocoPhillips has had a significant pullback. Due to the pull-back the stock price is becoming very attractive for a long-term horizon. As ConocoPhillips is focusing on its high-margin, liquids-rich assets within the lower 48, this is expected to lead the company's earnings thus supporting a very attractive 4.30% yield. At current levels using the valuation metrics above, I have concluded that ConocoPhillips is currently trading at a discount and I have a price target of $71.20 for 2014.
Disclosure: I have no positions in any stocks mentioned, but may initiate a long position in XOM, RDS.A, CVX over the next 72 hours. I wrote this article myself, and it expresses my own opinions. I am not receiving compensation for it (other than from Seeking Alpha). I have no business relationship with any company whose stock is mentioned in this article.