Holly Energy Partners LP. (NYSE:HEP) is ensuring its long term financial performance with its growing midstream operation. It provides the pipeline and other related services to the refiners, so the company's revenue is based completely upon fees and tariffs. Crude production in major U.S. crude producing shales is increasing, and producers are eager to deliver crude to the refiners to avoid production glut. On the other hand, refiners are also eager to access the cost-advantaged crude to improve their profitability on refined products. HollyFrontier Corp. (NYSE:HFC) refineries, a partner of Holly Energy, has a total refining capacity of around 443,000 barrels per day (bpd), and it has presence in the key crude producing areas in North America. As Holly Energy supports HollyFrontier's refining activity, the company's revenue generation in the coming quarters depends on HollyFrontier's refining activity.
Growing with HollyFrontier
The company's facilities support the refining and marketing operation of HollyFrontier in West Texas, New Mexico, Utah, Arizona, Oklahoma, etc. HollyFrontier has 39% partnership interest in Holly Energy, including 2% of general partner interest. With this partnership interest, Holly Energy is expanding its pipeline and terminal services to support HollyFrontier's refining activity. Since the company is the major supplier for HollyFrontier refineries, HollyFrontier's growth projects will help Holly Energy grow further.
HollyFrontier has five refineries in North America and has extensive access to the cost advantaged crude which is supported by Holly Energy's dedicated pipeline and terminals as shown below. With the crude production boom in the Bakken, Permian, and Canada, oil producers have extensive crude supplies, forcing the companies to sell crude at a lower price. Refiners, including HollyFrontier, are accessing more of these cost-advantaged crudes to achieve a higher profit margin due to the higher crude differentials. HollyFrontier's refineries presence near these producing shales, and Holly Energy's supporting pipeline and terminals, allow this company to enjoy direct access to these crudes.
To improve its total throughput level, HollyFrontier is eager to deliver crude from these regions to its refineries and increase the total refining capacity to maximize the refining revenue.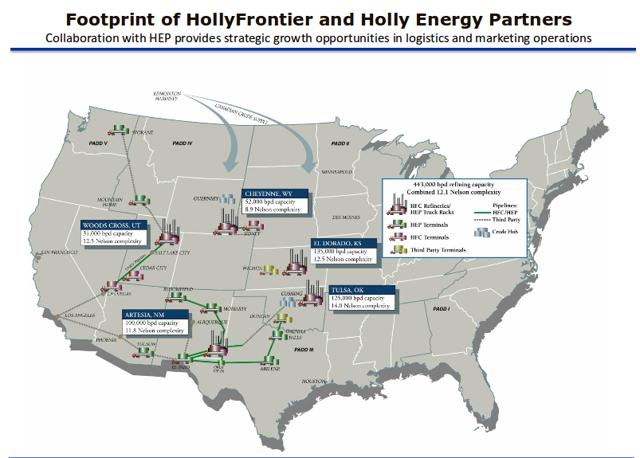 Source: Company presentation
As a result, HollyFrontier planned to increase its refining capacity at the Wood Cross Refinery in Utah. The total capacity of this refinery is 31,000 bpd and is expected to increase to 45,000 bpd by October 2015. The total yield will be 60% gasoline and 40% diesel, which it will deliver in Las Vegas. It will supply the total refined products through the UNEV pipeline, where Holly Energy holds 75% ownership interest. So, it is expected that with this total incremental volume, Holly Energy will witness improved revenue in the coming years from the fees it charges for total pipeline movements. Pipeline movement is the amount of crude transported through the pipeline.
Together, Holly Energy and HollyFrontier are planning a rail loading and unloading facility near HollyFrontier's Artesia refining facility. It is expected that the initial capacity of the rail project would be 70,000 bpd and could access cost-advantaged crudes such as West Texas Intermediate (WTI), West Texas Sour ((NYSE:WTS)), and Western Canadian Select (WCS). All these crude types are WTI price based and are traded at around a $15 discount on Brent.
Access to various cost-advantaged crudes will help HollyFrontier improve its top line, providing an opportunity for Holly Energy to witness growth going forward.
Growth opportunity with new pipeline projects
As New Mexico is also experiencing increased crude production, Holly Energy planned to invest in an expansion project of its southeastern New Mexico crude gathering and transportation system to ensure its long-term growth. The expansion includes 800 miles of pipeline that will provide additional capacity to HollyFrontier's New Mexico refinery. To complete the project successfully, the company has planned to convert one of its refined products pipelines a to crude oil supply pipeline. This pipeline will help increase the delivery capacity up to 100,000 bpd and will be in full service in the second quarter of this year. It expects to experience improved crude pipeline revenue in the coming quarters with the increased delivery capacity. It is expected that this new pipeline extension will provide at least $7.5 million in additional annual revenue.
Apart from this, to continue supporting HollyFrontier's refining activity, Holly Energy is evaluating two new pipeline expansion projects this year. The first intrastate 50 mile pipeline project will connect HollyFrontier's Tulsa refining facility with Cushing sourced domestic Canadian crude. Currently, this Tulsa refining plant is accessing crude oil from a pipeline owned by Sunoco Logistics (NYSE:SXL) and Magellan Pipeline. Holly Energy's proposed pipeline would replace these two companies and capitalize on the company's total crude demand. The second intrastate proposed 100 mile long pipeline would connect HollyFrontier's Cheyenne refining facility to the Denver petroleum products market, where HollyFrontier is a significant supplier. This refining plant is currently using the Rocky Mountain Pipeline, owned by Plain All Americans (NYSE:PAA), to transport petroleum products to Denver. Holly Energy is expecting that after its proposed pipeline construction the 52,000 bpd refining plant will replace the existing pipeline usage. These two intrastate pipeline projects will help HollyFrontier access cost advantaged Canadian crude from Cushing, Oklahoma and market the petroleum products in Denver to achieve a higher refined product margin.
So, it is expected that replacing the existing pipeline movement will help Holly Energy witness better results in the coming quarters, which will help improve its revenue.
Conclusion:
To avoid the production glut and ease access to cost-advantaged crude, oil producers and refineries are highly dependent on crude transportation and storage facilities. With its existing and new pipeline expansion plan, Holly Energy is expected to witness growth in its pipeline movement and storage facility. Moreover, its rail crude loading project is also promising in terms of its future financial performances.
Disclosure: I have no positions in any stocks mentioned, and no plans to initiate any positions within the next 72 hours. I wrote this article myself, and it expresses my own opinions. I am not receiving compensation for it (other than from Seeking Alpha). I have no business relationship with any company whose stock is mentioned in this article.