Northern Tier Energy (NYSE:NTI) continued improving its refining segment with increased crude production in the Bakken and Canadian shale formations. The company's Minnesota-based St. Paul Park refinery is its only refinery, and its position in the PADD II Midwest region has provided easy access to these crudes through a direct Minnesota pipeline. As of February 10, Bakken total production was 1.04 million barrels of oil per day (mmbopd), which is expected to increase to 1.06 mmbopd by March.
Recently, Canada reported total crude-oil production growth, and it is expected that it will reach to 6.2 mmbopd in 2030.With direct access to the increasing crude production, I am optimistic about Northern Tier's refining segment.
Northern Tier uses primarily North Dakota light (NDL) crude and Western Canadian Select (WCS) crude for refining from Bakken and Canada, respectively. Both are traded at a lower price to Western Texas Intermediate (WTI), as shown below. During December, NDL crude traded at discount of around $8 a barrel and WCS traded at discount of around $25.75 a barrel to WTI. WTI traded on discount to Brent of around $11, which provides an opportunity for the company to achieve a higher crack spread on the refined products. Crack spread is the difference between the crude price and the refined products processed from the crude. Northern Tier purchases crude in discount to WTI and sells the refined products that are priced on Brent, which in turn helps it to increase revenue along with the higher crude differentials.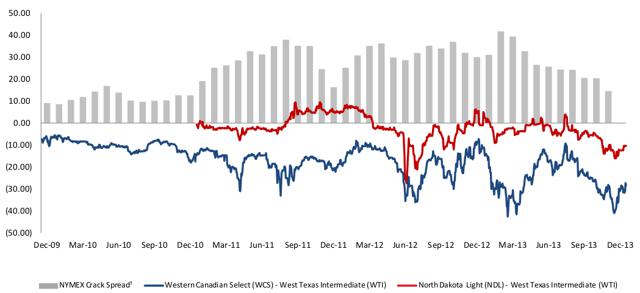 Source: Company presentation
Although the U.S. refining market is highly competitive due to increased crude production, fewer refineries in the PADD II region lessens overall competition. The company's St. Paul Park refinery is one of two refineries in the region and one of four in the upper Great Plains. Also, it has more advantages compared to the Gulf Coast refineries due to the higher crack spread availability and the position that is closer to Bakken. The U.S. Gulf Coast refineries use Light Louisiana sweet (LLS), which was traded $5 less than WTI, lower than the crack spread Northern Tier enjoys in the PADD II region. So, this higher crack spread in PADD II and fewer competitors will help Northern Tier strengthen its financial performance.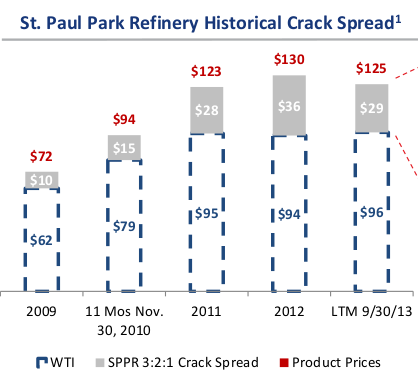 Source: Company presentation
Apart from the higher crack spread, direct access to the Minnesota pipeline is also a bright spot for the company longer term. The Minnesota pipeline has a total capacity of transporting 455,000 barrels per calendar day from Western Canada and North Dakota to St. Paul Park in Minnesota. This direct access to the lower-cost Bakken and Canadian crude through this pipeline makes the company's refining process strong. Because of the direct pipeline access, transportation cost is reduced for the company. For refining companies, transportation cost is important to long-term financial performance. Refiners in the Gulf Coast, California, and Oklahoma access the Bakken crudes through rail cars due to the lack of proper pipeline access, which in turn costs them $24 more than transporting it through a pipeline. However, Northern Tier's position in the PADD II region, which is closer to the Bakken formation, saves transportation cost with 17% ownership interest in the Minnesota pipeline. So the company's operating cost in its refining segment is lesser than any other refineries in the other PADDs in the U.S. I expect this direct access and lower transportation cost will lead to solid growth for the company.
Growth opportunity with strong light-products yield
In the U.S., demand for refined light products such as gasoline and distillate is growing rapidly. The total demand of gasoline increased by 3.7% to 8.84 million barrels per day (bpd), and the distillate fuel demand including heating oil and diesel also increased by 5.9% to 3.74 million bpd year over year. This increasing demand is expected to continue this year as the demand of distillate fuel in the transportation industry is growing. In the PADD II Midwest region, where Northern Tier operates, the demand of refined light products has been growing so much that total demand in PADD II has exceeded the total regional production every year over the last seven years. The PADD II region contributes 20% of the total U.S. refining capacity and can meet 85% of consumer demand in the region. So, the gap between total demand and supply is significant.
As Northern Tier has the positioning advantage with less competition in the PADD II region, it can capitalize on the demand growth in this region. Northern Tier has achieved a total refined products yield of 86,330 bpd during its third quarter, which includes 50% gasoline and 32% distillates, as shown below. This production slate of the company is promising and in line to meet the growing demand of gasoline and distillate fuel.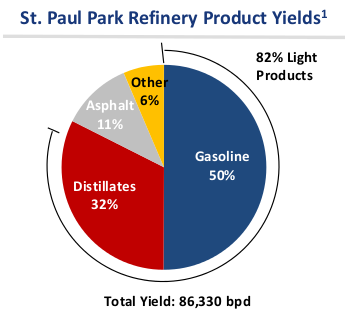 Source: Company presentation
While looking at the opportunity, Northern Tier decided to expand its St. Paul Park refinery, ensuring the ability to meet the refined products demand longer term. During its fourth quarter it completed the wet gas compressor project, which helped the company to reduce the amount of black oil output by 2,000 bpd and convert it into gasoline, distillate, and liquefied petroleum gas (LPG) that would in turn help it to increase the total light-products yield in coming quarters.
Along with the Northern Tier's expansion, the acquisition of general and limited partnership of the company by Western Refining (NYSE:WNR) has helped to increase its total refining throughput volume to 242,500 bpd. Moreover, Northern Tier has benefited from wholesale distribution of its refining product. Through this partnership acquisition Northern will access 458 integrated retail stores with the distribution capacity of 160,000 bpd to the customers in the Southwest, mid-Atlantic, and upper Midwest. The expanded throughput capacity and increased retail outlet will enable the company to meet the growing demand of refined light products and strengthen its top line in coming quarters.
Conclusion
As increased production has created a glut in the Bakken formation and in Canada, oil producers have had to sell these crudes cheaper to the refiners to avoid inventory overflow. Additionally, access to the direct pipeline has led to a higher refining margin for the company thanks to lower-cost Bakken and Canadian crude. I expect this refining margin to continue as the U.S. government put a long-term ban on crude-oil export, which has created pressure on oil producers to continue selling cheaper crude to the refineries. So Northern Tier should strengthen its refining segment with its expanded refining facility and less competition in PADD II region, guaranteeing a good return.
Disclosure: I have no positions in any stocks mentioned, and no plans to initiate any positions within the next 72 hours. I wrote this article myself, and it expresses my own opinions. I am not receiving compensation for it (other than from Seeking Alpha). I have no business relationship with any company whose stock is mentioned in this article.