Executive summary:
Increased natural gas production in the U.S. bodes well for the operating environment of pipeline operators.

Spectra Energy owns several well-located pipelines, which provide a stable business profile with a good cash flow generation capacity.

Spectra has recently dropped down its U.S. transmission assets to Spectra Energy Partners, transforming SEP from a marginal investment vehicle into a strong player in natural gas transportation.

Spectra Energy Partners is a MLP offering a high-yield, which has also a good distribution history and bright growth prospects ahead.
_________________________________
Previously, I've covered a few interesting income investments that benefit from the increased natural gas production in the U.S. due to new technology, namely fracking. This has unleashed a newfound abundance of natural gas and therefore the country is going through a boom in natural gas production and the trend is expected to accelerate over the next few years. Natural gas can be exported through a process converting it to liquefied natural gas [LNG]. As U.S. natural gas prices are much cheaper compared to the rest of the world the opportunity to sell natural gas to foreign countries is great. This will also lead to higher volumes of natural gas transported, benefiting pipeline operators.
Cheniere Energy Partners (NYSEMKT:CQP), Gaslog (NYSE:GLOG) or Golar LNG Limited (NASDAQ:GLNG) are good ways to play this theme. Another alternative may be Spectra Energy (NYSE:SE), one of North America's premier pipeline and midstream companies operating in the natural gas industry, which has very good growth prospects and offer an attractive dividend yield.
Spectra was formed in late 2006 following the spin-off from the utility company Duke Energy (NYSE:DUK). It is traded on the New York Stock Exchange and has a market capitalization of about $25 billion. Spectra is based in Houston, Texas, and has approximately 5,700 employees. It owns and operates a large and diversified portfolio of complementary natural gas related energy assets and is one of North America's leading natural gas infrastructure companies.
Spectra operates in three key areas of the natural gas industry: transmission and storage, distribution, and gathering and processing. The company's operations in the U.S. and Canada include more than 22,000 miles of natural gas, natural gas liquids, and crude oil pipelines, approximately 305 billion cubic feet [Bcf] of natural gas storage, 4.8 million barrels of crude oil storage, as well as natural gas gathering, processing, and local distribution operations. It has also an 50% ownership in DCP Midstream, the largest producer of natural gas liquids and one of the largest natural gas gatherers and processors in the U.S. Phillips 66 (NYSE:PSX) holds the remaining 50% interest in DCP Midstream. Spectra reports its interest in DCP Midstream as Field Services, which is accounted for as an equity investment. The company has a good business risk profile, generating about 70% of its segment EBIT from low-risk, mostly regulated operations.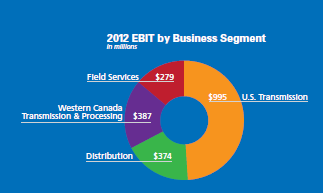 Spectra Energy is the general partner of Spectra Energy Partners (NYSE:SEP) owning a 61% equity interest. Spectra Energy Partners is one of the largest pipeline master limited partnerships [MLP] in the U.S. and owner of the natural gas, liquids, and crude oil assets in Spectra Energy's U.S. portfolio. SEP provides Spectra with a more tax-efficient way to fund its growth, which is very important given that Spectra has several growth projects underway. Spectra is investing heavily on its growth, it expects to spend about $1.5 billion of growth capex annually through 2015. Until the end of the decade, Spectra has growth opportunities targeted at $35 billion. While the company's investment program is substantial, the spending is allocated to low-risk transmission, gathering and processing and storage projects, which will continue to support its fee-based business.
Spectra's pipeline systems in its U.S. transmission business receive natural gas from major North American producing regions, for delivery to their respective markets. A majority of contracted transportation volumes are under long-term firm service agreements where customers reserve capacity in the pipeline, providing stable revenues over the long-term.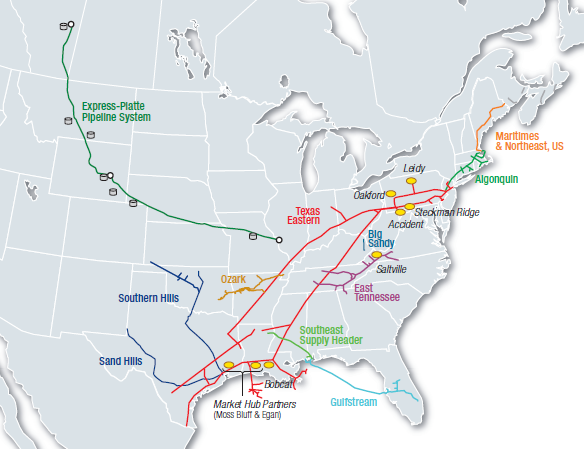 Recently, Spectra has dropped down all of its gas transmission assets and its interests in oil and natural gas liquid pipelines to Spectra Energy Partners. This transaction, which closed in November 2013, transformed SEP from a marginal investment vehicle for Spectra into a strong player in natural gas transportation with strong exposure to the Marcellus Shale formation, the country's most fruitful gas play. The core of SEP's gas pipeline system is Texas Eastern natural gas transmission system, a major pipeline capable of move 10% of U.S. gas consumption, which goes from the Gulf Coast to New York.
SEP also owns other interstate gas pipelines, being the key feature of its pipeline system the fact that all of them are connected, tying Texas Eastern into multiple sources of supply and demand. All pipelines generate fixed-fee cash flow from long-term contracts, proving a very stable business model and predictable cash flow generation.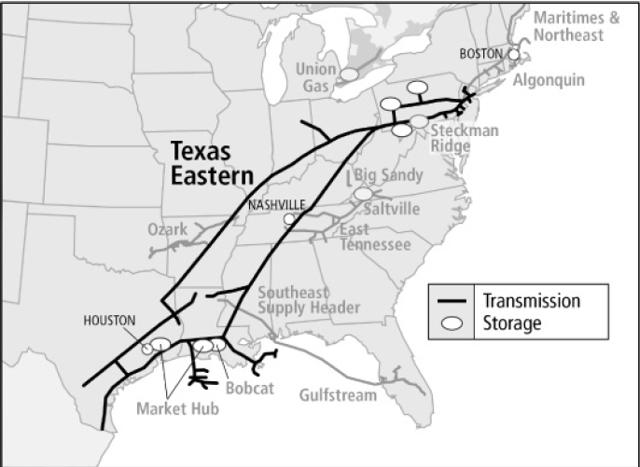 With its U.S. Transmission assets now being part of Spectra Energy Partners, this MLP vehicle has become more interesting for income investors than Spectra Energy, considering that Spectra's natural gas and processing operations provide a more volatile source of earnings and cash flows as a result of commodity price risk. Therefore, SEP as a fee-based stable cash flow business (over 95% of cash flow is fee-based) with no direct commodity exposure offers an yield that should be more sustainable and has higher visibility over the long-term. In addition, SEP's current dividend yield is higher at 4.7% compared to 3.6% for Spectra.
For financial reporting purposes, SEP's financial figures have been recast for 2012 and 2013 as if SEP owned all the U.S. assets from the beginning of 2012. In 2013, its EBITDA was $1.4 billion, an increase of 13% from the previous year. Its distributable cash flow [DCF] was $315 million, which increased by 37% year-on-year. Going forward, SEP has 9 projects in execution amounting to an investment of $4 billion, that will deliver an EBITDA of more than $500 million annually when fully in service. According to analysts' estimates, SEP will increase its revenues to near $2.7 billion in 2016 compared to less than $2 billion in the last years. Its EBITDA is expected to be around $1.7 billion by 2016, representing a very high EBITDA margin of 64%.
The partnership has a very good distribution history, given that is has delivered 25 consecutive quarterly cash distribution increases since 2007. Its distributions per unit were $2.07 in 2013, an increase of 6.2% from the previous year. This distribution is supported by the partnership's strong DCF generation resulting in another distribution increase for the first quarter of 2014, at $0.54625 per unit or $2.19 annually. SEP's guidance is for 8-9% distribution growth through 2016, making the partnership very attractive both from its high-yield but also for its distribution growth prospects. SEP expects to distribute $2.57 per unit in 2016, 27% higher than in 2013.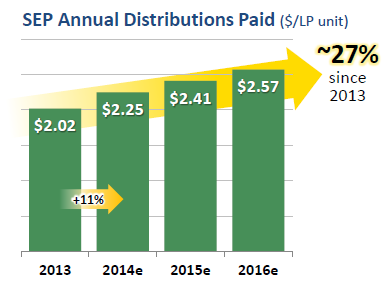 Disclosure: I am long GLNG. I wrote this article myself, and it expresses my own opinions. I am not receiving compensation for it (other than from Seeking Alpha). I have no business relationship with any company whose stock is mentioned in this article.