Annaly Capital Management's (NYSE:NLY) share price development has been nothing but a disaster in 2013. Falling earnings and book values per share have caused substantial uncertainty with respect to Annaly's dividend outlook. As the Federal Reserve repeatedly delivered remarks that it intends to scale back its accommodative monetary policy, shares of mREITs started to collapse in 2013: Three extended waves of consolidation erased significant amounts of market capitalization for Annaly Capital Management, American Capital Agency Corp. (NASDAQ:AGNC), Armour Residential (NYSE:ARR) and other mREITs. At the same time, dividend payments, which marked their cyclical High in 2010, were cut substantially.
Annaly Capital Management paid $2.65 per share in dividends in 2010 while the mREIT paid $1.50 in 2013 -- a decline of 43%. Annualized dividends now stand at only $1.20 (after three consecutive dividend cuts just last year) which brings the decline from peak yearly distributions to 55%. Annaly has reduced its quarterly payout from $0.45 per share in the first quarter of 2013 to $0.40 per share in the second quarter and further to $0.35 per share in the third quarter. Its fourth quarter cut to $0.30 per share was widely expected given poor underlying performance results and I expect further meaningful dividend declines in 2014. After all, mREITs are cyclical investments which do well in a low-interest environment which is about to come to an end fairly soon.
Poor portfolio performance has led to a significant decline in Annaly's book value per share: At the height of the financial crisis Annaly reported a book value per share of $16.95 (as of December 31, 2009). At the end of the third quarter 2013 Annaly's book value per share has dropped to $12.70: A total decline of 25%. Annaly's share price has also consolidated substantially, reflecting the underlying destruction of shareholder value (see below).
MREITs have been outstanding investments over the last years -- as long as one only focuses on dividends. Annaly Capital Management currently exhibits a dividend yield of 11.11% and has had double-digit cash flow yields over all of the last five years when mREITs were flying high. Its total performance, however, looks much different when considering the decline in share value over different performance measurement periods. Especially for investors who purchased Annaly or other mREIT shares in 2012 and 2013, this has largely been a losing gamble with losses in share values vastly exceeding any double-digit dividend yield paid during this time:
(Source: Achilles Research)

MREITs are cyclical investments depending on high leverage, low interest rates and maturity mismatching (short-term liabilities used to finance long-term assets). Annaly's stock chart shows how increasingly uncomfortable investors got in 2013 with this kind of business model in a rising interest rate environment.
(Source: Yahoo Finance)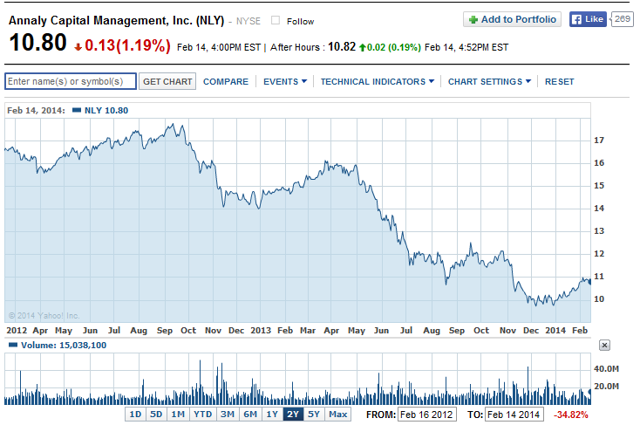 Big cats leaving the ship
Annaly Capital Management has reported that a couple of high-ranking senior executives are leaving the external manager of the company. On February 13, 2014 Annaly Capital Management filed an 8-K with the Securities and Exchange Commission with respect to several high-level departures (Source: 8-K SEC filing):
On February 7, 2014, James P. Fortescue, Chief Operating Officer of Annaly Capital Management, Inc. (the "Company"), provided
Annaly Management Company LLC (the "Manager"), the external manager of the Company, with thirty days notice of his termination of employment from the Manager.

On February 11, 2014, Kristopher R. Konrad, Co-Chief Investment Officer of the Company, provided notice of his resignation from the
Manager.
This comes after the company reported on January 30, 2014 that an experienced, long-serving non-independent board member is leaving the company as well:
On January 28, 2014, John A. Lambiase, a non-independent member of the Board of Directors (the "Board") of Annaly Capital
Management, Inc. (the "Company"), notified the Company that he will not stand for re-election at the Company's 2014 Annual Meeting of Shareholders. His departure will be effective on the day of the Company's 2014 Annual Meeting of Shareholders (the "Annual Meeting").
Departures of a series of high-level executives are clearly a bearish sign. James Fortescue, Chief Operating Officer, has been working for Annaly for almost 19 years after receiving a promotion in 2012 to his current position. Kristopher Konrad, Co-Chief Investment Officer, is also a long-serving Annaly soldier and was also promoted in 2012 to his current executive position. Fortescue earned about $7 million in total pay in 2012 while Konrad took home around $6.3 million.
Naturally questions emerge as to what the true motivations for those departures are. Are they made to leave because they presided over poor business performance? And why are two top executives leaving at the same time? What is clear at the moment, though, is that there is a major house-cleaning operation going on at Annaly Capital Management and a revision of its compensation practices would also be welcome.
Executive compensation remains a major issue
The underperformance of Annaly Capital Management after Mr. Farrell's stewardship of the company is striking. What is even more worrisome is that executive compensation seems to be out of control at Annaly especially considering how poorly its business and share price have performed in 2012 and 2013. In a related article I have written (reproduced for your convenience):
Annaly's executive compensation is an area of concern that has increased in relevance over the last twelve months. Annaly has a history of overpaying its executive leadership often to the detriment of shareholders. Now CEO and Chairwoman Denahan raked in around $35 million as Chief Investment Officer in 2011 and about $26 million in 2012.

Former Chief Executive Officer Michael Farrell earned $35 million in 2011 and more than the CEOs of large-cap Wall Street banks. I find the level of compensation grotesque and the company rightfully earned a corporate governance risk rating for its compensation practices from GMI Ratings in the past.
Total executive compensation figures for Annaly for the years 2008-2012 are presented below.
(Source: Morningstar)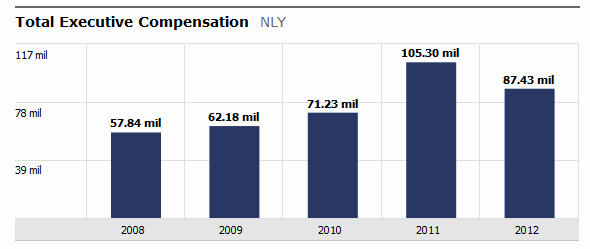 Final thoughts
Two top-level executives leaving just in a matter of days requiring only one 8-K filing with the Securities and Exchange commission hints at a major upheaval at Annaly Capital Management. If both executives were made to leave (read: got fired) for poor performance it would be interesting to hear the argument justifying their high compensation in the past. Both executives have made $6-7 million dollars in 2012 and probably in 2013, too, even though shareholders suffered substantial losses.
A consistently declining book value per share, substantially lower dividends, cyclical headwinds from increasing interest rates, questionable compensation practices and now two high-level executives departing: This combination of achievements does not support a Long position in the company. I am reiterating my Short position in Annaly Capital Management with a revised price target of $8.
Disclosure: I am short NLY. I wrote this article myself, and it expresses my own opinions. I am not receiving compensation for it (other than from Seeking Alpha). I have no business relationship with any company whose stock is mentioned in this article.