Manulife Financial (NYSE:MFC), Canada's largest life insurer, reported strong financial and operating results for 2013. Its financial results improved significantly in 2013, but the company's Q4 results missed analysts' estimates slightly. Nonetheless, the outlook for 2014 is still very positive and I will update my investment thesis in Manulife in this article.
Q4 and 2013 Results:
Manulife reported net income of $3.1 billion ($1.62/share) for 2013, up 73% year-over-year (y/y) from 2012's $1.8 billion ($0.92/share). Core earnings, which exclude one-time items and effects from mark-to-market accounting, were $2.6 billion for 2013, up 16% y/y from 2012's $2.2 billion. For Q4/2013, the company reported net earnings of $1.3 billion ($0.68/share) and core earnings of $685 million ($0.35/share). The core earnings of $0.35/share missed analysts' estimates of $0.38, but its results contained positive news that neutralized the negative impact of the headline EPS and the share price was essentially unchanged after its earnings report, despite falling 3% during the trading session.
Other Items of Note Include:
Wealth Sales experienced impressive growth. Wealth sales were up 15% y/y and 8% quarter-over-quarter (q/q) in Q4/2013. For the full year 2013, wealth sales increased 37% over 2012. The positive sales trend is likely to continue given the encouraging comments management provided on the outlook going forward.
Insurance Sales were weak in Q4/2013 and for the full year 2013. In Q4/2013, insurance sales decreased 32% y/y but were up 2% q/q. The large y/y decline was attributable to strong sales in Q4/2012 and some variability in the Canadian Group benefits business. Overall, insurance sales fell 13% in 2013, but management indicated that insurance sales should recover in the next few quarters. Wealth sales had a large drop in Q3/2013, but they rebounded in Q4/2013.
Core ROE continued to improve. 2013's core ROE was 10.6%, up 80 bps from 2012's 9.8%. On a quarterly basis, core ROE is rising steadily, although dropping off slightly in Q4 due to weaker insurance sales. Please see graph 2 below, which shows the trend in core ROE.
Manulife's capital position continued to strengthen. Its MCCSR ratio, the ratio of regulatory capital to capital required, is 248%. Given capital requirement is only 150% and most of Manulife's peers have MCCSR ratios in the low 200% level, Manulife possesses excessive capital that it can deploy. The company can either reinvest the excessive capital internally or return the excessive capital back to shareholders via a dividend.
Manulife's asset management business is performing well. Assets under management or AUM grew 15% y/y to $599 billion at the end of 2013. The company achieved 21st consecutive quarter record AUM and the growth should continue going forward.
Graph 1: Net Earnings and Core Earnings Over Last 5 Quarters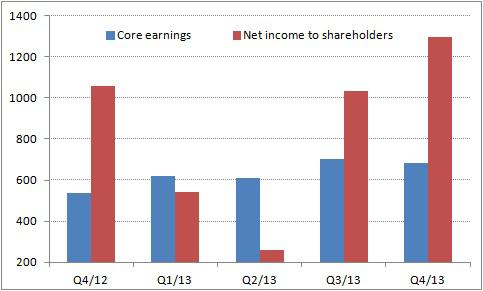 Source: Manulife's Q4 Stat Package
Graph 2: Core ROE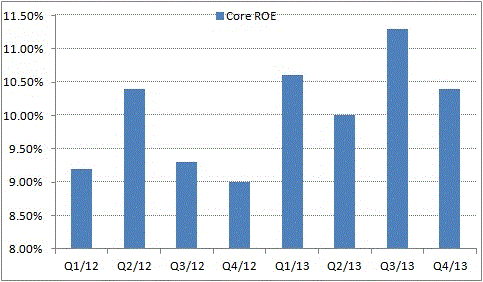 Source: Manulife's Q4 Stat Package
Graph 3 Insurance Sales (in millions of Canadian Dollars)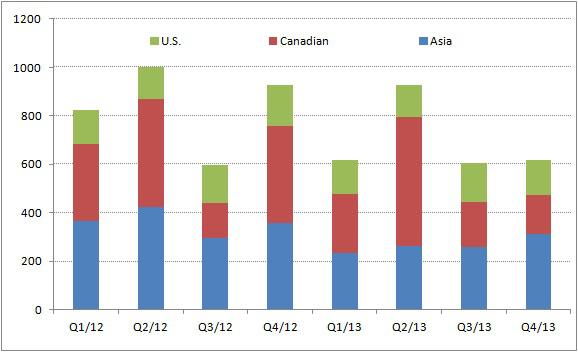 Source: Manulife's Q4 Stat Package
Graph 4: Wealth Sales (in millions of Canadian Dollars)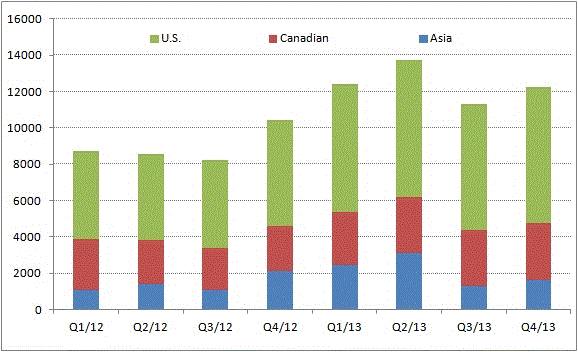 Source: Manulife's Q4 Stat Package
Investment Thesis:
Manulife is an excellent name to own because it has growing earnings potential and benefits from a rising interest rate environment. The company's product mix has shifted towards lower risk and higher ROE products, which reduces balance sheet risks. The company has successfully hedged its books and reduced its equity market sensitivity. In addition, management is expected to reduce operating costs by $400 million by 2016.
One theme I want to discuss is growing earnings. As shown in graph 1, core earnings, which exclude the volatile impact from equity and interest rate movements, grew 16% in 2013 and I expect a similar growth rate in 2013. Wealth sales will continue to grow as market conditions become more stable. Wealth sales will be strong in the Asian region especially due to higher demand for investment related products. The company has continued to strengthen its distribution channel and the results are encouraging. Wealth sales in the Asian region are up 50% in 2013, higher than the 37% overall increase in wealth sales. Insurance sales, despite showing poor results in 2013, should improve in 2014. As shown in graph 3, insurance sales are cyclical and can vary quarter over quarter, but it appears to reach a bottom near the $600 million mark. In summary, I expect core earnings to increase about 20% in 2014 as insurance sales recover and wealth sales continue to grow.
Another theme I stated in the past is the impact of rising interest rates. The company will benefit from rising interest rates because higher rates reduce its policy liabilities and increase the profitability of its products. Higher rates also imply higher investment gains as lower yielding bonds can be rolled over to higher yielding ones. Despite interest rates' decline year-to-date, I still expect interest rates to rise over the medium term.
The final item I want to cover is Manulife's dividend. With its MCCSR ratio at 248%, analysts demanded further details regarding Manulife's capital deployment plans on the conference call. I agree with the assessment that Manulife is holding more capital than it needs. It can return $2 billion ($1.08/share) back to shareholders and still possess a strong MCCSR ratio of 230%. However, due to numerous regulatory issues (insurance regulations, new accounting rules for insurers under IFRS etc.), management wanted to stay conservative until there is more clarity on the regulatory issues. Nonetheless, if core earnings continue to grow at the current rate, I expect management to take a more conservative approach of launching a small buyback program of around $500-$1,000 million before raising the dividend. I don't expect a dividend hike anytime soon. Nonetheless, even without a dividend hike, the dividend yield is 2.5%, which is higher than most insurers.
Valuation:
Given Manulife's ability to grow core earnings by 20% in the next years, the company's current valuation, at 1.48X book and 12.8X trailing earnings, is very reasonable. The shares are not as attractive as back in October when I wrote my first SA article on Manulife (the share price was C$18 or US$17), but can still provide low double-digit returns in 2014.
Table 3: Price to Book Ratios (IFRS and US GAAP)
| | | |
| --- | --- | --- |
| Share Price | $20.90 | $20.75 |
| | | |
| | IFRS | US GAAP |
| Book Value per Share | $14.00 | $20.31 |
| Price to Book Multiple | 1.48X | 1.02X |
Source: Manulife's Q4 Stat Package. Note Manulife Reports under IFRS but provides a hypothetical estimates of its equity under US GAAP in its reports
My intrinsic value estimate is the average intrinsic value calculated under (1) price to book multiple method (2) price to core earnings multiple method. For method (1), I applied a 1.7X price to book multiple (historical range centered around 1.5-2 during the last 10 years) to my estimated year-end book value of $14.60; the price target calculated under method (1) is $24.82 and a sensitivity analysis is presented in table 4. For method (2), I applied a 14X multiple to management's estimated 2016 core earnings of $4 billion and discounted that value back to the present; the price target calculated under method (2) is $22.83 and a sensitivity analysis is presented in table 5. Taking the average of $24.82 and $22.83, my new 12 month price target for the stock is $23.83. Readers should note that the $23.83 price target is denominated in Canadian Dollars because Manulife's financials are represented in Canadian Dollars. For US shareholders, the price target for Manulife's NYSE listed shares (denominated in US dollars) is US$21.70, which is calculated by dividing the $23.83 price target in Canadian Dollars by the current exchange rate (USDCAD)of 1.0980.
Table 4: Price to Book Multiple Valuation With Sensitivity Analysis

Table 5: Sensitivity Analysis for Price to Core Earnings Multiple Method

Conclusion:
As shown in the valuation section, my 12-month price target for Manulife is $23.83, which is 14% higher than the current price and represents a total return of 16.5%. Although its Q4/2013 results were weak, a reversal of some of the temporary items that negatively impacted Q4/2013 will have positive impacts on future results. Growing earnings and rising interest rates will propel the stock higher over the medium term.
Disclosure: I am long MFC. I wrote this article myself, and it expresses my own opinions. I am not receiving compensation for it (other than from Seeking Alpha). I have no business relationship with any company whose stock is mentioned in this article.
Additional disclosure: This article is for informational purposes only and does not constitute an offer to buy or sell any securities discussed in the article. The stock mentioned in this article does not represent financial advice. The target price presented in this article is based on current information and is subject to change without further notice. Investors are recommended to conduct further due diligence before committing capital to any investment.