Companies that are innovative and at the center of an emerging industry are tempting to invest in, but in many cases they are exuberantly priced. The prospect of dominating a growing industry brings hoards of investors willing to bid up the price of these nascent companies. The adage "buy when everyone is selling and sell when everyone is buying" helps investors to avoid these securities. Tesla (NASDAQ:TSLA) is clearly a company that is inanely priced and should be avoided and even shorted.
Similar fallaciously priced securities
Looking in retrospect at companies that were at the forefront of an emerging industry and had tremendous growth expectations priced into their share prices provides a framework to identify other companies that may fall into this category. Three companies fit this model: BlackBerry (NASDAQ:BBRY), Zynga (NASDAQ:ZNGA), and First Solar (NASDAQ:FSLR).
BlackBerry dominated the smartphone market with nearly a 50% market share in 2007. Investors began to pour into the stock and the share price increased prodigiously to a high of $230 in 2007. BlackBerry had a competitive advantage in that they were the first mover in the industry, but when success comes, competition will surely follow. Subsequently, BlackBerry's market share has fallen to under 5% today and their share price stands at a meager $9 a share.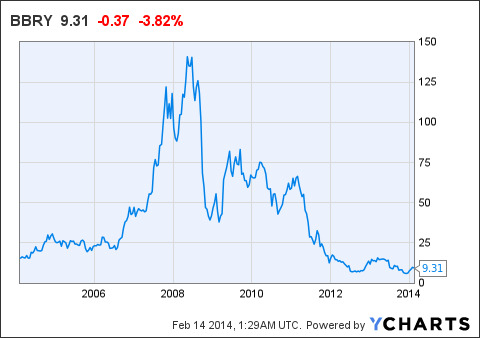 First Solar was one of the first large solar companies (as its name implies) and the expectations for FSLR were very high. The IPO price in 2007 was around $20 a share and it quickly rose to over $300 by mid-2008. The industry was expecting extraordinary growth and investors were betting that FSLR would dominate it. However, maintaining continued dominance over an industry is extremely difficult in this ultra-competitive environment. FSLR tumbled and stands today at around just $50 a share.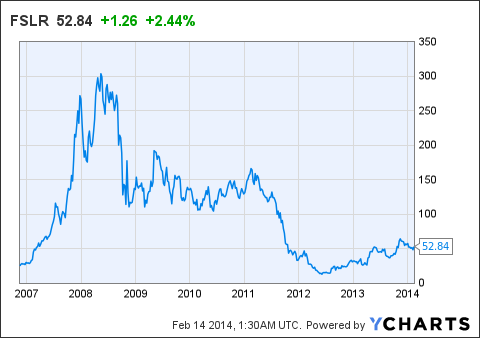 Zynga is a company that swiftly rose with an industry. Online games were not ubiquitous before Zynga began to introduce many blockbuster games. The computer gaming market was limited to small niches, but Zynga galvanized the market with universally liked games such as Farmville. Exuberance around this rapidly growing company was evidenced by the bidding up from the IPO price of $9 to $14 in a few months. In the past few years, competitors have entered and the ardor for this company has faded. Zynga trades below $5 a share today.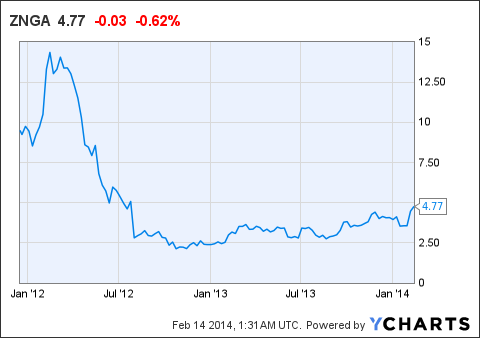 Reasons for Bearishness on Tesla
1. Tesla trades at a price to sales ratio of 13.99. Although Tesla is growing much faster than other auto makers, this multiple is much too high. Ford and GM trade at a multiple of .41 and .37, respectively. Expecting Tesla to maintain this break-neck pace is erroneous. Furthermore, a forward P/E ratio of 267 indicates that it is greatly overvalued.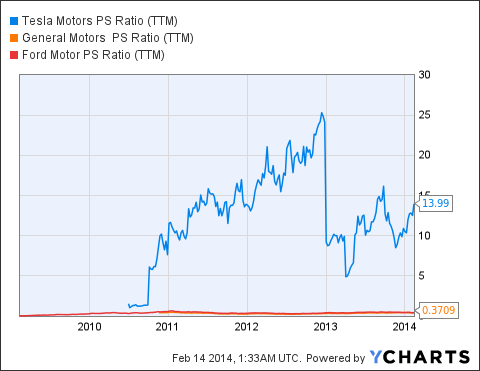 2. The MSRP of the Model S is around $70,000. There is a limited market for Tesla as many simply cannot or will not spend that much for a car. Although they are developing a cheaper vehicle that would sell for around $35,000, this model will not be ready for about 3 more years.
3. Tesla does not have the scalability of competitors. Ford and GM sold 2.5 million and 2.7 million cars respectively in 2013. These companies are spending an immense amount on Research and Development and it is only a matter of time until they create comparable electric cars. Once they have the technology, their economies of scale will allow them to undercut Tesla.
4. Tesla cars are charged through a proprietary charging system that is not compatible to the standard CHAdeMO system. There are only 74 stations in the U.S. for Tesla cars. However, there are 554 for the CHAdeMO which charge vehicles such as the Nissan Leaf and Mitsubishi's i-MiEV. Tesla does not have the capability of matching this number of charging stations which will decrease the value of owning a Tesla.
5. Tesla issued $660 million worth of convertible notes due in 2018 that just fulfilled the criteria to be convertible earlier. These conversions can result in an additional 5.3 million shares being converted at a price of $184.48. Ownership of Tesla stock would be diluted in the likely event that these notes are converted. Although interest expense will be mitigated, these notes only yield 1.5% annually so the savings will be negligible.
6. Gross margins indicate that Tesla is not as efficient as competitors. Tesla has a gross margin of 7.28%, while Ford and GM have gross margins of 16.14% and 11.62%, respectively.
7. Tesla has a market cap of $24.47 billion which translates into $960,000 per vehicle sold. In comparison, if GM traded at that multiple based on sales, it would have a market capitalization of $2.6 trillion or $1,630.19/share. (It currently trades at $35.20)
Conclusion
Betting that Tesla will dominate the electric car market and grow tremendously in this hyper-competitive environment is quite risky. The current valuation of Tesla is pricing in extreme growth and is not taking into account the looming threat of competitors. Tesla is set to report earnings next week on the 19th, and investors are expecting them to beat earnings which has already been priced into the stock. Delivering on these expectations will be difficult for Tesla. Currently, Tesla is trading at an all-time high, and after this earnings release, I am confident we will not see Tesla at these levels again. If you currently own Tesla, don't get greedy and take your profits.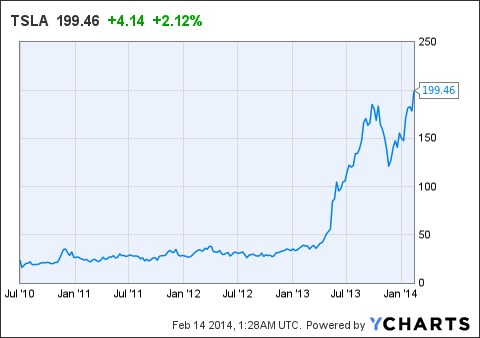 Disclosure: I have no positions in any stocks mentioned, and no plans to initiate any positions within the next 72 hours. I wrote this article myself, and it expresses my own opinions. I am not receiving compensation for it (other than from Seeking Alpha). I have no business relationship with any company whose stock is mentioned in this article.